Leaser Lake, PA, Bridge Completes Walking Path Around Lake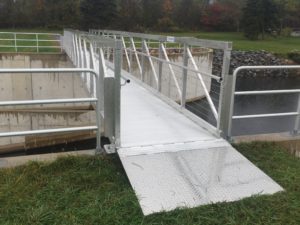 Since the construction of Leaser Lake in 1971, Pennsylvania residents have enjoyed activities at the lake: fishing, boating, and hiking. For the first time, visitors will be able to walk completely around the lake with the installation of a footbridge. The bridge, built of commercial grade aluminum and manufactured by BoardSafe, goes over the dam at the lake and connects the nature trail on both sides. Prior to the installation of the footbridge, there was no continuous walking trail around the 117-acre lake. The bridge is one of the last installations of a renovation project crafted by the Leaser Lake Heritage Foundation.
Watch this brief video highlighting how the custom prefab bridge is positioned:
The project highlights include an ADA accessible park, paved nature trail, ADA / adaptive fishing pier, ADA adaptive kayak boat launch, and accessible picnic tables.
The completion of the footbridge comes just in time for Lehigh Valley residents to walk around the lake and enjoy the warm fall summer and vibrant foliage
This 540-acre park is owned in part by the Pennsylvania Fish and Boat Commission and in part by Lehigh County.