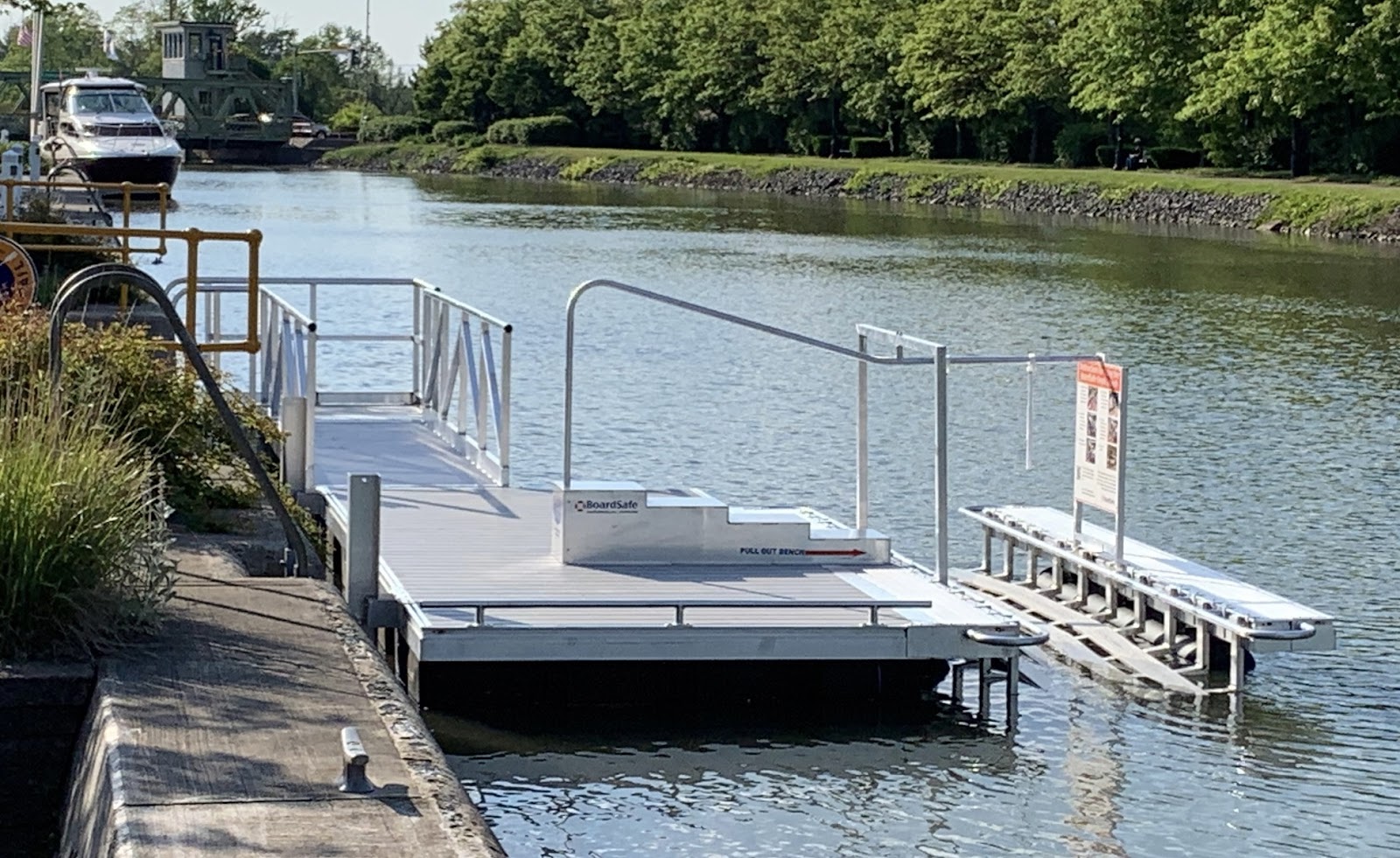 Across the nation, many people — from park rangers to city engineers — are seeking to improve access to their local community's water and marine features. This is an extension and outgrowth of the Americans with Disabilities Act (ADA), with the objective to provide access for all abilities to all amenities. Access to nature for the disabled has been long overlooked, but now parks, towns, and clubs are clamoring for ADA-accessible picnic tables, bathrooms, and walking trails, as well as adaptive kayak launches.
With any new product, one of the first questions asked is, "How much does it cost?" The appropriate answer is almost always, "Well, that depends!" So, how much does an adaptive or accessible kayak launch cost? The answer is inevitably found within the range of quality, features, and durability. This can mean a few hundred bucks for an accessory to bolt onto an existing wood dock or tens of thousands of dollars for an elaborate commercial-grade adaptive floating kayak launch and dock system.
System vs. Accessory
A quick Google search finds accessibility accessories to attach to existing docks. The less expensive the item, the less utility it offers to those with a disability. Hanging a large hook from an algae-encrusted wooden dock to stabilize a kayak is not helpful to individuals who are unstable on their feet. It may be useful to hold the boat for Grandma or a daredevil teen, but it is not suitable for one with mobility challenges. As the price for those bolt-on accessories increases, so do the engineering and thought put into the design of the part to ensure safe and easy transition in and out of vessels.
An accessory's usefulness is contingent upon the quality and durability of the existing dock to which it is attached. For example, a BoardSafe Clip-a-Launch can be bolted onto the aluminum frame of an existing rigid or floating dock, and costs a few thousand dollars. Depending on the range of abilities of the users, a Clip-a-Launch alone may not suffice to assist paddlers in and out of boats. A person's needs may require additional bars, straps, a transition bench, and other adaptive features to enable the paddler to easily enter and exit their craft. These features can be added to an existing dock, and are also sold as a package or full adaptive kayak launch system.
A fully-accessible or adaptive launch system is not an accessory that can be attached to an existing dock. The best option is, depending upon the need, a floating dock, gangway, and other accessories that facilitate water access.
Adaptive Kayak Launch System Features
The gangway must offer an adaptive paddler a way of moving the kayak from the land to the launch area and vice versa. The gangway should have a maximum pitch of 1/12 (meeting ADA slope requirements and features) and a parallel boat chute where the vessel is placed in alignment with the kayak launch.
The chute and launch area should be large enough to accommodate kayaks with outriggers. However, it shouldn't be too wide or it will create too great a distance between the boarding bench and the cockpit of the vessel.
Ample space on a floating dock As the paddler rolls up to the bench to begin the transition from the chair into the cockpit, sufficient space is required to maneuver the wheelchair, especially if there is more than one adaptive paddler leaving their chairs on deck. The floating dock should also have a toe kick around the perimeter as an added safety feature. This prohibits a wheelchair from accidentally rolling off the dock into the water.
A tiered bench allows the user to easily transfer from the wheelchair. The top step of the bench must be equal to the height of a wheelchair in order for the user to transition from their wheelchair over to the bench. The steps should be minimal in height (approx. 3") to allow the paddler a small shift from step to lower step.
The bench must be equipped with a pull-out seat that slides out over the kayak and directly above the vessel's cockpit. This allows the adaptive paddler to slide down into the vessel with a limited drop and shimmy himself or herself into their kayak.
The roll cage must provide support for an overhead grab bar as well as optional hand straps. Adaptive paddlers have varied upper-body strengths and varied preferences as they enter and exit their vessel. Some paddlers prefer the grab bar while others prefer the hand straps. There should be no obstructions on either side of the step-down bench, allowing the paddler to choose the side they prefer and are most comfortable using to navigate down the bench.
The pull bars on either side of the launch must be at the right elevation and distance from the paddler, making it comfortable and easy for a disabled paddler to pull himself or herself down the chute and into the water.
Stabilization saddles and launch area Too often, the launch area is sloped and includes rollers. When a kayak, canoe, or SUP, is placed into the launch, gravity will dictate the action of the vessel. If a kayak is not level in the chute, it will roll into the water and will not remain securely in place for the disabled paddler to board or disembark from. Remember, the design needs to accommodate the return of paddlers as well, and rollers can actually make this condition worse because they prevent the vessel from sitting securely and remaining in place. The width of the launch area is also a factor — if it is too wide, it makes it more difficult for a paddler to make their way from the step-down bench in order to transfer into their vessel.
Quality and Durability
With most products, value is inevitably determined through quality products enduring the test of time. Most entry-level accessible kayak launches consist of molded plastic floating docks and accessories with some metal features. While they may not be as aesthetically pleasing or able to survive severe storms, they are an affordable way to test the waters (so to speak), launch a program, and engage new paddlers without a large investment. These launches require regular maintenance and have a short product life. For organizations that desire a high-quality adaptive kayak launch and have the budget to match, a BoardSafe kayak launch system should be considered.
BoardSafe's entire system has been engineered for paddler performance and product durability. This includes commercial-grade aluminum, stainless steel, weather-resistant and slip-proof composite decking, encapsulated floats, and many other design features that facilitate safe transfer in and out of the water. These systems last for many years and are the preferred products of clients who don't want to remove the docks in the winter or who have fluctuating water levels or who are susceptible to heavy storms.
Although often used interchangeably, the terms "accessible" and "adaptive" are distinct and need to be properly understood. In the traditional sense, "accessible" denotes something that is easy to get to, where barriers such as steps have been removed. It can also include features stipulated by ADA guidelines, like a 1:12 gentle pitch, specific height handrails, and alternative handrails. Accessible launches are great for able-bodied kayakers, beginners, children, seniors, and people with minor limitations like joint issues, arthritis, and developmental delays. An accessible launch may even work for a small number of paddlers with moderate disabilities. However, for adaptive paddlers with greater mobility challenges, an accessible launch alone does not meet their full range of needs, and will not get them into the water safely or easily.
An "adaptive" launch is an enhanced accessible launch. Adaptive kayak launches are engineered and designed with features that accommodate paddlers of all abilities. The adaptive kayak launch designed by BoardSafe Docks was created based on the input of physical and occupational therapists and adaptive paddlers. Adaptive kayak launches are feature-rich to empower all users to overcome any mobility challenges.
Value
Many kayak launch buyers determine the value of a kayak launch relative to its ability to assist a number of paddlers over a period of time. Most people are aware that a product that outlasts a similarly-priced product offers greater value. In a similar way, but often overlooked, a product that accommodates a greater number of users will offer more benefit to more people, and therefore be more valuable. Feature-rich adaptive launches could help three or four times the number of users than a standard accessible launch. Each potential buyer needs to calculate this cost of ownership and return on investment. Many buyers go beyond the basic quantifiable measures of determining a kayak launch's value, because helping those who live with the most severe handicaps is priceless. Some inferior accessible launches keep many with mobility issues from even considering their use, but allow an organization to check off the "ADA" box. On the other hand, those who desire to empower all users — especially those who typically do not enjoy life's simple pleasure of roaming access — do not equate an adaptive launch's value to the ROI because helping those in our communities with the greatest needs is, as they say, priceless.
To discuss your project and evaluate BoardSafe's adaptive kayak launch options, contact us on our website or call 610-899-0286.