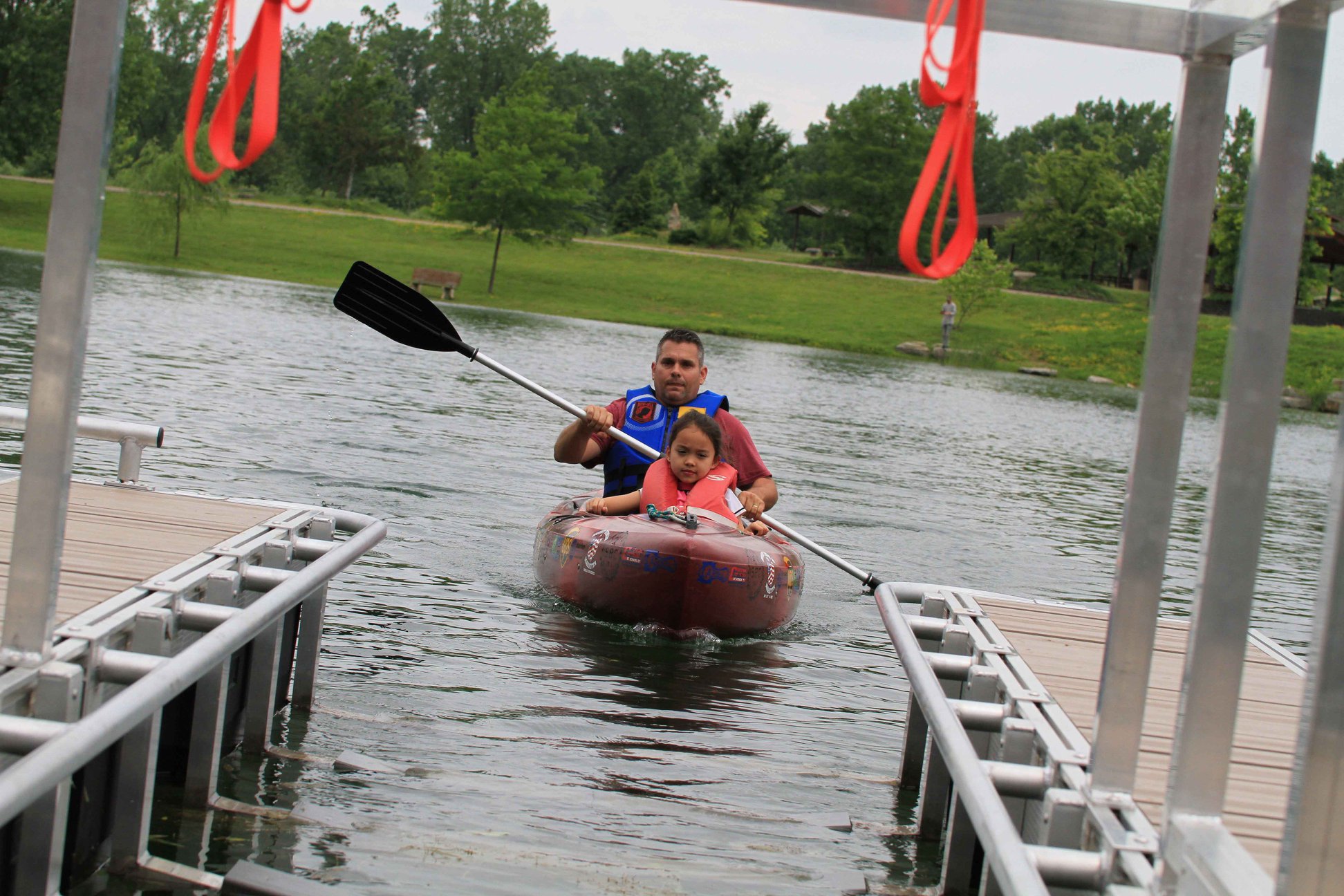 We're often asked, "Who can use the BoardSafe Adaptive Kayak Launch?"
BoardSafe's adaptive kayak launch is designed and manufactured with specific adaptive features that make it easy for paddlers in wheelchairs to access their kayaking vessel. The aluminum welded frame, side-by-side gangway and chute, roll cage with overhead grab bar, optional hand straps, and slide-down seat with pull-out bench, provide access in a safer and easier manner — for everyone.
These design features are engineered with adaptive paddlers in mind, who are often excluded from paddling due to their inability to get into their kayak without others physically lifting them into their vessel. BoardSafe closely considers its features so they work for paddlers who need to navigate from their wheelchair to their kayak so they can enjoy their time on the water. Without these adaptive features, adaptive paddlers could be stuck on land, excluded from the joys that kayaking brings.
Can the kayak launch be used by non-disabled paddlers?
Can anyone use it? Can it launch an SUP (stand-up paddle board)? Can it launch a canoe? The answer to all these questions is, "Yes, yes, yes, and yes!"
The adaptive features of the launch are specialized to provide accessibility for persons who have been restricted from participating in the past. BoardSafe's responsibility, when designing, engineering, and manufacturing these launches, is to make them accessible to paddlers with the highest degree of need. The BoardSafe launch is an inclusive launch, and we want people to try it out. The best way is to load up the kayak, canoe, or SUP, head to the nearest launch, and experience its ease of use!
Our goal at BoardSafe Docks is to make adaptive kayak launches available to the widest range of users. The purpose of the launch is to include all paddlers — abled users and differently-abled — so they can enjoy the freedom and pleasures that being out on the water brings.
BoardSafe's feedback from adaptive paddling groups reveals that although some launches call themselves "accessible" and are promoted as such, some launch designs have barriers that exclude users with higher needs of accommodation.
The features of the BoardSafe Launch can accommodate persons with limited mobility who depend on wheelchairs and other accessibility aids, such as crutches, braces, and prosthetics. There is ample room on the floating dock portion of the launch to move safely from chair to bench. Users can also safely store the wheelchair out of the way of incoming and outgoing paddlers during high usage times. Additionally, the spacious area surrounding the launch (including the small floating dock across the launch area proper with the underwater straddles) provides room for multiple persons to assist the adaptive paddler to enter and exit their boat. The decking of the launch is made from a variety of materials, from synthetic lumber to concrete to grated fiberglass, and all substrates are textured to provide non-slip footing.
The BoardSafe adaptive launch is great for more independent paddlers who may be hampered by arthritis, balance limitations, or cognitive delays, as well as beginners, children, and seniors. The chute and saddle provide stability that holds the vessel in place, and offer an overhead grab bar, optional hand straps, and pull bars, that are appropriately placed to provide a smooth entry into and exit from the water.
The saddle is designed to accept kayaks, and the loading area is wide enough and long enough to accommodate most canoes, allowing for the paddler's choice of vessels.
The launch was redesigned in 2021 with a new, standard feature: the saddle of the launch.
The saddle now contains a center void to accommodate where the paddle board will sit in the saddle. Since Stand-Up Paddle Boards (SUP) are manufactured with a center rudder, the improved saddle allows SUP users to place their paddle board into the saddle like a kayak and canoe, offering the stability needed to launch the SUP from the same chute. This new enhanced design makes the launch even more appealing and versatile for paddlers who want to get outside and onto the water with their SUP.
BoardSafe Docks is the trusted designer, engineer, and manufacturer of aluminum floating docks, adaptive kayak launches and fishing piers, gangways, and pedestrian bridges. BoardSafe is also a recognized and respected designer and manufacturer of rowing centers for top national rowing teams. The sales team at BoardSafe Docks is always available for questions, consultation, and to assist you in finding your optimal waterfront solution and talking you through your challenges.
Click here to begin a tour of our adaptive products. Check out our website at BoardSafeDocks.com or give the sales and design team a call at 1-610- 899-0286.