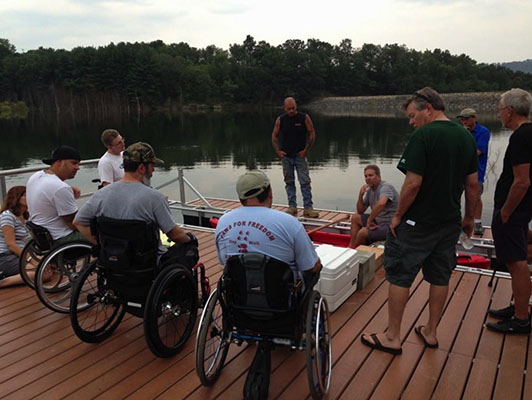 It's admirable when a community or organization recognizes the need to install an accessible kayak launch with adaptive features. However, there are many questions that need to be answered before the project can move forward. Funds for these types of projects are often hard to come by, so it's critical to make sure your launch system meets the needs of everyone in your community who wishes to use it.
Kayaking has increased in popularity over the last several years, especially since the onset of COVID. Kayaking allows paddlers to enjoy the great outdoors and be together in a group while maintaining social and safe distancing. Adaptive athletes desire to be on the water with their able-bodied friends and family members. Kayaking has proved beneficial for an adaptive athlete's physical and mental wellbeing and makes them feel included. It offers a sense of freedom they may not experience on land or in their wheelchair. The same challenges that exist for them on land also exist for them when trying to get into their kayak and out onto the water. A BoardSafe Adaptive Kayak Launch with specific adaptive features offers park systems and communities the opportunity to shape the future of outdoor spaces, lifestyles, and quality of life for an adaptive paddler — and not just check off an "ADA Accessible" box.
A kayak launch is a big investment in your town, your lake, and your park system. This investment in your community should be inclusive of ALL paddlers. Over the years, the feedback we've received from adaptive paddlers is that there's nothing more disheartening than to travel to a site that promotes its facilities as "accessible," yet is only accessible for some of the users and not inclusive of everyone who wishes to use the launch system.
While it's encouraging to see so many leaders across many industries in the private and public sectors strive to create a more inclusive society, it's paramount that the accessible products they select benefit the greatest number of users possible.
BoardSafe Docks is here for our customers and available to address the many different aspects of your project. We excel in finding solutions for your water entry challenges.
To ensure your launch system is truly accessible, we'll work with you to design the specific adaptive features necessary for your launch. Our launches are not one-size-fits-all (which limits who can truly access the launch) but customized to fit your waterway.
BoardSafe's Adaptive Kayak Launch Custom Features
BoardSafe Docks will guide you with the length of your gangway to ensure it's ADA compliant and no greater than a 1/12 pitch.
We'll help you decide if a kayak chute is necessary.
The adaptive features of our adaptive kayak launch that are necessary for an adaptive paddler to enter and exit their vessel and the water are:

gangway, chute and saddle launch that are customized to fit your point of entry into the water
a protective toe kick that prohibits the wheelchair from accidentally sliding into the water
a tiered boarding bench with pullout seat
roll cage with overhead grab bar and optional hand straps
pull bars located on both sides of the kayak saddle
Construction using one or multiple floating dock sections
BoardSafeDocks will assist you to find the best location for your adaptive kayak launch, whether it's on a lake, river, or waterway affected by tidal fluctuations and changing weather conditions.
BoardSafe Docks can also evaluate an existing mounting location, such as a wooden pier or concrete foundation, and provide guidance if there's no current infrastructure in place.
Over the years, BoardSafe has developed expertise in building adaptive kayak launches because it seeks the input of adaptive paddlers. From Day One, BoardSafe has engaged a focus group of spinal cord rehabilitation members, a local nonprofit for independent living, amputee groups, and other outdoor adaptive athletes. BoardSafe includes ideas and feedback from other adaptive paddler groups in order to improve the kayak launch product to meet all needs in the disability community. BoardSafe recommends that all prospects and clients desiring to offer an adaptive kayak launch in their community engage with local adaptive recreation groups and solicit their input to create the most equitable application for all.
Everyone should be aware that obtaining permits and approvals is usually necessary prior to installing a BoardSafe Adaptive Kayak Launch. These may involve local, state, and federal (ACOE- Army Corps of Engineers) agencies.
BoardSafe Docks is the trusted designer, engineer, and manufacturer of aluminum floating docks, as well as the premier designer and manufacturer of rowing centers for top national rowing teams. Their sales team is always available for questions, consultation, and to assist you in finding your optimal waterfront solution.
Learn more about our projects at our website, BoardSafeDocks.com, or by calling us at 610-899-0286.