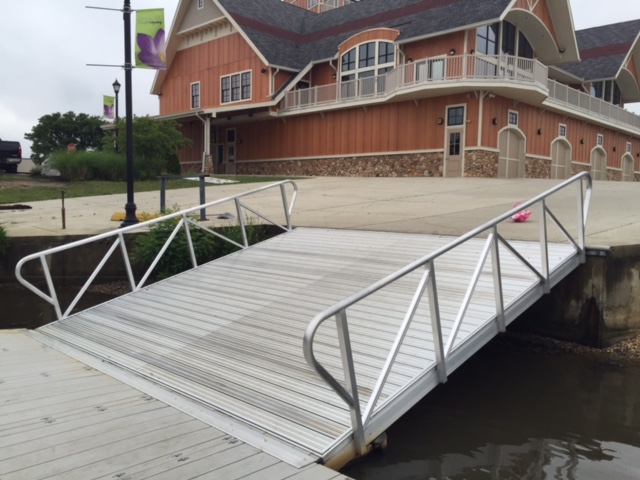 When management from the Camden County Boathouse at the Cooper River contacted BoardSafe, they were looking to accommodate the many rowers and spectators that use their facility throughout the year. They needed to alleviate the bottleneck of traffic between their large, ornate boathouse, and the floating docks and water access.
The boathouse is home to rowing clubs at six area high schools, the Rutgers University – Camden Campus Rowing teams, and three Masters adult rowing clubs. The Cooper River regatta calendar hosts almost 20 events per year from March through November. The new gangway needed to be extra wide.
BoardSafe specializes in manufacturing aluminum floating docks and aluminum gangways for rowing centers. In order to fulfill customer expectations, BoardSafe is known for their innovation on customized projects.
The Camden County Boathouse aluminum gangway is 20 feet wide and 20 feet long. "There are many considerations when constructing a gangway of this size," says BoardSafe president Scott Tihansky. "Not only are there structural considerations for a gangway of that size, but we also need to analyze how the gangway fastens and pivots on the bulkhead and calculate the point load capacities on the floating docks. The performance of the aluminum gangway is measured and studied in combination with other variables too, including the weight of the boats, potential foot traffic, the water currents, and water fluctuations."
The aluminum gangway was installed and immediately improved the experience of the rowing facility. Many rowing centers are in need of upgrades and renovations and should consider replacing their gangways with much wider aluminum gangways.
To learn more about BoardSafe's aluminum floating docks, piers, gangways, and other specialty products for rowing centers, call us at 610-899-0286, or visit boardsafedocks.com.