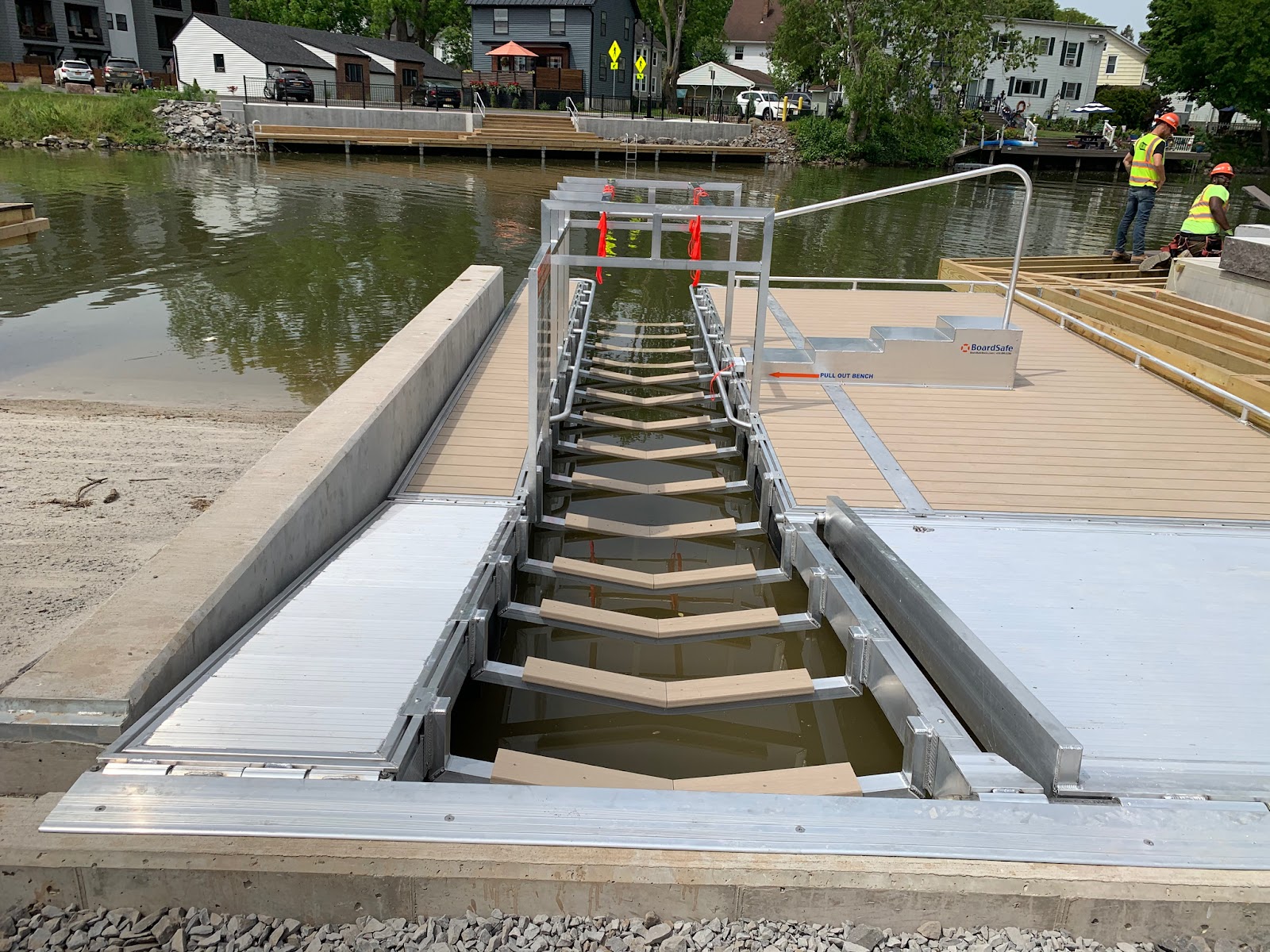 The Village of Fairport is proudly equipped with a custom BoardSafe Adaptive Kayak Launch, part of a complete waterfront redesign at its Erie Canal's entry point. GPI, the design engineer on the project, sought out BoardSafe Docks for their assistance in developing a design solution that would fit the adaptive launch into a designated space that rests next to their newly-designed boat ramp.
The launch system was designed with a concrete trench at the top of the launch that allowed for the installation of the bulkhead angle and related hinge pin. This space allowed the pin to be removed for an easy installation.
The customized scope of this project included an 8-foot-wide gangway that fit into the designated launch space. The chute was also designed to be 8 feet. The launch included an 8-foot by 20-foot floating dock and Clip-A-Launch 20S (designed for entry from one end). The cost of this project was $50,000 and was installed at the location of the Erie Boat Company, Inc., operated by Peter Abele.
The Erie Canal Boat Company offers kayak rentals and excursions on the Erie Canal and also has associated walking and bike trails along the canal. Their accessible boat company offers kayak, canoe, paddle board, pontoon, and bicycle rentals to people of all abilities.
The Erie Canal Boat Company is a recognized supporter of, and partner with, Rochester Accessible Adventures and the Adaptive Paddling And Cycling Centers (APACC) in the Upstate New York Regions. Together they host accessible paddle days, offer training, equipment, and inclusive programming to transform the Erie Canalway.
Anita O'Brien, Executive Director of RAA, has a mission to ensure that people with disabilities who live or travel in the region have access to equipment and have the ability to enter the water as safely and easily as they deserve. She wants everyone to experience the greatness of the Erie Canalway alongside their family and friends. Anita O'Brien is currently working with BoardSafe to get more of their adaptive launches installed along the canal.
The BoardSafe Adaptive Kayak Launch supported the Erie Canal Boat Company in their mission and has helped make Fairport an inclusive destination for paddlers of all abilities. Tourism is on the rise in Fairport, which is becoming recognized as an inclusive destination. Read more about BoardSafe's exclusive adaptive products here.
Take a video tour of the Fairport accessible kayak launch below.