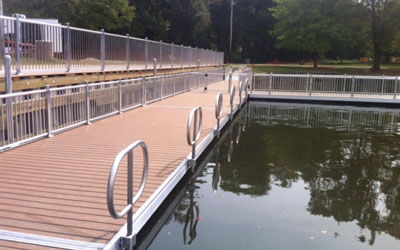 Home, marina, and rowing center owners, look to BoardSafe for quality and value
When the design team at BoardSafe sat down to engineer the best designs for its floating docks and piers, it drew on its 20+-year experience in the construction industry. Homeowners of residential docks, and those overseeing the operations of marinas and rowing centers, all desire the same things: high quality, low maintenance, and tremendous value. The team at BoardSafe selected the best products and processes to achieve these common goals.
BoardSafe uses NyloDeck synthetic deck boards. This decking, made of recycled carpet fiber (fiberglass), is among the strongest in the synthetic lumber industry and one of the few deck boards that can be framed 16" on center. The fiberglass material has no wood flour and is therefore mold- and mildew-resistant, as well as ground-rated. Additionally, it is slip-resistant and offered in numerous color options to fit the aesthetic goals of your project. Because it is made of recycled materials, it is one of the most ecologically-friendly products on the market.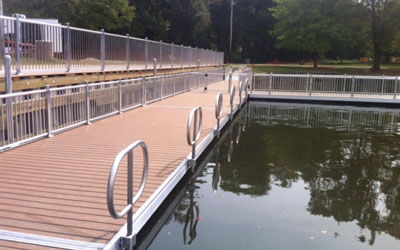 For aluminum piers and docks that require pilings, BoardSafe uses fiberglass pilings from Pearson Pilings. Pearson's products are significantly stronger and more durable than standard pilings. Over the life of the pilings, Pearson's pilings are cheaper and environmentally friendlier. Read Pearson's piling engineering specifications here.
To fasten the NyloDeck decking, BoardSafe uses the TimberStrong fastening system. This hidden fastening system was developed by BoardSafe's sister company, TimberStrong, to meet the need of a superior hidden fastening system for both decking strength and speed of installation.
On all marine applications, including aluminum floating docks, aluminum gangways, aluminum adaptive boat launches, and aluminum piers, BoardSafe uses marine grade 6160 aluminum for residential and commercial applications. Similarly, the hardware for all marine applications is stainless steel for greater strength, durability, and quality.
If you are a homeowner or manage a rowing center or marina, or have another commercial marine project, and would like to discuss your project with the team at BoardSafe, call 610-899-0286. BoardSafe works on projects located on lakes, rivers, marshes, ocean frontage, and other marine and coastal areas on the East Coast, Mid-Atlantic states, New England, New Jersey shore, the Midwest, Carolinas, Outer Banks, Florida, and anywhere else we are needed. We also handle all shipping details! Whether you are replacing docks, building a new marina, rowing center, or residential dock, BoardSafe can help you.