BoardSafe has developed a line of accessible marine products for the adaptive athlete. These products include an adaptive kayak, canoe, and boat launch, accessible piers and floating docks with ADA features, and adaptive rowing docks for adaptive rowing. BoardSafe developed these products in conjunction with adaptive athletes and are specifically designed to meet their needs. Because adaptive rowers and paddlers had input on the products' proprietary designs, BoardSafe believes their offering of adaptive boat launches, fishing piers, and adaptive rowing docks, provides the best-performing and highest-quality applications on the market. All adaptive products are made with the same best practices, features, engineering, and quality measures, used in all BoardSafe products. Each adaptive rowing product is specifically designed with the rowers in mind.
Please take a look at our latest color brochure for more details, features, testimonials, and references to help you launch your project — today!
BoardSafe encourages you to customize your accessible marine product. If you need an adaptive kayak launch, fishing pier, or adaptive rowing dock, BoardSafe is able to adapt their standard designs, engineering, and product sizes, to build a product that fits your needs.
Need help with fundraising? Read our Best Practices for Fundraising for Your Accessible Project
Ken Ryno, Adaptive Product Specialist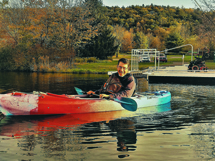 If you are considering an adaptive product for your lake, river, or other marine area, you will want to talk to Ken.
Ken has been a driving force in the community, advocating for accessibility issues and encouraging other adaptive athletes. He was a founding member of Team River Runner, Lehigh Valley Chapter, and is also an avid outdoorsman. Ken was a valuable part of the design team that helped develop the adaptive kayak launch, and as an adaptive athlete, he has been an outspoken champion for BoardSafe products.
Ken assists clients with identifying the needs and right products for their projects. He also helps navigate clients through fundraising strategies to raise money to pay for their adaptive projects. Contact us to discuss your adaptive or accessible project with Ken.
[Let us help you launch your project]
REQUEST AN ESTIMATE
See some of our products and projects below.
[Let us help you launch your project]
REQUEST AN ESTIMATE