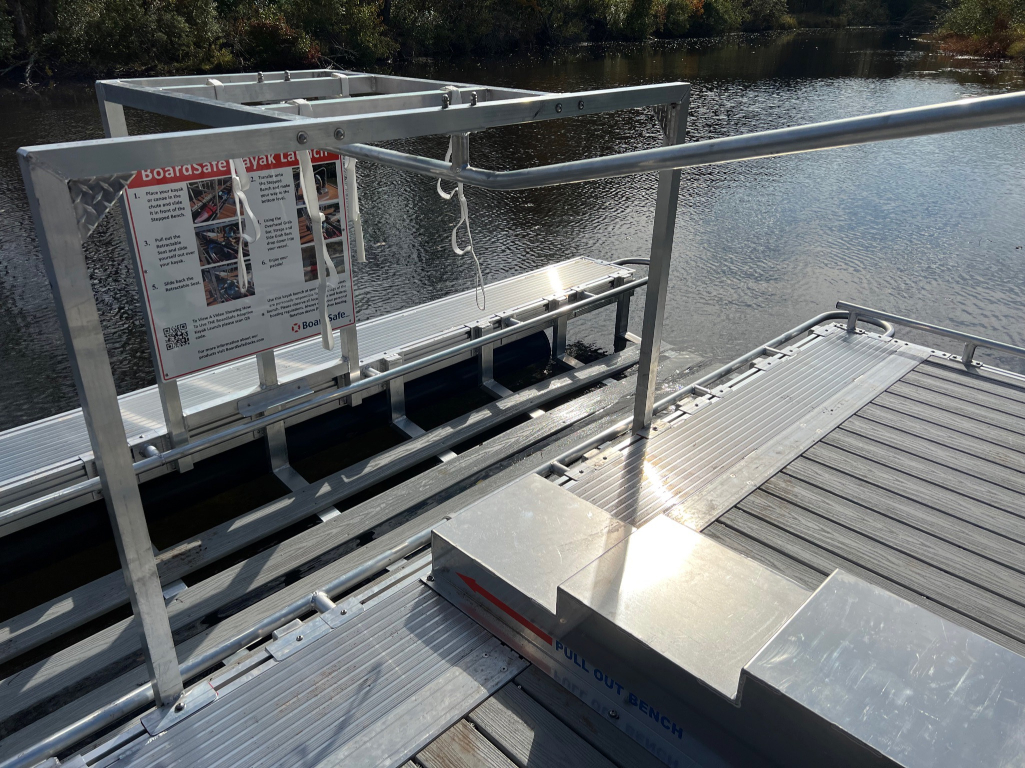 The community of Couderay, Wisconsin, now has a safe, adaptive, and accessible way to get their boat, kayak, and canoe in the water to paddle and fish the Couderay River.
In October 2022, BoardSafe Docks installed a new adaptive kayak launch providing all abilities universal access to enjoy the outdoors. The floating dock and adaptive launch system include a 5-foot by 20-foot gangway, an 8 x 16 aluminum floating dock, and a BoardSafe Adaptive Kayak Launch with Boarding Kit (ADA-inspired features).
The adaptive kayak launch system is anchored into the bank with a concrete bulkhead that is 12 feet long. A bulkhead mounting kit and turnbuckle with cable system help secure the gangway floating dock and the 5' x 20' gangway leads to the floating dock and adaptive kit. The aluminum floating dock has an aluminum frame with composite lumber decking that measures 8 feet wide by 16 feet long. On the river side of the floating dock is a BoardSafe adaptive kayak launch that is 16 feet long and includes an accessible boarding kit, pull-out bench, overhead grab bars, and an instructional sign for a convenient transition on and off of the water.
Couderay, WI
Installed October 2022

Customer-installed bulkhead

5-foot by 20-foot gangway

One (1) 8' x 16' floating dock

BoardSafe Adaptive Kayak Launch with Boarding Kit