Each project location is unique, and there are multiple variables in designing high-quality water access. BoardSafe can help you design a solution that is safe, functional, and has low impact on natural habitat.
For those who desire safe, quality water access for all, BoardSafe offers adaptive kayak launches, finishing piers, picnic tables, and other solutions. All adaptive products are designed and tested by adaptive athletes.
Whether the product is custom-made or a standard product, all products are made in the USA by craftsman using the highest quality materials and standards for manufacturing. You will see pride in our products!
Since 1989, we have specialized in high-end construction. Many marinas, rowing centers, and other commercial locations, seek our experience and attention to detail for their projects. BoardSafe has become the trusted aluminum dock provider when quality and expertise are the priority. We define quality by skilled craftsmen, high-quality materials, and a vast understanding of site variables, ecology, and engineering considerations.
Our dedication is evident in our products, and we are proud to be made in the USA.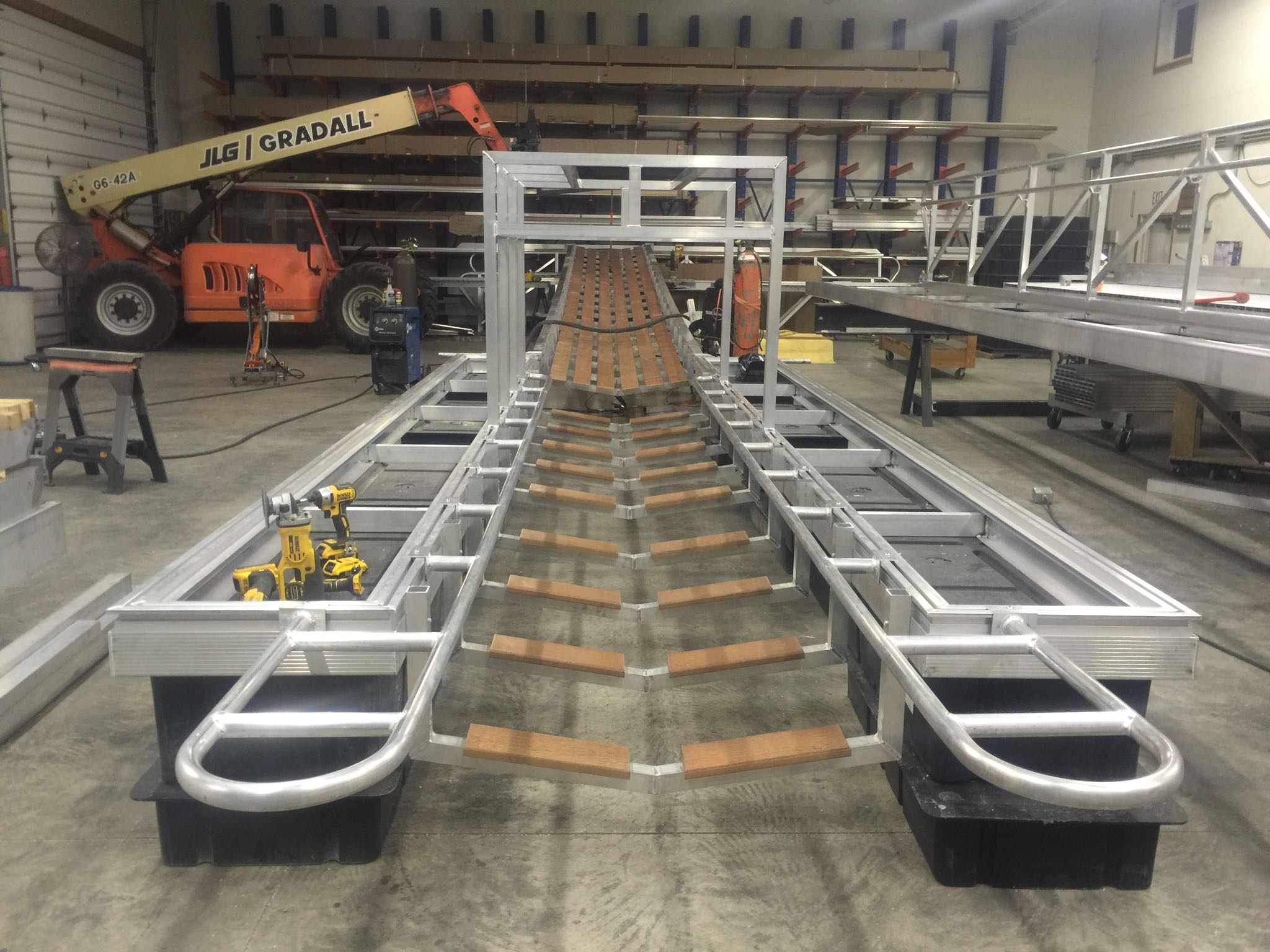 Offered in a modular design, aluminum floating docks are built with marine-grade 6160 aluminum, proprietary extruded aluminum frame, plastic encapsulated foam floats, and synthetic lumber featuring the TimberStrong hidden fastening system.
Aluminum floating rowing docks are the highest-quality rowing docks available. Engineered for performance, our rowing docks have low-profile plastic-encapsulated foam floats and 5″ free board, and feature the same commercial quality as the floating docks.
Designed by adaptive paddlers, our accessible kayak launch is the highest-quality launch on the market. With the most ADA features in its class, the launch offers the safest and quickest entry into the water.
Our commercial aluminum pedestrian bridges can be built to your specifications, or you can choose one of our standard sizes. BoardSafe commercial aluminum bridges use heavy-duty 100 Series aluminum extrusion, marine-grade 6160 aluminum, and proprietary extruded-aluminum frames. Clients may choose fiberglass grating or synthetic lumber featuring the Timberstrong hidden fastening system.
BoardSafe developed its heavy-duty 100 Series Aluminum Extrusion to meet the needs of commercial marinas and waterfronts. The heavy-duty design includes a marine-grade 6160 aluminum and proprietary extruded aluminum frame. Each order receives a design analysis based on use and environment to match features such as the bulkhead and roller hinges.
A patent-pending design that allows you to turn any floating dock into a boat launch. The Click-a-Launch simply fastens to your existing launch to allow paddlers to conveniently launch from the side of the dock.
[Let us help you launch your project]
REQUEST AN ESTIMATE