BoardSafe Docks Used in Residential Project on Texas Gulf Coast
On a scenic and private waterway on the Gulf Coast of Texas, a family is enjoying their BoardSafe docks. The residential project consists of a long 40-foot floating aluminum dock with composite decking and a 25-foot aluminum gangway. The floating dock measures 6 feet wide and is designed to house three internal piling guides and provide floor space for storage boxes. The client decided on internal pilings (vs. external pilings) for aesthetic reasons as the floating dock fluctuates with water levels.
Peter Clark, Principal of GCMS who sold and managed the project shared, "GCMS had the opportunity to provide a new residential dock system utilizing several best of breed material components and providers.  From Pearson Pilings to Board Safe aluminum floating docks and gangways I am very pleased with the way this project turned out.  Most importantly, so is my customer.  The GCMS team is proud to provide a dock system, which is environmentally safe, sound, and aesthetically complementary to the owner's property."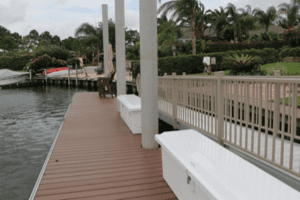 Project Particulars
Pearson Pilings (www.pearsonpilings.com)
Custom dock, gangway, aluminum substrate, manufactured by Board Safe and features the hidden fastening system by TimberStrong, Inc. (www/timberstrong.com ).
Deck material NyloDeck (www.nyloboard.com) "Desert Spice" utilizing TimberStrong, Inc. panelized fastening system
Powder coating railing from Ultra Fence (www.ultrafence.com)
About Gulf Coast Marine Solutions (GCMS):  GCMS, based in Houston, Texas offers environmentally safe, sustainable, long-lasting construction materials suitable for use in both marine and non-marine applications. Commercial, residential and municipal projects related to docks, piers, ships fenders and soil stabilization benefit greatly from these products and materials. GCMS can be reached at (713) 598-9480. Visit Gulf Coast Marine Solutions on the web at www.gulfcoastmarinesolutions.com.