REI, Chicago, IL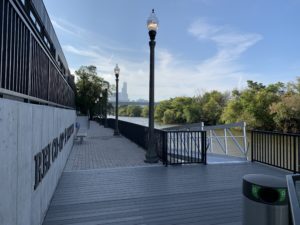 REI Co-op has moved to a new 40,000 square-foot space on West Eastman Street, Chicago. Now, REI Lincoln Park offers kayak and paddleboard rentals with direct access to the Chicago River and expanded assortments of quality outdoor gear. In addition, REI Lincoln Park will continue to offer a full-service bike, ski and snowboard shop and outdoor programs and events in its new location.
"Our new store location on the banks of the Chicago River is one of REI's most exciting locations. While our new store is larger and offers a wider selection of gear for hiking, biking, and camping, it is so much more than a place to shop," says Mike Daurio, REI Lincoln Park store manager. "With access to the Chicago River, it's a place where people can gather and enjoy the outdoors, directly from the store."
The new store location is within a planned "wild mile" along the North Branch Canal that will include habitat improvements, pedestrian walkways, fishing stations, vegetative islands, viewing platforms, canoe launches, and other amenities that cater to the public and wildlife.
REI's projects include an 80-foot gangway, a floating dock, and a Clip-a-Launch.