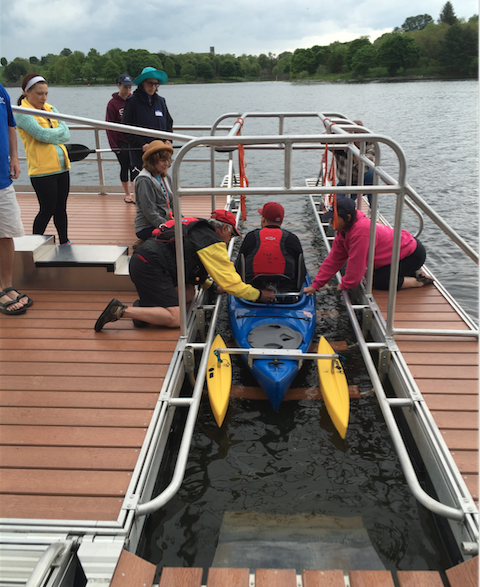 In the fall of 2015, BoardSafe Docks installed a new ADA fishing pier and adaptive / ADA kayak launch at Leaser Lake in Kempton, PA. The floating docks and applications were designed and constructed by BoardSafe Docks, completing an ADA and adaptive park area that already included paved nature trails and ADA picnic tables.
On Sunday, May 22, 2016, a group of 12 adaptive paddlers and 30 volunteers, including 6 ACC instructors, enjoyed their first adaptive paddling event.
The Leaser Lake Heritage Foundation coordinated the parking, food, and programming, while Team River Runner handled the adaptive boating program. This was the first event of its kind since the unveiling and trial run on the adaptive kayak boat launch in November. Paddlers were taught water safety, the proper way to enter and exit a boat, and the basics of paddling.
Many adaptive paddlers were treated to the water and world of paddling for the first time. Paddling veterans enjoyed the ease of entry and exit in and out of their kayak via BoardSafe Docks' ADA boat launch.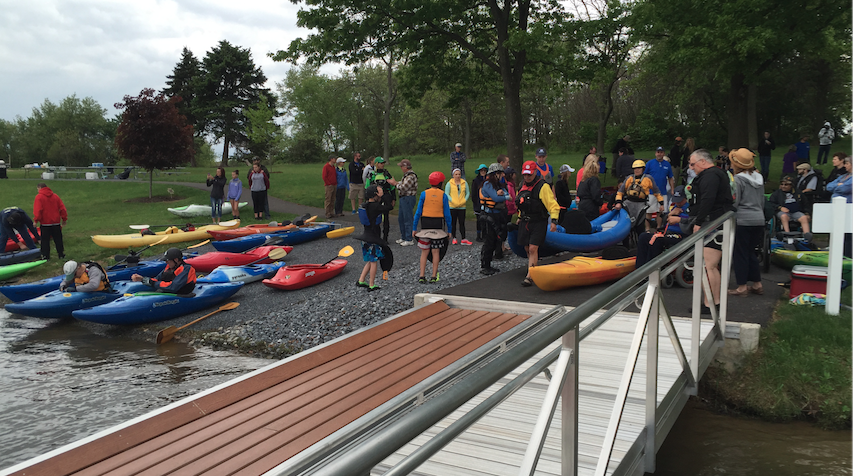 After the adaptive paddling clinic, all were invited to partake in the food and snacks at the recreation facility.
About Team River Runner
Team River Runner (TRR) believes that every wounded and disabled veteran deserves the opportunity to embrace new challenges, invoke leadership, and promote camaraderie. Team River Runner provides an outlet to fulfill these beliefs — inviting wounded and disabled war veterans and their families to participate in adaptive paddling programs. Founded in 2004 at Walter Reed National Military Medical Center, TRR now offers weekly paddling sessions in 45 locations across the nation. Team River Runner is more than an adaptive sports program — It's a program that provides hope and healing to those who have risked so much, yet asked for so little. It's an opportunity to enjoy nature and realize its social, physical, and emotional benefits, whether it's tackling whitewater rapids or paddling on peaceful flat-water. It's an environment that facilitates connection, allowing veterans to reunite with their families and forge relationships with those who have endured similar pain. Veterans are on the river to recovery.