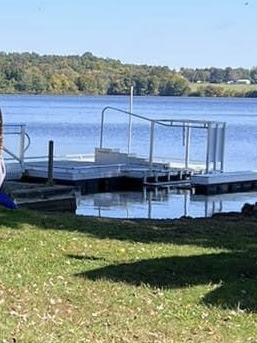 Gifford Pinchot State Park, a 2,338-acre recreation destination, is located in northern York County, PA, between the towns of Rossville and Lewisberry. The park consists of reverted farm fields and rolling wooded hillsides that surround the 340 acres of Pinchot Lake, the park's prime attraction. The lake was named in honor of noted conservationist and former Pennsylvania Governor, Gifford Pinchot.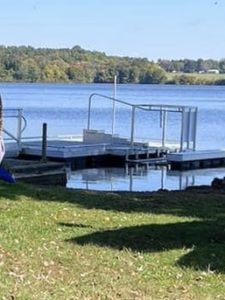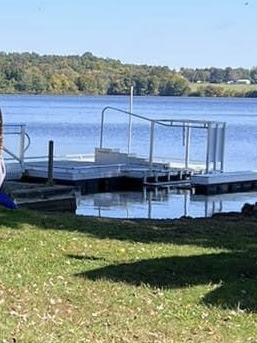 For paddlers looking for a quiet place to boat or fish, Gifford Pinchot State Park is worth the visit. The scenery is beautiful and located in the middle of beautiful woods. A paddle around the lake probably takes 2–3 hours. It's a great place to kayak, and just got easier for everyone with its newly-installed BoardSafe adaptive kayak launch.
The state park also offers additional accessible amenities like picnic areas, restrooms, swimming areas, and an accessible cabin that can be reserved in advance when camping in the park. Some of its trails are also identified as accessible.
There are no fees for boating, but there are fees for campgrounds and boat rentals. Motorboats must display a boat registration from any state. Non-powered boats must display their current boat registration from any state and a launching permit from any office at Pennsylvania State Parks or a use permit from the Pennsylvania Fish and Boat Commission.
Project location
The adaptive kayak launch at Gifford Pinchot State Park is located at 800 East Camping Area Road, Lewisberry, PA 17339.
GPS DD: Lat. 40.05883 Long.76.90116
The contact number for the campground office is 717-292-4112 and the park office is 717-432-5011. The email address at the park is GiffordPinchotSP@pa.gov.
Design services and products supplied by BoardSafe Docks for this project included:
Gifford Pinchot State Park is a very pleasant surprise for many paddlers, hikers, and campers, and absolutely worth the trip. The kayak and canoe launch adds another opportunity for kayakers of all abilities to safely enter their vessel and launch into the water. The serene lake offers paddlers the experience of flat-water kayaking, canoeing, or paddleboarding on their beautiful Pinchot Lake.
BoardSafe Docks is the premier designer, engineer, and manufacturer of aluminum floating docks and accessible and adaptive kayak launches and fishing piers. BoardSafe's commitment to advocacy and education has made them a trusted expert in accessibility design, as well as the manufacturing source for the best-performing and highest-quality launch systems available.
BoardSafe Docks' products ensure the inclusion of all abilities to benefit the widest range of users. To view the BoardSafe adaptive launch system in use, click on this link or copy it to your browser: youtu.be/vUVoc8a7EV8. To learn more about our projects or to discuss your accessibility vision, please visit our website, BoardSafeDocks.com, or contact us at 610-899-0286.