An adaptive kayak, canoe, and boat launch, offers a safe and accessible way for adaptive paddlers, those in wheelchairs, and those with disabilities, to more easily enter and exit a boat. The launch is designed with the input of adaptive athletes and using the best practices in dock and marina engineering. The highest quality products are used in the fabrication of each launch and many ADA (Americans with Disabilities Act) features abound in the structure. Below are some highlights on the adaptive kayak launch: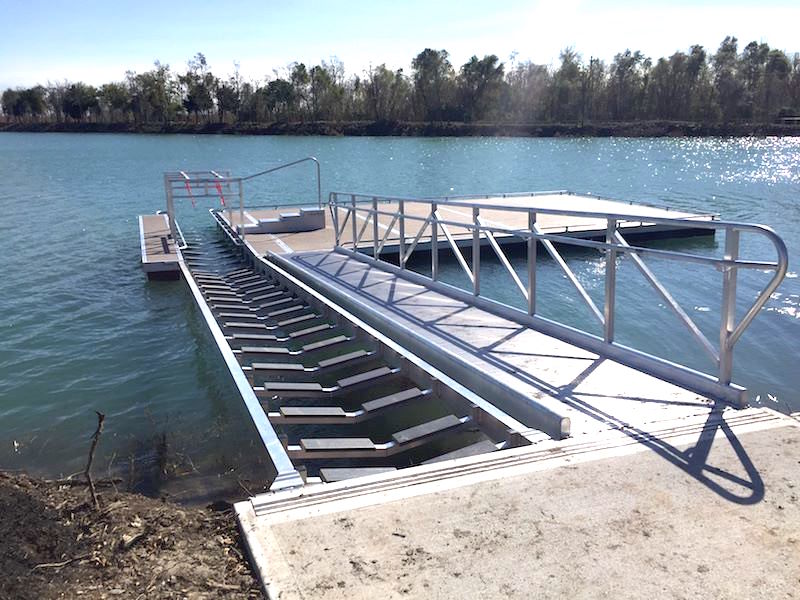 ADA features including a 1:12 slope aluminum gangway that is adjacent the composite decking boat slide. This design allows for individuals to ease their kayak down the slide while they travel along the gangway. 
The floating dock and gangway has a 36″ continuous handrail along the perimeter, consistent with ADA features.
Aluminum floating dock with boat access. The floating docks are engineered for maximum flotation stabilization considering the size, number and placement of plastic encapsulated floats. The marine conditions and water movement (tidal waters, rivers, lake ice, etc.) are also considered.
On the floating dock, there is a loading bench that is 16″ high. Our group of  adaptive kayakers determined this to be the ideal height to transfer over from a wheelchair. On the loading bench there are four levels with a four-inch rises. The athlete can use the handrail that runs the length of the bench to guide themselves along the bench to the boat. On the last transition there is a pullout seat that extends out and across the top of the boat. The user can simply slide across the pullout seat, locate himself directly across the kayak seat and guide himself into the boat.
Surrounding the kayak is the roll cage. It is a frame of handrails and hand straps offering the individual numerous gripping options for lowering into the boat.
Supporting the boat in the water is a partially submerged bracket system to stabilize the kayak. 
Projects: Accessible Kayak / Boat Launch for Adaptive Paddlers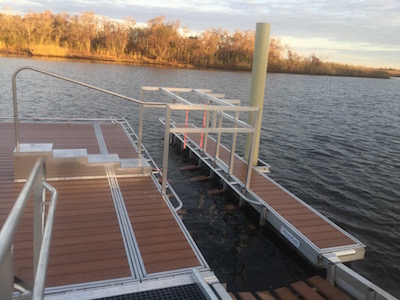 Adaptive kayak boat launch and ADA floating fishing dock at Leaser Lake in Pennsylvania
Adaptive kayak boat launch and aluminum ADA fishing pier at Friendswood Park in Texas
5 Rivers State Park Installs 2 adaptive boat launches in Alabama
State Park Unveils Adaptive boat launch in Pennsylvania
Click here for articles:
What is an adaptive kayak boat launch?                       
How an ADA kayak launch protects your boat
What does an ADA kayak boat launch look like?
Resources for ADA accessible boating, canoeing, kayaking and other watersports for adaptive athletes