68-Foot Aluminum Pedestrian Bridge Installed in Haines Mill Park, Allentown, PA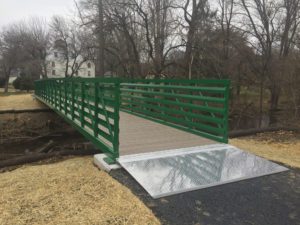 In December 2017, BoardSafe installed an aluminum pedestrian bridge in Allentown. The custom-manufactured pedestrian bridge was requested by Lehigh County for their park and historic property at Haines Mill.
Each year, thousands of Lehigh Valley residents visit the 37.5-acre Haines Mill Park. Some come to fish Cedar Creek that runs through the park and others have a picnic at the tables along the creek. Some come for sport and enjoy the youth soccer field and cricket pitch. Hundreds of students come with their school classes to tour Haines Mill Museum. A bridge was needed for students to safely cross the Cedar Creek and avoid walking along the busy roadway to access the museum and park.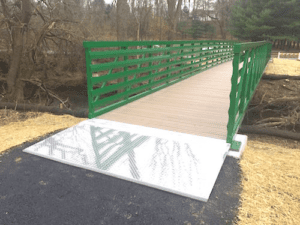 The aluminum pedestrian bridge measures 8 feet wide x 68 feet long and includes non-slip composite deck panels. The design of the pedestrian bridge allows for ADA access and has no steps or thresholds. Pedestrian bridges like this are becoming increasingly popular at parks where municipalities want to open access to all and encourage local residents to visit. BoardSafe is well known for their aluminum piers and floating docks for marinas and rowing centers, as well as adaptive kayak launches, but their aluminum pedestrian bridges are also in high demand.
To learn more about BoardSafe pedestrian bridges, call us to discuss the details of your project at 610-899-0286.