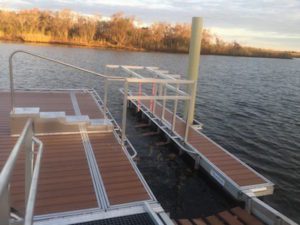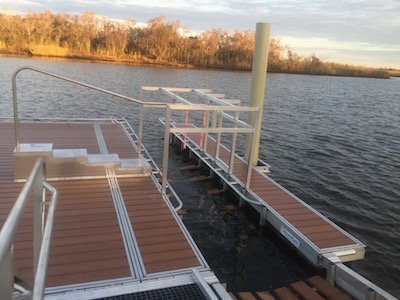 Adaptive kayaks, canoes, and boat launches, offer safe and accessible ways for adaptive paddlers, those in wheelchairs, and those with disabilities, to more easily enter and exit a boat. The launches are designed with the input of adaptive athletes, using the best practices in dock and marina engineering. The highest-quality products are used in the fabrication of each launch, and many ADA (Americans with Disabilities Act) features abound in the structure. Below are some highlights of the adaptive kayak launch.
ADA-compliant features include a 1:12-slope aluminum gangway that is adjacent to the composite-decking boat slide. This design allows for individuals to ease their kayak down the slide while they travel along the gangway.
The floating dock and gangway have a 36″ continuous handrail along the perimeter, consistent with ADA requirements.
Aluminum floating docks with boat access are engineered for maximum flotation stabilization considering the size, number, and placement of plastic-encapsulated floats. The marine conditions and water movement (tidal waters, rivers, lake ice, etc.) are also considered.
On the floating dock, there is a loading bench that is 16″ high. Our group of adaptive kayakers determined this to be the ideal height to allow them to transfer over from a wheelchair. On the loading bench, there are four levels with four-inch rises. The athlete can use the handrail that runs the length of the bench to guide himself or herself along the bench to the boat. On the last transition, there is a pullout seat that extends out and across the top of the boat. The users can simply slide across the pullout seat, locate themselves directly across the kayak seat, and guide themselves into the boat.
Surrounding the kayak is the roll cage. It is a frame of handrails and hand straps offering the individual numerous gripping options for lowering into the boat.
Supporting the boat in the water is a partially-submerged bracket system to stabilize the kayak.
For more information and installations, please follow these links:
Ken Ryno, Adaptive Product Specialist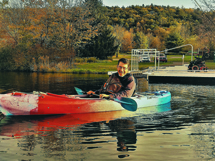 If you are considering an adaptive product for your lake, river, or other marine area, you will want to talk to Ken.
Ken has been a driving force in the community, advocating for accessibility issues and encouraging other adaptive athletes. He was a founding member of Team River Runner, Lehigh Valley Chapter, and is also an avid outdoorsman. Ken was a valuable part of the design team that helped develop the accessible kayak launch, and as an adaptive athlete, he has been an outspoken champion for BoardSafe products.
Ken assists clients with identifying the needs and right products for their projects. He also helps navigate clients through fundraising strategies to raise money to pay for their adaptive projects. Contact us to discuss your adaptive or accessible project with Ken.
See some of our products and projects below.
[Let us help you launch your project]
REQUEST AN ESTIMATE