Lake Nockamixon, PA, Accessible Kayak Launch and Adaptive Park Opens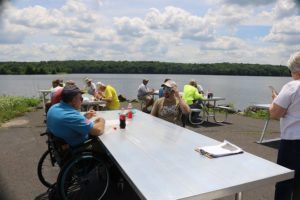 On June 30, 2018, the Friends of Nockamixon State Park unveiled its new BoardSafe adaptive kayak launch, accessible kayak racks, and accessible picnic tables at the launch area.
The launch area sits at the edge of the parking lot. BoardSafe manufactured four accessible aluminum picnic tables with bench cutouts to allow wheelchairs to easily roll up to and under the tables. Additionally, aluminum kayak racks were placed in the kayak launch area for boat storage. The aluminum adaptive kayak launch has a low threshold to allow adaptive athletes to roll from the parking lot onto the gangway and on to the floating dock. A boat slide is adjacent and parallel to the gangway to allow for easy towing onto the floating dock. From there, the adaptive paddler transitions out of their chair and onto the transition bench using the rail to slide down the bench beside the boat. Using the cage, bars, and hand straps, the paddler can gain leverage and control to lower themself into the cockpit and safely adjust the boat. The submarine launch bars cradle the boat to provide a secure and steady transition in and out of the boat.
This is the third adaptive kayak launch in the state of Pennsylvania. The other two launches are located at Leaser Lake in Lehigh County and Beltzville Lake in Carbon County. All of the three accessible boat launches were manufactured and installed by BoardSafe.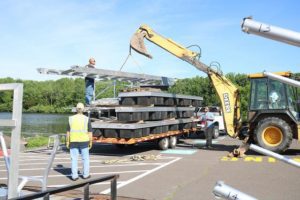 Click here to see video from a local television news report about the unveiling of the adaptive kayak launch.