New Aluminum Fishing Pier and ADA Boat Launch for Lake Friendswood Park, TX
Friendswood, TX, is a growing suburban community located between Houston and Galveston. The population is almost 40,000, and with the influx of residents, more amenities have been needed.
One of the popular public destinations in the area is Lake Friendswood Park. Lake Friendswood Park was an abandoned gravel pit that is now a 25-acre lake with a 2-mile concrete trail, covered pavilion, and restrooms. The Lake is the featured attraction at the park and now it is more accessible. The local community wanted to have an ADA accessible park that allows guests to easily move around the lake as well as have direct access to the lake for fishing and boating.
BoardSafe was contracted to manufacture and install an aluminum fishing pier, aluminum floating docks, and ADA adaptive kayak launch. Many visitors liked to fish from the shoreline and the new aluminum pier now offers greater access to the water. Additionally, it provided access to adaptive users, fishermen, and others who are wheelchair-bound to go out onto the pier to cast their lines. The aluminum floating fishing pier extends out 40 feet and is 16 feet wide. A long 30 feet aluminum gangway ramp leads to the pier and it is 4 feet wide to comfortably accommodate foot traffic.
To provide access to canoes, kayaks and other boats, BoardSafe manufactured and installed an ADA adaptive kayak launch. The adaptive kayak launch is a large aluminum floating dock measuring 20 feet wide by 40 feet long. The floating dock was custom-made to accommodate many users at once, offer more railing space and benches for sitting. Accessing the dock from the shoreline is a spacious 8-foot wide aluminum gangway that stretches 30 feet from the shore to the floating dock. The 8-foot wide gangway includes a 4-foot kayak launcher to slide the boats down towards the water along the gangway.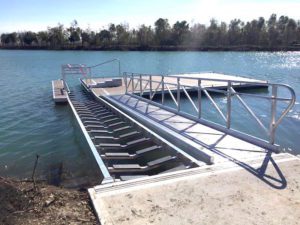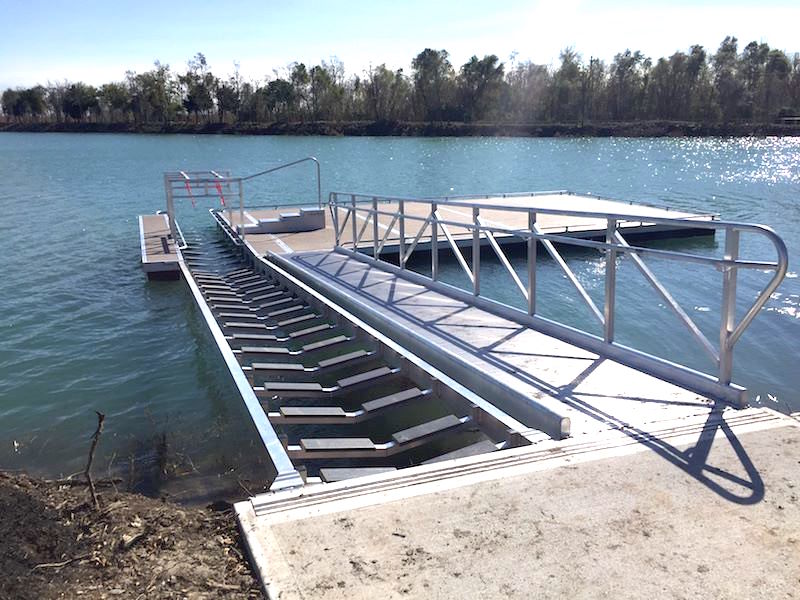 Both the fishing pier and the ADA floating dock have ADA features including the handrail, ramps, and other proprietary applications developed by BoardSafe for greater accessibility and safety.
BoardSafe installed the aluminum fishing pier and adaptive kayak launch in December 2016. City officials were pleased with the project, saying that the BoardSafe customer service and the quality of the products "exceeded expectations." Not only is the City of Friendswood, TX, pleased with the BoardSafe products, but now residents can enjoy them, too.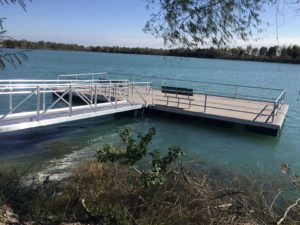 If you are interested in learning more about an ADA accessible outdoor park for your community and would like information on ADA accessible fishing piers, ADA accessible floating docks, and adaptive kayak launchers, then call the manufacturing experts at BoardSafe to discuss your project at 610-899-0286.