Safety First for West Wildwood, NJ, Customer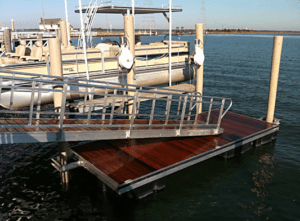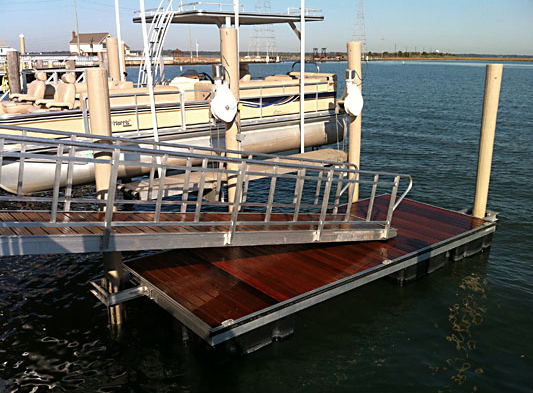 Recently, BoardSafe was contacted by a residential customer in West Wildwood, NJ, who was looking to upgrade their waterfront access, which included a boat lift, gangway, and floating dock. When we first met with the client their main concern was how to provide a safe way of boarding their pontoon boat, that was stored on the boat lift. The difference in elevation between the floating dock and boat dock was nearly 3 feet, so safely accessing the boat from the dock was impossible.
After listening to the customer's concerns about safety, and reviewing all of the project requirements, our designer proposed two options for boarding the boat. The first was to manufacture a folding aluminum boarding ramp that would allow the customer and their guests to board the boat directly from their home's deck to the boat, while it was up on the boat lift. The second option was to install a walkway with stairs on the support rails of the boat lift. The customer agreed that these options met the requirements and authorized BoardSafe to begin the fabrication of both items.
In addition to the boat access options, the customer also requested that BoardSafe design and build a new gangway and floating aluminum docks. The gangway and floating aluminum dock were manufactured using our proprietary aluminum elements. The deck surface on both units was covered in grooved Ipe panels, which were attached to the aluminum joists using the TimberStrong Fastening System. The use of the system eliminated the need to make the attachment through the deck surface. A custom handrail that matched the railing detail on the customer's home was installed on both sides of the gangway. Custom removable piling guides were installed on the dock that included rollers to prevent wear between the guide and pilings.