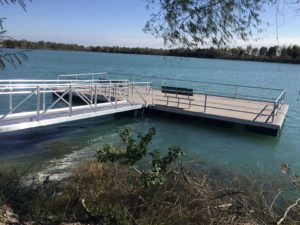 Accessible aluminum piers and floating docks are unique because they are engineered and constructed with the adaptive athlete in mind, using ADA (Americans with Disabilities Act) features. Whether visitors wish to enjoy a lakeside breeze or a day of fishing, BoardSafe's accessible aluminum piers and floating docks provide accessibility for all.
ADA features include a 1:12-slope aluminum gangway as well as low-rise thresholds. The piers, floating docks, and gangways have a 36″ continuous handrail along the perimeter, consistent with ADA requirements. Aluminum floating docks for BoardSafe accessible piers are engineered to provide greater stability on the water.
BoardSafe offers commercial aluminum piers and floating docks in numerous standard sizes, and they can be customized to suit your needs. BoardSafe manufactures commercial aluminum piers and docks using heavy-duty 100 series aluminum extrusion. BoardSafe uses the highest-quality materials, including marine-grade 6160 aluminum, proprietary extruded aluminum frames, and synthetic lumber, featuring the TimberStrong hidden fastening system. The piers and bridges are designed for marine applications at lakes, marshes, rivers, and other waterways. BoardSafe designs and manufactures products that meet the highest construction standards, as well as catering to special applications like ADA requirements and accessories for accessibility for all.