ADA Accessible Kayak Boat Launch Installed at 5 Rivers State Park in Alabama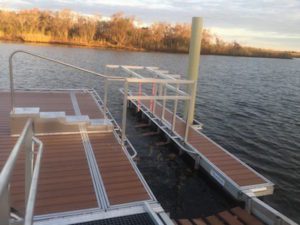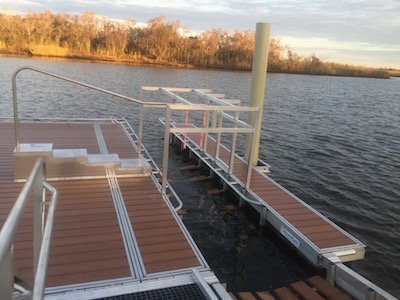 Few places in the world have the confluence of five separate rivers coming together. A state park in Alabama has that coveted area and made it into a state park – appropriately named 5 Rivers. There is a lot of exploration to be done on the rivers and the State of Alabama wanted to make the area more accessible with ADA access for adaptive paddlers, rowers, and others. 5 Rivers State Park has installed a BoardSafe ADA accessible kayak boat launch.
5 Rivers includes 250,000 acres of scenic waterways, woods, and wetlands. There is much to explore and much to do in and around the Mobile, Spanish, Tensaw, Apalachee, and Blakeley rivers flowing into Mobile Bay. The State of Alabama ordered two ADA accessible docks from floating dock and marina applications manufacturer BoardSafe. One accessible dock was installed at the 5 Rivers Bartram Landing, where visitors can launch for during regular business hours (8 am-5 pm). The Landing is the newest addition to the Bartram Canoe Trail.
The Mobile-Tensaw Delta is the nation's second-largest river delta. It encompasses a 10 mile-wide marsh, cypress-tupelo swamp, and bottomland hardwood ecosystem. The Delta has over 50 rare and endangered plant and animal species known to inhabit its wetlands and waterways. The Bartram Canoe Trail system provides opportunities for recreational boaters, specifically canoes and kayakers, to enjoy the rivers, streams, lakes sloughs and bayous of the Delta. Currently, the Alabama Department of Conservation State Lands Division maintains day use and overnight trails as well as two land-based and four floating platform campsites.
To view the trail system click here.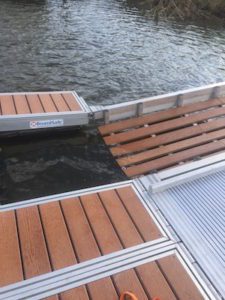 5 Rivers – Alabama's Delta Resource Center
30945 5 Rivers Blvd.
Spanish Fort, AL 36527
(Phone) 251-625-0814 (Fax) 251-625-0864
Open seven days a week, 8 am-5 pm