Ariel-Foundation Park, OH
When the local nonprofit Paddle for Heroes formed in 2016, the goal was to kayak from Mount Vernon to Marietta. The veterans and first responders who set out on the first five-day, 161-mile voyage wanted to raise money and awareness for those injured during their time in the service.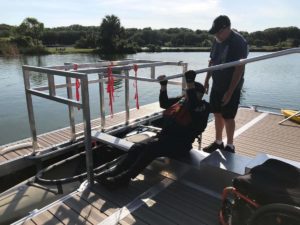 Along the way, the support they saw from communities and campgrounds across Ohio inspired a more tangible, ambitious goal: to raise enough money to install an ADA-accessible kayak launch in Knox County.
"When you get injured or have a loss of use or a limitation to your body, particularly as a veteran, it's not always the pain that creates the frustration, it's the inability to perform simple tasks – not being able to participate like everybody else, or even worse, having to ask someone else for help. It's the most embarrassing part," says Kim Rose, president of the Foundation Park Conservancy.
"This device will truly help our injured veterans get back on the water, and will help our residents and visitors of all abilities be more active and mobile, and enjoy the resources of Ariel-Foundation Park."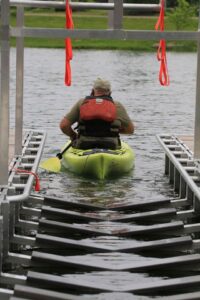 The launch will provide those with disabilities the opportunity to enjoy the mental and physical benefits that come with paddling.
BoardSafe launches can fit adaptable kayaks onto the belt because they are built to handle special mounts and seats. Team River Runner, an organization that helps veterans with missing limbs get out onto the water, says this was the only launch its clients could use. Research proved the organization right, and the decision was easy.