Gangway for a Private Yacht at Penn's Landing, PA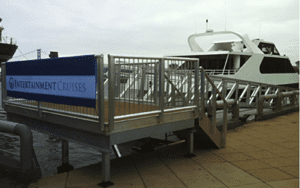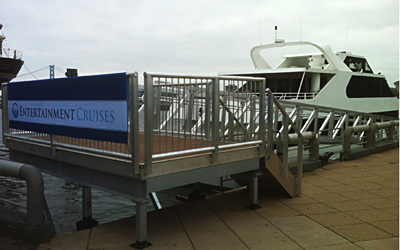 Penn's Landing, Philadelphia's premier waterfront destination located on the Delaware River, is the home port for Freedom Elite, Entertainment Cruises' newest private yacht. The new ship required dockage, which included removing old mooring pilings, installing new mooring pilings, installing two (2) 10-feet by 40-feet barges and installing a landing platform cantilevered off of the existing bulkhead wall. When it was determined a gangway and stairs would need to be included for the project, BoardSafe was asked to provide the items.
BoardSafe met with company officials and determined that because of the elevation difference between the new landing platform and the barge surfaces, at mean low tide, an 80-foot long gangway would need to be provided. BoardSafe, in turn, suggested using dock products engineered, designed, and manufactured by BoardSafe. Design loads were determined, calculations completed and a final design generated. The fabricators at BoardSafe then took the drawings and manufactured the gangway, landing platform, and stairs. The components were constructed using BoardSafe proprietary shapes and standard shapes. The decking was Ipe, and was supplied in panel form by TimberStrong.
"We have had a few events on the new yacht and we are getting many compliments on the ramp! It looks great."