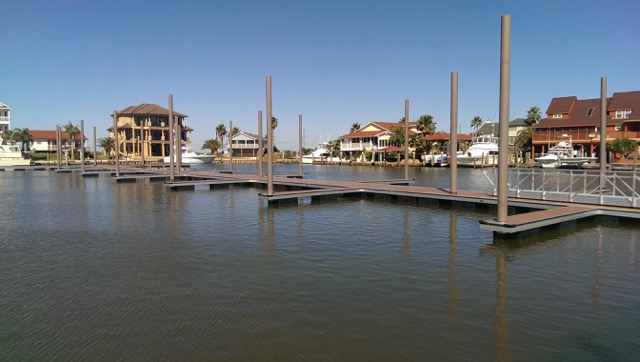 The Bridge Harbor Yacht Club on the Gulf Coast of Texas has been receiving major renovations to their facilities. Recently, they completed 1100 feet of new bulkhead, along with a new 30-plus slip floating dock. The project replaced the old concrete "A" dock to create a much safer and more convenient environment for boat owners.
BoardSafe, a manufacturer of aluminum floating docks, gangways, piers, and rowing centers, supplied the project marina products (docks and gangway) for the Bridge Harbor Yacht Club in Freeport, Texas.
The picture below shows the floating dock structure at the Bridge Harbor Yacht Club just before completion.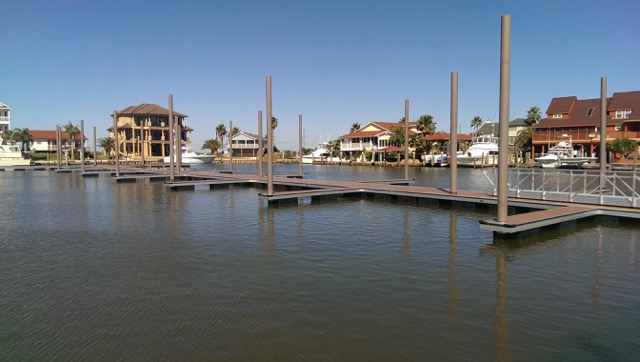 The project was undertaken by Gulf Coast Marine Solutions and included:
One main aluminum floating dock measuring 10' x 254'

Eleven aluminum floating docks, each measuring 4' x 10', provide boat access

20 Pearson pilings (12″ x 35′) to hold the docks in place

24 Pearson pilings (10″ x 35′) around the perimeter of the floating dock structure

NyloDeck

composite decking, made of recycled carpet fibers. The composite decking is slip-resistant and has no wood floor like other synthetic lumber that retains moisture.

An 8' x 30' aluminum gangway with ADA (Americans with Disabilities Act) features, including a 1:12 slope, a 36" handrail, and threshold
All products are made of the highest-quality and most-durable materials. In addition, they are all green, environmentally-friendly products. For example, the Pearson Pilings composite fiberglass pilings are stronger than wood, steel, and concrete, and are more durable. They do not leach chemicals into the water and are ecologically the best option for pilings. Gulf Coast Marine Solutions has worked on many projects with BoardSafe and uses their quick installation techniques to minimize the time spent and machinery needed onsite.
The following image is a preliminary blueprint of the design for the aluminum floating docks showing measurements, the main docks, finger docks, pilings, power pedestals, and other details.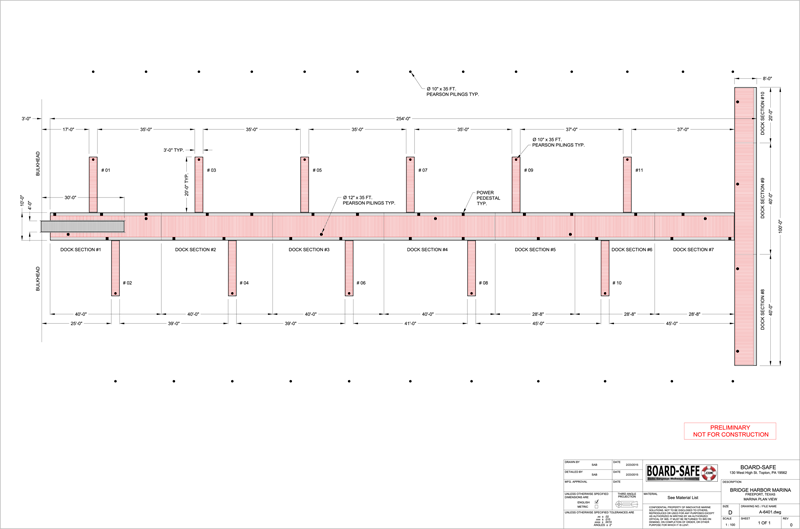 To learn more about the marinas, rowing centers, and other residential and commercial projects and products from BoardSafe, visit our website or call 610-899-0286 to discuss your project.