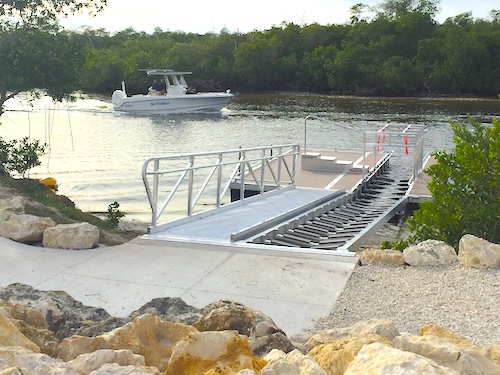 Sirenia Vista State Park in Cape Coral, Florida, is an 8-acre environmental park, known as a great place to enjoy viewing manatees. It is also a favorite fishing area for locals. The park is undergoing a series of upgrades. The Phase I enhancements have been completed and include a new BoardSafe ADA-accessible kayak launch area, manatee viewing locations, walking path, and landscape improvements. The new handicap-accessible kayak area now allows all those in the community — regardless of any physical limitations — to safely enjoy the outdoor activities and wildlife.
Enjoying the marine activities at Sirenia Vista State Park is a highlight of the park. The kayak launch allows kayakers access to the Calusa Blueway through Matlacha, and the state park has identified and created a series of water trails. Maps and information can be downloaded from their web site: http://www.capecoral.net/department/parks_and_recreationhome/sirenia_vista.php
This installation was highlighted on the following real estate presentation:
Sirenia Vista State Park is located at 3916 Ceitus Parkway, Cape Coral, Florida, 33991. The project is another high-quality project by BoardSafe. BoardSafe is a premier manufacturer of aluminum floating docks, aluminum pedestrian bridges, aluminum gangways, aluminum piers, rowing docks, accessible kayak launches, and other marina applications. BoardSafe prides itself not only in its products, but also in offering value-added services like engineering and other solutions to create the best application for each installation. This includes offering creative solutions that are the most practical and cost-effective, offering the least amount of ecological impact on the surrounding habitat. Contact BoardSafe to discuss your needs at 610-899-0286.