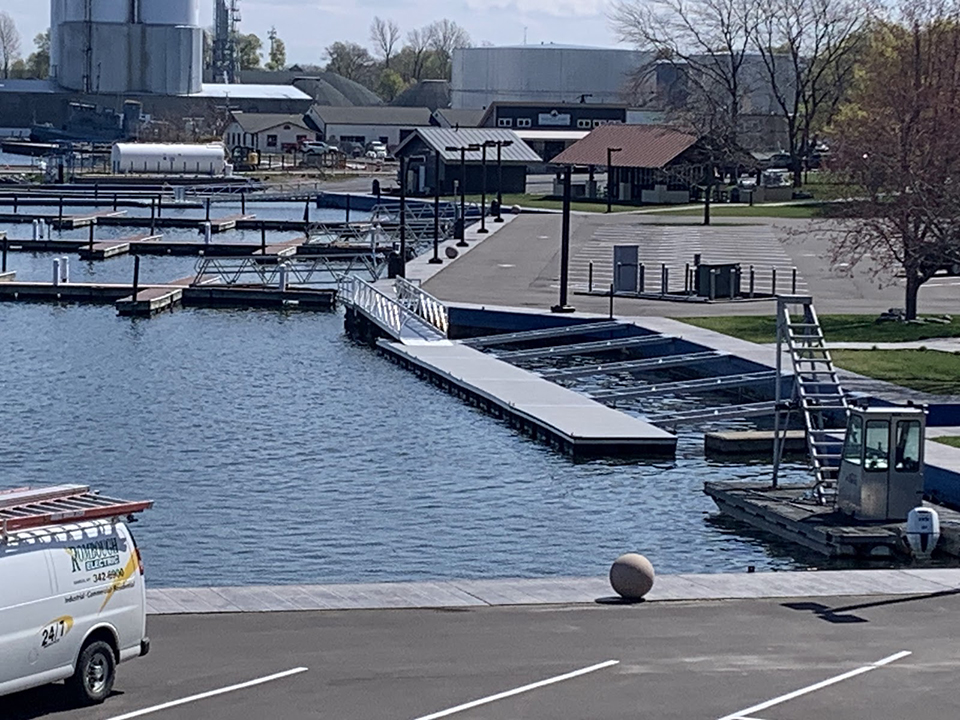 Wright's Landing, Oswego, NY, is the recipient of a new personal watercraft floating dock system at their marina on Lake Street in Oswego, NY.
Wright's Landing is a deep-water marina close to the NYS Canal System and Lake Ontario intersection. Its boat slips offer electric and water hookups and can accommodate 20′ to 60′ boats. The marina is open to boaters from May 1st through October 15th. 
As a result of the marina's improvement project, the city of Oswego @ Wright's Landing is able to offer docking for jet skis and personal watercraft and has created a better marina and lake experience for its visitors.
Please watch this video for a bird's-eye view of this unique installation: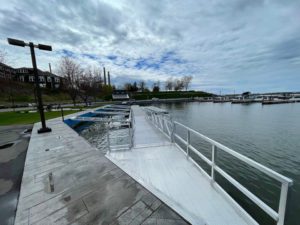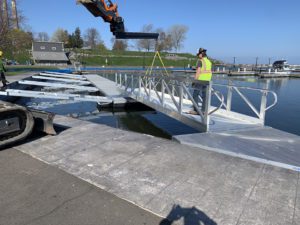 The scope and unique features of the project
The City of Oswego was looking for ways to add PWC docking to their marina. The custom project was designed and manufactured by BoardSafe Docks of Fleetwood, PA. The project features an aluminum-welded floating dock system that includes a cantilever deck, gangway, four floating dock sections, and PWC docks for jet skis and other personal watercraft. BoardSafe partnered with RBI Contracting of New Haven, NY, to assist with installation. Tim Rice managed the project for the City of Oswego.
A cantilevered deck section was installed parallel to the marina's existing seawall. This enabled the gangway to offer a smooth and easy transition to and from the parking lot area. Four floating dock sections, each 25 feet in length, are secured to the seawall with five support arm structures. The hinged support arms provide additional structure and stability to the dock system and allow the floating dock sections to rise and fall with changing water levels on Lake Ontario. The project also includes 10 new EZ Dock PWC ports that are attached to the outer edge of the aluminum dock's frame. BoardSafe floating docks' welded aluminum frame offers a design feature that allows the plastic PWC ports to be connected to the proprietary extrusion around the perimeter of the dock. This demonstrates how BoardSafe's product line can complement and enhance other marine products to increase their functionality.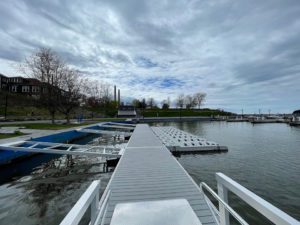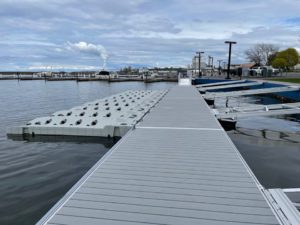 Components of the project include:
a 100-ft long dock made of up of four 25-ft. aluminum floating docks supported by plastic encapsulated flotation.

a 5-ft. wide x 32-ft. long aluminum gangway.

an aluminum cantilevered deck structurally fastened to the existing seawall.

five aluminum support arms for stability to hold the floating dock in place and move up and down with the rise and fall of the lake.

Ten PWC ports connected to the floating docks for jet ski and PWC storage and dockage at this location.
The cost of the project was in the $150,000 range.
What makes Lake Ontario attractive to boaters?
Wrights' Landing is well known in the City of Oswego for its wide range of services and amenities for boaters and visitors. Situated on the southern shore of Lake Ontario, the marina can accommodate boaters looking for seasonal slip rentals and transient dockage for a short stay. In addition to boat storage and docking, Wright's Marina offers a fueling station, providing gasoline and diesel fuel for boaters. The marina includes a 3–4 lane boat launch, a fish cleaning station, a boat pump-out, 24-hour restrooms and showers, and nighttime security. They also have a ship store for purchasing boating essentials, accessories, and supplies. They have experienced staff members who can assist with boat launching, haul-outs, and maintenance services.
Factors that make Wright's Marina unique
The marina's location in Oswego is advantageous for boaters and provides easy access to Lake Ontario. The lake is known for its excellent fishing opportunities—particularly salmon and trout. Many boaters choose Wright's Marina as a starting point for fishing trips and recreational boating on the lake.
Wright's Marina is conveniently located near downtown Oswego, where boaters can find restaurants, shops, and other attractions. The city itself has a rich history and offers various recreational activities, including exploring Fort Ontario State Historic Site, visiting the Oswego Speedway, and enjoying the beautiful Oswego River.
The geographical location of Wright's Marina contributes to its uniqueness. It is situated in a scenic area that provides access to Lake Ontario's attractions. Wright's Marina offers desirable amenities and services that cater to boaters. Their services and amenities include boat rental, repairs, fuel station, restaurants, wi-fi access, swimming, picnic areas, and a store to make the marina stand out when compared with others.
BoardSafe's design improves boater experiences
The new PWC docks are part of Wright's Landing Marina Boater Services Improvement Project, and will further strengthen, support, and complement the ongoing momentum to revitalize Oswego's waterfront. The intent of the project is to provide enhanced amenities that will appeal to existing boaters and attract new visitors to enjoy the picturesque waterfront on Lake Ontario.
BoardSafe's experience in construction and manufacturing gives them unparalleled expertise and innovative solutions to address the changing conditions of tides, currents, and other water fluctuations that range from severe flooding to drought conditions. Their experience and customized waterfront solutions have made BoardSafe the trusted expert for park directors, civil engineers, landscape architects, and communities who desire only the best-engineered and highest-quality aluminum floating docks and launch systems for their water access points. BoardSafe's structural and durable aluminum floating docks are safe and environmentally friendly. Read more about BoardSafe's design and manufacturing experiences here: BoardSafe Manufactures Marinas, Rowing Centers, Adaptive Launches, Gangways, and Bridges.
View BoardSafe's About Us video by clicking this link: BoardSafe Docks: Industry Leader in the Manufacturing of Marinas, Rowing Centers, Adaptive Launches, Gangways & Bridges.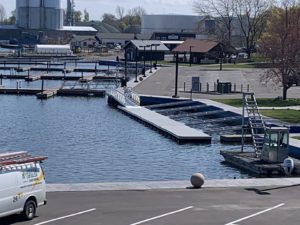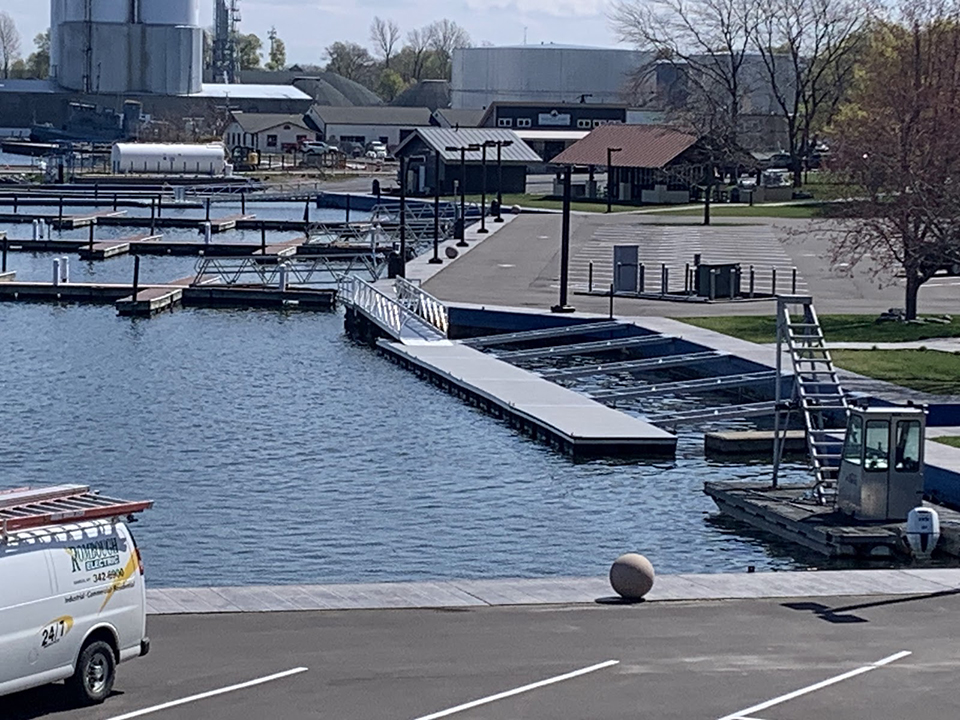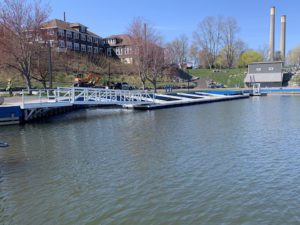 More about Wright's Landing Marina Boater Services Improvement Project
Oswego's mayor, Billy Barlow, expects the improvements will transform Wright's Landing Marina into a modern, state-of-the-art marina that will attract more boaters, visitors, and Oswego residents to the marina and along the waterfront. For years, the city has failed to capitalize on the beauty of its waterfront. These improvements are projects identified by boaters during a 2016 waterfront feasibility study. Barlow believes the marina can help market the entire Oswego community.
The construction, renovation, and improvements to improve boater, recreational, and leisure amenities include:
ADA-accessible marina access.

marine fuel availability.

renovated bathrooms and showers.

new welcome center and gift shop.

new steps connecting the marina to Breitbeck Park.

stone fire pits along the water that can be rented by the hour.

rental kayaks, peddle boats, cruiser bikes, and a fishing boat.
The entire marina has been elevated by three feet to help offset flooding.
The city hopes these improvements will bring more foot and boat traffic to the area since the improvements have made the marina ADA-accessible. Visitors are encouraged to check out the boater access services building, new pavilion, and amenities.
BoardSafe Docks understands the benefits and impact their floating dock systems offer to communities and park systems. BoardSafe knows boaters want safe, easy, and inclusive access to the water and the ability to connect their families to nature and the water. BoardSafe's floating dock systems for marinas enhance the ability to safely secure vessels in the water, allowing boaters to come onto land for dining and other recreational activities.
To discuss your project and create a water entry site that offers safe and easy access with inclusive and adaptive features, contact us at 610-899-0286 or through our website at BoardSafeDocks.com.