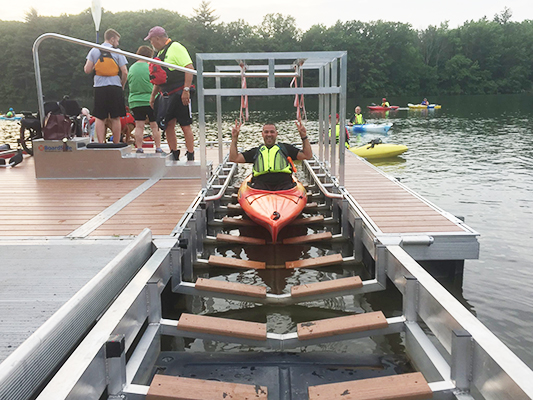 Following is a testimonial to the quality and superiority of the BoardSafe adaptive kayak launch that provides access for the disabled.
As a physical therapist, we routinely ask our clients what their goals are. People who experience devastating loss such as amputation or paralysis can crave to turn back time and be able to resume doing the things they love.
Our society remains full of barriers but as it becomes more apparent that 1 out of 4 persons has some form of disability, the world is slowly becoming more accessible. There is a difference between merely meeting minimum ADA compliance and meeting quality standards that are truly handi-capable. This is true with homes and businesses, restaurants, and gymnasiums, but also the great outdoors.
As I love to kayak, I can tell you there is a tremendous difference in trying to enter a kayak from the water/shore than when using an accessible kayak launch. And not all kayak launches are created equal. Beware of launches made of plastic or are not flush and graded per ADA guidelines. I have been on a few of those launches and even for an able-bodied person, it can be difficult to maneuver and inaccessible to some.
The BoardSafe accessible kayak launch in my opinion is the highest quality system I have ever seen. It is structurally strong, well thought out, and gets people with disabilities back in the water. As a member of Team River Runner, a volunteer group that gets butts into boats, we take great pride in helping people realize that they can do things such as this that they never thought they would do again. Boardsafe kayak launches provide the best tool to allow a greater population to safely experience the water, with or without help.
At Lake Nockamixon, I volunteered with a group of assisted kayakers before there was a Boardsafe launch and then again after the launch was installed. The time, manpower, and safety in getting a group into the water were unquestionably and remarkably improved. To see the joy of the group and volunteers spending time together on the water is priceless! I give BoardSafe a five-star rating and commend their efforts to promote accessibility!
Best Regards,
JoAnn Sienkiewicz
Physical Therapist