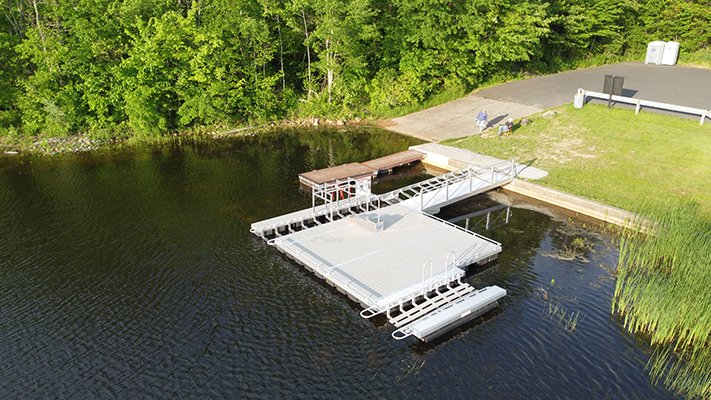 Minsi Lake Wilderness Area is a 311-acre park, with hiking trails, picnic areas, woodlands, wetlands, and a 117-acre lake for public fishing and boating. Northampton County Parks & Recreation manages the parkland around the lake. Facilities include two paved boat launches, two parking lots, two picnic areas, and two trails. The park recently reopened after replacing, renovating, and rebuilding decades-old park amenities and infrastructure; building new recreation and park facilities; and making Minsi Lake an accessible recreation area for everyone throughout the region — opening up access to all of their community members, regardless of their physical abilities.
Of course, part of that renovation included three of BoardSafe's innovative products. There is an ADA-accessible launch, as well as 2 ADA-accessible, 6′ x 25′ fishing piers. One pier is accessed by a 5′ x 20′ gangway, and the other by a 5′ x 40′ gangway.
This installation was featured on WFMZ, an Allentown, PA, news station, in this article and video.
Here are some pictures of the installation, followed by 2 recent videos: