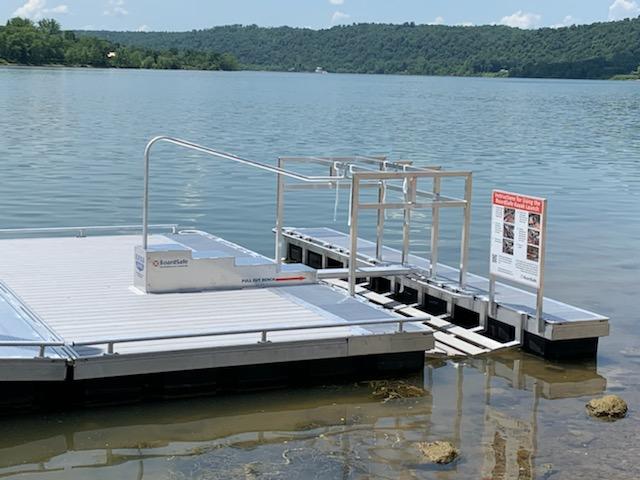 Your community has decided that it needs to be more welcoming and accessible to those living with disabilities. You volunteered to research options for an adaptive kayak launch. You understand how important it is for those with mobility issues to enter and exit their kayaks safely — as well as the need to sustain a lifetime of physical activity and social connections. Now is the time to make this dream a reality.
BoardSafe also understands this and we want to educate parks, towns, and other communities about providing paddling opportunities for the greatest number of paddlers possible, and empower them to accomplish this goal. An adaptive kayak launch is a big investment — not only in financial terms, but more importantly, in its direct impact on the life of individuals and the collective community.
You must consider the following eight questions when identifying the best location for the launch because this specialty system will be a long-term investment for your community. By answering these questions, you'll ultimately improve the kayaking experience for all of your paddlers.
When deciding on the best location for your Adaptive Kayak Launch, you'll need to answer these eight questions about your site:
What is the vertical drop from the anchorage point to the top of the water? This is important because it will help determine the length of your gangway and chute.
Is there ADA access to the site from the parking lot? You'll want to ensure the infrastructure is in place that will allow paddlers in wheelchairs to get from their vehicles to the launch site.
Is the water depth adequate for the system? A minimum of 18 inches of water is the recommended depth to allow the launch to float.
Is the area prone to any flooding? If so, you'll want to make sure your bulkhead is protected and your gangway is attached with a strong connection to the bulkhead and engineered to withstand a stronger load.
Are droughts a possibility and could the dock system possibly be sitting in mud? If there are drought conditions in your area, you'll want to increase the length of your gangway to ensure the dock remains in the water.
Are there any zoning regulations that identify where you can or cannot install the Adaptive Kayak Launch system? Permits are based on local zoning requirements and also should be investigated early in the design process.
Does your preferred location experience any tidal changes? Any tidal change will determine the length of your gangway as well as the length of your chute. Specific details about the length of your gangway can be found here.
Should the kayak launch be attached to a fixed pier or concrete bulkhead? Whatever method of attachment is recommended, the width of your pier or bulkhead will need to accommodate a piano hinge mounting angle. For a gangway and chute combination, the hinge will be 10 feet, and for a gangway alone, it would be 5 feet. If the launch is being installed on a river or a place that has swift moving tidal waters, support cables or pipe pilings may need to be added.
Taking the time to conduct the proper due diligence during site assessment and ensuring accessibility will increase the durability and performance of the Adaptive Kayak Launch. Another consideration is the environmental factors: understanding the impact on the natural habitat, surrounding fauna, and animal life during the installation and long-term use of the launch.
Of equal importance to matching the adaptive launch to an ideal location is matching the kayak launch's features to the range of mobility of the users. Paddlers who are older, arthritic, or suffer from poor balance, can benefit from an Accessible Kayak Launch that offers basic features that help the paddler transition into the vessel. For users with more severe cognitive impairments or those in wheelchairs or with limited mobility, an Adaptive Kayak Launch is best for the job. An adaptive launch is replete with ADA features that include handrails, gentle sloping gangways, low thresholds, boat slide, multi-tiered transition bench, hand straps, a pullout seat, underwater boat stabilizers, and numerous locations for hand grips.
The amount of features available on the kayak launch directly correlates with the number of users who can enjoy the launch. As a recent adaptive paddling instructor recently shared, "A kayak launch that is promoted as 'ADA' or 'accessible,' but only serves the highest-functioning individuals in the disability community, communicates to the disabled community a disconnect between paying lip service and a true desire to empower a paddler with handicaps. Decision-makers must do their homework and talk to various individuals with various disabilities to best serve this segment of society."
Moreover, many communities are seeing an opportunity to increase the number of out-of-town visitors and the quality of life for residents. Many areas, including states, counties, and cities, recognize the value of the bodies of water in their communities. Whether it is to draw tourists, promote resident quality of life, or protect nature, waterfront areas are always the most popular real estate, whether for spreading out a picnic blanket or for building a hotel. Providing safe and easy access to help the community enjoy the water is key.
Where can an Adaptive Kayak Launch be installed? 
You'll find that adaptive launches can be installed almost anywhere.
BoardSafe Docks has installed launches on:
lakes
rivers
streams
ponds
tidal waters
bayous
We can install anywhere your heart takes you paddling!
BoardSafe Docks is the trusted designer, engineer, and manufacturer of aluminum floating docks, as well as the premier designer and manufacturer of rowing centers for top national rowing teams. Their sales team is always available for questions, consultation, and to assist you in finding your optimal waterfront solution. You may learn more about BoardSafe Dock's projects through their website at BoardSafeDocks.com or by calling 610-899-0286.