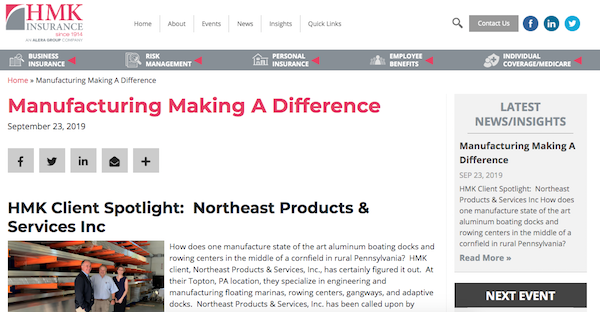 Bethlehem-based insurance carrier, HMK Insurance, featured their client BoardSafe Docks and gave them accolades for their dedication to making aquatic sports and activities more accessible. Below is a snippet of the article:
HMK Client Spotlight: Northeast Products & Services Inc.
How does one manufacture state-of-the-art aluminum boating docks and rowing centers in the middle of a cornfield in rural Pennsylvania? HMK client, Northeast Products & Services, Inc., has certainly figured it out. At their Topton, PA, location, they specialize in engineering and manufacturing floating marinas, rowing centers, gangways, and adaptive docks. Northeast Products & Services, Inc. has been called upon by rowing associations, universities, and cities, to create their unique one-of-a- kind products branded as BoardSafe Docks. In looking closer at the Boardsafe Dock products, the expertise and innovation of this business have an impact far greater than those requiring a water-facing structure. Their projects directly affect the well-being and lives of the general public. Click here to read the article.