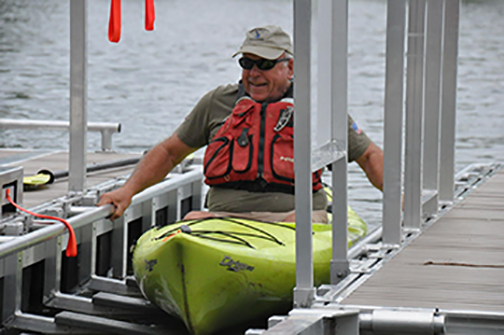 Adaptive vs. Accessible Kayak Launches
The popularity of kayaking and other paddle sports has increased over the last several years.
Adaptive athletes hold the same desire to be on the water with their able-bodied friends and family members. However, accessibility challenges continue to exist for those with physical disabilities when trying to get into their kayak and out onto the water. Kayaking has proved to be beneficial to the adaptive athlete's physical and mental wellbeing, allowing them to feel included and offering a sense of freedom they may not experience on land and in their wheelchairs. Shouldn't we all do more to ensure the kayak launch being considered is going to serve those with the greatest need for accommodations?
BoardSafe Docks designs, engineers, and manufactures floating dock systems and holds a longstanding presence in assisting customers to access their waterfront both safely and easily. Understanding the difference between an accessible launch system and an adaptive launch system comes up frequently in discussions when assisting customers with identifying a kayak launch that will provide the greatest amount of accessibility for paddlers with the greatest need for assistance.
In 2015, the Lehigh Valley Chapter of Team River Runner, an adaptive paddling group, and the Kempton Lion's Club, sought out BoardSafe Docks for their dock-building expertise. Specifically, they were interested in an adaptive kayak launch that would work for paddlers in wheelchairs. Team River Runner is a national organization with over 75 chapters in 34 states. Their mission is to provide all veterans and their families an opportunity to find health, healing, community purpose, and new challenges, through adventure and adaptive paddle sports. As Team River Runner's local chapter membership grew, so did the varied needs of their adaptive paddlers. A partnership was formed with BoardSafe Docks and they worked with the adaptive paddlers to identify specific adaptive features that would work to get them in and out of their vessel and onto the water for a safer and more successful paddling experience.
Team BoardSafe and Team River Runner collaborating on the first adaptive kayak launch
More often than not, the adaptive paddlers reported that they couldn't get into the water to kayak, even when the launch was described as "accessible." Together, they identified the problems that existed with accessible launches they had tried but had not worked. Too often, launches that were described as accessible only worked for the able-bodied paddler. They talked about what was missing and identified solutions that would help them gain access to the water safely and independently. BoardSafe's team has been fortunate to work side by side with Team River Runner's adaptive paddlers to identify features that truly work and identify features that have kept them excluded.
Ken Ryno, an adaptive paddler with Team River Runner's Lehigh Valley Chapter, is classified as a C5-C6 Incomplete Quadriplegic. Ken is paralyzed from the chest down and has use of only his upper body and arm strength. Over the years, Ken has become a very active chapter leader and has taken on the role of spokesperson for BoardSafe Docks. Ken's mission is to help educate communities about specific adaptive features that should be considered when designing an adaptive dock system.
A kayak launch is a big investment, whether it's in your town, lake, or park system. The investment you're building and buying should be inclusive of ALL paddlers. Adaptive paddlers have expressed their dismay in traveling to sites that promote themselves as accessible when, in reality, they're only accessible for some of the users and not inclusive of all.
Accessible launches get paddlers to the water. Accessible launches are found to be great for able-bodied kayakers, beginners, and seniors, and people with minor limitations like joint issues, arthritis, and developmental delays. Accessible launches may even work for a small number of paddlers with moderate disabilities. However, for adaptive paddlers like Ken Ryno, Team River Runner chapters, disabled veteran groups, and wounded warrior groups, an accessible launch alone does not meet their needs or get them into the water safely and easily.
When considering an adaptive launch, input from local adaptive paddling groups should always be considered. What types of disabilities is the launch going to serve? Adaptive paddlers are able to identify launch features that will work for them and also identify features that will create additional challenges. As we continue to educate ourselves about the needs of the adaptive paddling community, we have the responsibility to ensure that future kayak launches will be usable by the disabled paddler, or as Ken Ryno refers to himself and those like him, the "differently-abled" paddler.
Here is a video of Ken Ryno using an adaptive kayak launch independently. 
To help you better understand the specific adaptive features that allow Ken to access the water independently, they are illustrated below: 
A means of egress must exist that allows for wheelchair travel from the parking lot to the kayak launch site.
The gangway offers an adaptive paddler a way of moving their kayak from the land to the launch area and vice versa. The gangway should have nothing greater than a 1/12 pitch (meeting ADA slope requirements and features) and a chute where the vessel is placed in alignment with the gangway and launch saddle.
The chute and launch saddle should be large enough to accommodate kayaks with outriggers. However, they shouldn't be too wide or they will create too large a distance between the boarding bench and the cockpit of the vessel. If the saddle is too wide, it will decrease the stability needed for a disabled paddler to get into and out of their vessel.
A toe kick is an added safety feature around the perimeter of the floating dock. This will prohibit a wheelchair from accidentally rolling off the dock into the water.
A tiered boarding bench allows the user to easily transfer from the wheelchair. The top step of the bench must be equal to the height of a wheelchair in order for the user to transition from the wheelchair to the top of the bench. The steps should be minimal in height (approx. 3") to allow the paddler a small shift from step to lower step.
The bench should be equipped with a pull-out seat that slides out over the kayak and directly above the vessel's cockpit. This will allow the adaptive paddler to slide down into the vessel with a safe but limited drop, and shimmy himself or herself into their kayak.
The roll cage provides support with an overhead grab bar as well as optional hand straps. Adaptive paddlers have varied upper-body strength and varied preferences as they enter and exit their vessels. Some paddlers prefer the grab bar while others prefer the hand straps. Notice that there are no obstructions along either side of the step-down bench, allowing the paddler to choose the side they prefer and are most comfortable with as they navigate themselves down the bench.
The pull bars on either side of the launch are at an elevation and distance from the paddlers that are comfortable and easy to use, allowing the paddler to pull himself or herself down the chute and into the water.
This particular kayak launch not only contains all the adaptive features necessary for an adaptive paddler — this chute is designed and equipped to accept a single, center rudder that allows users to launch a standard Stand-Up Paddle Board (SUP).
The most commonly-overlooked adaptive features
Kayak Chute 
Too often, we see accessible launches that force the disabled paddler to drag their kayak behind them down the gangway. This is a challenge for those with mobility issues.
Kayak Launch Area 
Too often, we find the launch area is sloped and includes rollers. When a kayak, canoe, or SUP is placed into the launch, gravity will dictate. If a kayak is not level in the chute, it will roll into the water and will not remain securely in place for the disabled paddler to board or disembark from their vessel. Rollers can actually make this condition worse because they prevent the vessel from sitting securely and remaining in place.
The launch area is too wide — in some cases, nearly 6-feet wide. This is nearly 2-feet wider than what is needed. The wider loading area makes it more difficult for a paddler to make their way from the step-down bench in order to transfer into their vessel.
Pull-Out Bench
The length of the step-down areas is too narrow, not wide enough to comfortably sit on.
There is no pull-out seat, meaning there is no way to get from the bottom of the step-down bench to the vessel. The drop is often too great of a distance for a disabled person to lower themselves safely into the kayak.
Overhead Grab Bar  
The bar is not centered over the middle of the bench and is more of a handrail design that limits the user to boarding the bench from only one side.
There are no hand straps over the cockpit area to provide lifting assistance for the adaptive paddler.
Toe Kick
There must be a safety toe kick around the perimeter of the floating dock as a safety feature for all wheelchairs on the dock. This will prohibit a wheelchair from accidentally rolling off the dock into the water.
There are no published guidelines for adaptive kayak launches, only various products manufactured by a handful of dock companies that make the claim that their product provides the required adaptive features. Everyone wants to believe their system will work for the able-bodied and differently-abled paddlers, but there are often shortcomings due to a lack of standards.
At BoardSafe Docks, we have developed ongoing relationships with Team River Runner chapters, disabled veterans groups, and rehabilitation centers, and are always seeking feedback and reflections on the usability of the BoardSafe Adaptive Kayak launch and our adaptive fishing pier.
By definition, "accessible" can be defined as "physically within reach; however, it's the specific additional adaptive features that will make a kayak launch system usable for disabled paddlers. The adaptive features are what allow them to get in and out of their vessel independently and safely.
Many accessible launch systems may look good to us visually and can be aesthetically pleasing; however, too often their features haven't been developed to the extent necessary to truly work for the adaptive paddler.
Working with adaptive paddling groups has been a continuing educational experience for the team at BoardSafe Docks. Understanding the difference between an accessible launch and an adaptive launch is imperative for everyone considering an adaptive launch system. An accessible launch is not synonymous with an adaptive launch. BoardSafe Docks continues to work within the adaptive community of paddlers to ensure their launch remains the premier adaptive kayak launch. Their mission remains to continue to provide the best, safest, and most accessible launch for paddlers using their docks.
Watch the video below to see how the Lion's Club, Team River Runner, and BoardSafe Docks partnered for a successful adaptive kayak launch that now benefits their whole paddling community!