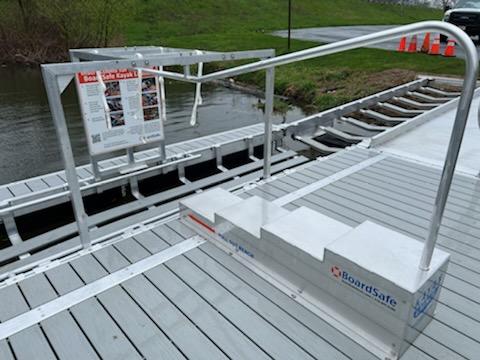 We often receive questions about the long-term maintenance and durability of our accessible products, particularly the BoardSafe adaptive floating dock system. In many cases, BoardSafe's floating dock systems are funded through grants and taxpayer-funded initiatives; therefore, customers tend to look for products with long-term durability and minimum upkeep.
With increasing material costs and economic indicators hinting that prices of goods and services will continue to rise in the near future, project funding and tight budgets don't always include a budgetary line item for long-term maintenance costs.
It's justified that cities, towns, parks, and recreation departments, are concerned about long-term planning and additional resources it may take to fund, build, and maintain their capital investments. With tight budgets and inflation on the rise, buyers are looking for quality and long-lasting products with minimal long-term maintenance costs.
The BoardSafe Adaptive Kayak Launch empowers adaptive athletes, making it easier to enter and exit their vessel. Their features promote independence, allow adaptive paddlers to experience the freedom of the water like everyone else, and make it safer for the volunteers and family members who are there to assist them.
Adaptive features specific to BoardSafe Kayak Launches
The adaptive features found only in a BoardSafe Adaptive Kayak Launch include a gangway with a 1/12 pitch or less. The boarding bench is the same height as a wheelchair, making it easy for kayakers to slide onto the bench. The bench offers a gradual step down to the vessel. The roll cage around the bench offers extra supportive features with the overhead grab bar and optional hand staps.
The paddler can slide down the bench from either side, depending on their preference. There is a stadium-style bleacher seat that pulls out over the kayak. With the paddler seated on the bleacher seat, the overhead grab straps afford adaptive athletes the ability to slide themselves slowly into their vessel.
Boarding Bench Adaptive Features can be seen in this picture
Adding to the stability of the launch is a cradle that holds the kayak securely in place. The kayak fits snugly into the cradle so there is no worry about tipping or moving unexpectedly, which is the risk with roller-type launch systems. Adaptive paddlers have reported that the roller-type launch does not securely hold the kayak in place, and gravity can cause the vessel to shift upon entry, making the entrance less safe than a cradle launch.
Once the adaptive paddler is securely fitted into the vessel, there are appropriately-spaced grab bars on each side of the cradle they can use to pull themselves out onto the water. BoardSafe's inclusive features are demonstrated to work (see video link below), and the value of these features to an adaptive paddler has no price. The true value is getting them out on the water with family and friends.
Structural features of BoardSafe Floating Docks
While the inclusive features are valued by adaptive paddlers, it's the structural features that make BoardSafe Docks the premier floating dock option on today's market. The structural integrity of BoardSafe products sets them apart from the rest of the competition. Anyone who has seen or experienced the launch firsthand can attest to the quality design of their docks, gangways, piers, and adaptive launches.
BoardSafe's first adaptive kayak launch installed in 2015
In addition to the value of BoardSafe's adaptive features, the floating dock system also offers value to those concerned about the dock's long-term maintenance. Understanding the product components and the structural integrity of BoardSafe's floating dock system helps keep concerns about long-term maintenance costs at bay.
BoardSafe Floating Launches are durable, versatile, and able to withstand the test of time and weather. Not all dock builders have this reputation. The aluminum welded frames, composite decking, and plastic encapsulated flotation, create a maintenance-free system.
Launches may remain in water and can withstand a freeze and thaw, and snow, as long as there are no tidal changes or moving ice jams that may do damage to the launch.
More about Boardafe Dock's structural components
There are three main components used in manufacturing a BoardSafe aluminum floating dock. The combination of these materials has proven to provide a structural, aesthetically pleasing floating dock system with a life span of 20 to 30 years. The system is intentionally designed for minimum maintenance and upkeep.
The BoardSafe Floating Dock System is manufactured using the following materials:
Aluminum Frame

Marine Grade 6061 or 6063
Welded connections
Stainless steel fasteners

Composite Decking

Rated for commercial use
Rated for anti-slip in accordance with ADA requirements

Plastic Encapsulated Flotation
Why do these durable materials make the system long-lasting and unique?
Welded connections, marine-grade aluminum, and stainless steel fasteners, withstand the test of time and weather and are maintenance-free materials. Aluminum and stainless steel will not corrode or rust. These components also stand up to the elements of weather and changes in tide and temperature, and are durable enough to withstand the test of time.
The composite decking used in BoardSafe's systems helps make the decking system maintenance-free. The water-resistant, plastic deck boards used on BoardSafe docks have an anti-slip tread that meets ADA standards. Since BoardSafe kayak launches are designed to the highest standards of accessibility with the adaptive community in mind, the safety precautions they take are a standard and not an option.
The plastic-encapsulated floats provide stability by distributing weight more evenly and meet all marine industry standards. The floats will adjust to the water's changing height and tidal changes and will keep the dock's freeboard unchanged.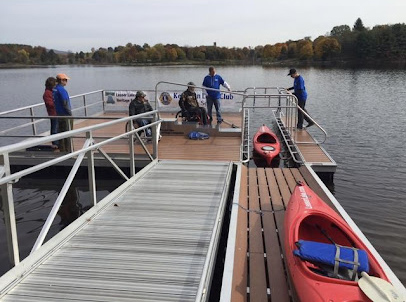 Pictures from the first BoardSafe Adaptive Kayak Launch at the ribbon-cutting ceremony on 10/24/2015
Leaser Lake is the location of the first adaptive kayak launch, which was installed in 2015. The following pictures show a frozen Leaser Lake in 2021 and a picture from the spring of 2022, seven years after its installation. Kayakers will be able to enjoy the launch for many years to come because of its structural integrity and durability.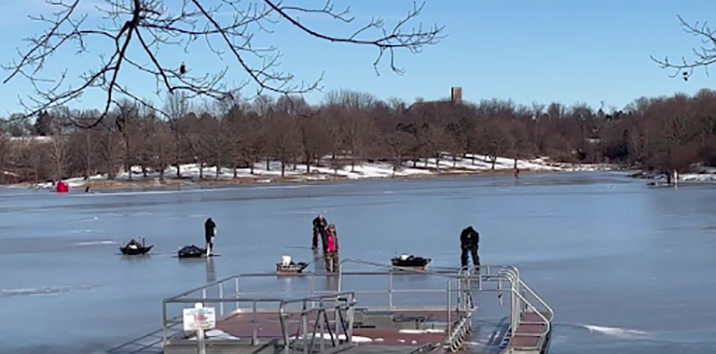 A frozen Leaser Lake in 2021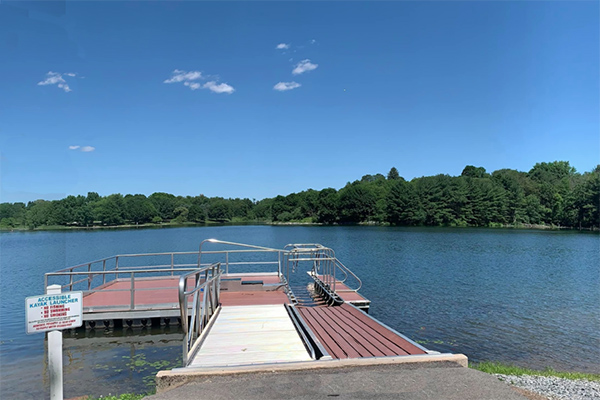 Leaser Lake Adaptive Kayak Launch in spring of 2022 (7 years later)
"BoardSafe has all the features to provide the most access to the greatest number of users'" said George White, Wetland Biologist and Team River Runner Chapter Coordinator for Lehigh County.
People who enjoy water sports are often subject to climates and locations that experience four seasons. For example, people in New England and the midwest face extremes of heatwaves and frigid blizzards. Many of BoardSafe's clients in these areas are concerned about protecting their floating docks, fishing piers, gangways, and adaptive accessible kayak launches. Parks and outdoor spaces must winterize their areas by putting items into storage, placing covers over certain items, and spending time to protect objects against the harshness of the winter. Customers often ask if BoardSafe products need to be removed from the water and stored during the winter. The short answer is, "No, BoardSafe's floating docks, fishing piers, gangways, and adaptive accessible kayak launches do not necessarily need to be removed for the winter."
User groups in the northern United States and Canada will be happy to know that Board Safe's docks and launches can remain in the water for the winter as long as there is no fluctuation in the body of water where the launch is located and there are no ice pack movements around the launch system. Unusual situations, like draining a lake or chunks of ice floating down a river, could damage the product. That said, a floating dock, fishing pier, or adaptive launch that has a steady level and flow of water around it will endure the winter and can be left in the water. However, this decision should not be made in isolation without having conversations about winter weather conditions with both park managers and BoardSafe Docks.
BoardSafe's products use high-quality grades of stainless steel, synthetic lumber, fiberglass, hardware, and other materials that are selected for their durability and ability to withstand extreme elements. However, they cannot control acts of Mother Nature and consideration should always be given to preparation for the most extreme of all possible weather conditions.
Since every location and application is just a little bit different, BoardSafe Docks should always be consulted prior to allowing products to sit in the water throughout the winter. With hundreds of installations across numerous climates and environmental conditions, BoardSafe is an expert in location selection, site work, design, engineering, manufacturing, and installation of floating docks, piers, and adaptive launches. To discuss your project and learn more about BoardSafe Docks, their adaptive features, durable construction, and long-term maintenance suggestions, please call us at 610-899-0286 or contact us through our website at BoardSafeDocks.com.