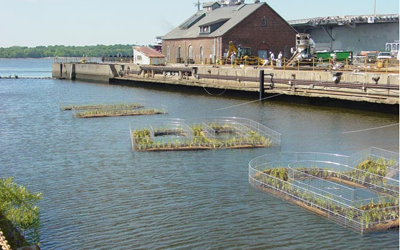 Urban Outfitters, Inc., is a large clothing and accessory retailer offering the brand names of Urban Outfitters, Anthropologie, Free People, Leifsdottir, and Terrain. Urban's corporate headquarters is located at The Navy Yard in Philadelphia, Pennsylvania, on the Delaware River.
As part of the master plan for their facilities, they desired to construct floating hydroponic gardens in Dry Dock #1. The challenge was to create individual gardens in the shape of 4 distinct letters: URBN (this is Urban's designation on the Nasdaq).
The completed letter assembly would need to be nearly 30 feet high and 150 feet long. In addition to the gardens, a trash boom spanning nearly 100 feet long had to be installed at the mouth of the dry dock to prevent debris from entering the dry dock.
To accomplish their vision, Urban contracted with BoardSafe to make their plan a reality. The initial concept drawings were completed by the landscape architectural firm D.I.R.T. Studio of Charlottesville, Virginia. BoardSafe then took the concept drawings and designed a floating structure that not only included the floating letters, but also a massive underwater support structure connecting the letters together.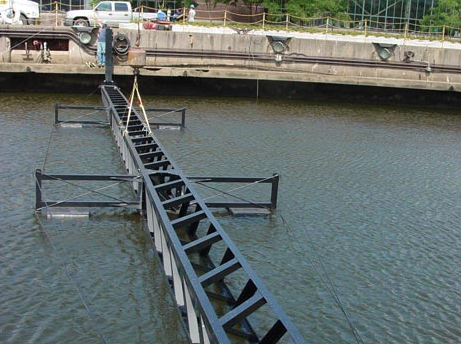 In addition to holding the letters together, the support structure allowed the entire assembly to move up and down with the fluctuation of the tide. The challenge was to make the entire structure "non-permanent" so the use of the dry dock could be changed at any time. The trash boom presented the same challenge. To facilitate the easy removal of the assemblies, powder-coated steel I-beams were attached vertically to the side of the dry dock in 6 locations, providing an attachment point for the underwater boom assemblies.
On the end of each boom, a roller assembly travels up and down the I-beams, following the tidal elevation. The letter frames, booms, underwater support structure, and trash boom, were fabricated from aluminum and then powder-coated black. Once each letter was assembled on land, a plastic Brillo©-like material was installed and the different species of vegetation were planted. A 2-foot high fence was then constructed to outline each letter. The fence serves two purposes: to keep wildlife from nesting in the gardens, and to delineate each letter once the plants began to grow.
All components were assembled on land, then installed using a crane, workers on the ground, and scuba divers.