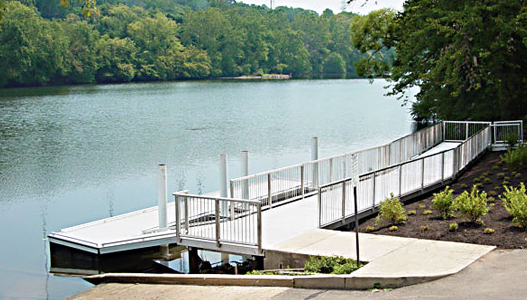 When Lower Merion Township, north of Philadelphia, Pennsylvania, commissioned an upgrade for their public boating facility, Flat Rock Park on the Schuylkill River, they contacted the Pennoni engiuneering firm to produce the drawings and specifications.
In turn, Pennoni contacted BoardSafe to consult on the design of the elevated walkway, gangway, and floating docks. During the design phase of the project, the designers at BoardSafe suggested that the original pier — specified to be constructed from pressure-treated lumber — be upgraded to a design consisting of all-aluminum construction. Township officials were consulted and agreed the all-aluminum upgrade would eliminate any maintenance issues as well as provide a pier that will have a much longer life cycle than the original design.
Construction drawings were prepared, reviewed by an independent professional engineer, then stamped by the PE. The drawings were then sent to the BoardSafe manufacturing facility where all of the components were manufactured. Once completed, the dock sections were delivered to the job site for installation by an independent contractor.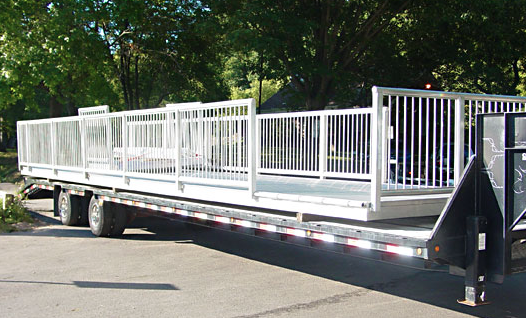 The final design consists of an 8-foot-wide-by-80-foot-long stationary pier, 6-foot-by-12-foot gangway, and a two- section 6-foot-by-40-foot-long floating dock. The floating dock required four custom-made piling guides. The piling guides were made in two pieces so they could easily be removed from around the Pearson Fiberglass Pilings and allow the floating dock and gangway to be removed at the end of the boating season for winter storage, then easily be reinstalled in the beginning of the boating season.
The project has been well-received by the Township and acknowledged by the community as an enormous upgrade from the antiquated pressure-treated dock system that existed prior to the installation of the new aluminum floating boat dock, gangway, and stationary walkway.