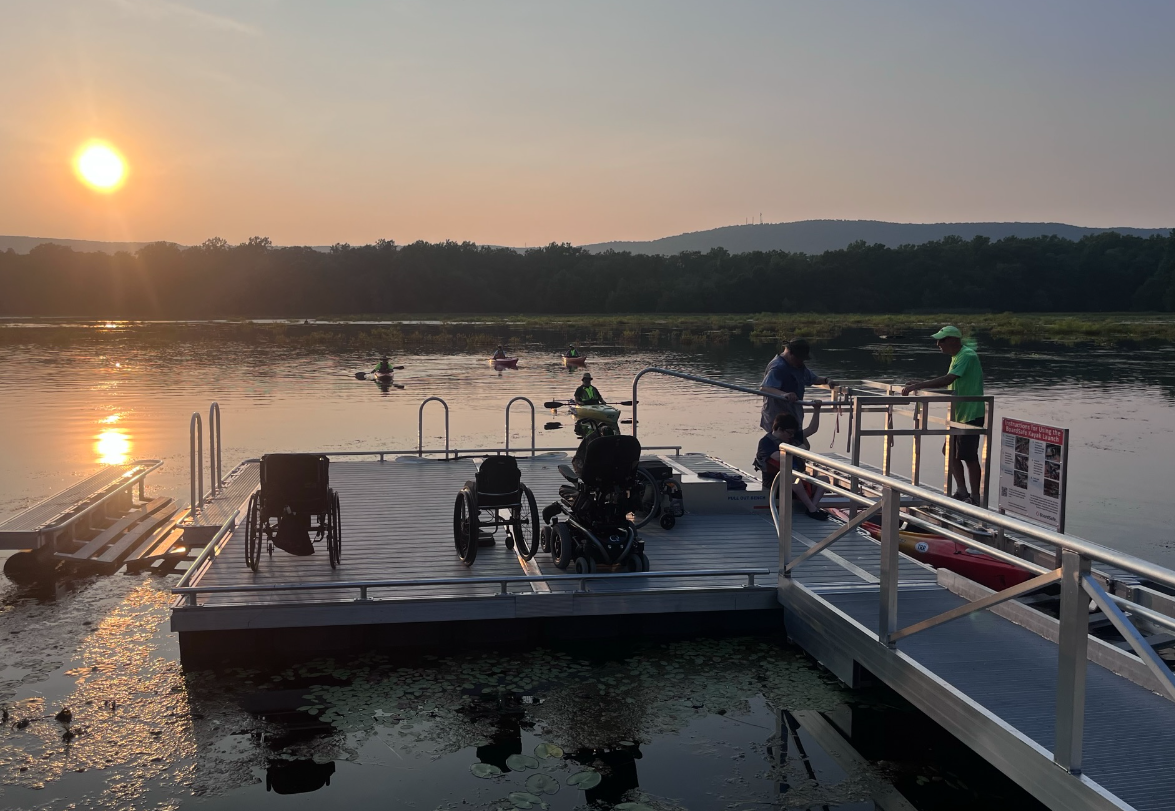 Legacy Parks Foundation is making final preparations for its annual Luncheon for the Parks on September 29, 2023, from 11:30 a.m.–1:00 p.m. at Seven Islands State Birding Park. The luncheon raises funds to conserve natural resources, create public places for recreation, and connect Tennessee communities. Through the generous support of donors, incredible open spaces are shaping into attractive recreational sites throughout the Knox County region. BoardSafe Docks provides water access products for Legacy Parks throughout East Tennessee by designing and manufacturing Adaptive Kayak Launches, Fishing Piers, Floating Docks, Gangways, and Pedestrian Bridges.
The guest speaker at this year's sold-out luncheon is Chuck Leavell, who has been pleasing the ears of music fans for more than 40 years. His piano and keyboard skills have been part of The Allman Brothers Band, Eric Clapton, The Rolling Stones, The Black Crowes, Blues Traveler, Train, George Harrison, The Indigo Girls, Montgomery-Gentry, and many more. Watch his impressive documentary here: Chuck Leavell: The Tree Man (1080p) FULL MOVIE …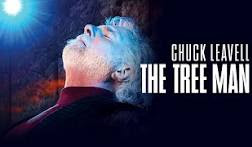 In addition to his brilliance in the music arena, Leavell is also a respected authority on conservation and forestry. He is a published author, co-founder of The Mother Nature Network, and host of the PBS series, "America's Forests." In 2019, he and his wife, Rose Lane, were recognized as National Outstanding Tree Farmers of the Year. 
His mission shares an important message about caring for and saving our forests.
Starting at the Seven Islands State Birding Park location, Legacy Parks, in collaboration with Knox County, TVA, Tennessee Wildlife Resources Agency, Tennessee State Parks, UT Research Park, and BoardSafe Docks, is working to create inclusive access to East Tennessee's waterways. Together, they share the vision to expand access points along the 25-mile water trail between Seven Islands State Park and UT Research Park, and create recreational sites that are accessible to all.
Features of the Tennessee Rivers
The French Broad and Holston Rivers confluence at Knoxville to form the beginning of the Tennessee River. They are tremendous natural assets with exceptional recreational potential for Knox County and surrounding communities.

The French Broad River
The French Broad River is believed to be one of the oldest rivers in the world based on the dating of rocks examined along its riverbanks. Locally, it offers a variety of recreation opportunities, including tubing, paddleboarding, kayaking, and fishing. Its tributaries are ideal habitats for several trout species, bass, bluegill, crappie, and the eastern spiny softshell turtle.
The Holston River
The picturesque Holston River begins in the foothills of the Blue Ridge Mountains and runs for 274 miles through Virginia into Tennessee. The part of the river below Cherokee Dam is possibly the most scenic water trail in the Tennessee Valley. Paddlers enjoy this panoramic paddle as it winds its way into the Tennessee River at Knoxville.
Between 1940 and 1950, the Tennessee Valley Authority built four dams on the Holston to provide electricity and control flooding. Today, the river is the most critical source of drinking water for communities south of the river and a place for fishing and recreation.
The Importance of paddle access for all
Paddling and exploring the water bring people and nature together for a blend of relaxation and good physical fun. They bring families and friends together, connect people with nature, and most importantly, promote exercise and wellness. There are so many reasons propelling around the water is attractive. When you step into a kayak, push off into a canal or river, and take those first few paddle strokes, nature surrounds you at every level. People are getting hooked on paddle sports. Paddling is an activity that almost everyone can participate in—young and old, novice and experienced, and people with mobility limitations.
Kayaking has become increasingly popular for paddlers with physical disabilities, amputees, and those with paralysis. It offers rehabilitation, exercise, and socialization. Most importantly, kayaking allows adaptive paddlers to be out on the water like everyone else. They describe the freedom of leaving their wheelchairs and transitioning into a kayak as "liberating."
According to the Disability & Health U.S. State Profile Data from the CDC, 15% of adults in Tennessee experience a mobility disability. Nationally, one out of four people lives with a disability, limiting their options for recreation and play.
Ensuring that water access points are inclusive and accessible to all encourages more people to participate in outdoor activities on the water. Disability transcends all ages, political persuasions, races, incomes, titles, and degrees. It impacts everyone, and yet, there is still work to be done to ensure that everyone feels welcome and included. The Legacy Parks Foundation invites everyone to be part of the solution to change things that have kept people with disabilities and physical limitations from participating and enjoying the water. Our Work—Legacy Parks Foundation shows the results of and improvements from the combined efforts of many stakeholders, yet there is so much more they can accomplish.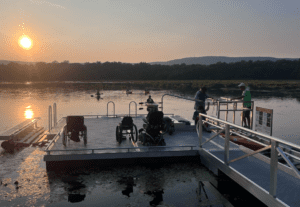 Financial gifts play an important role in supporting programs that offer accessibility to all, improve parks, and allow people with disabilities and mobility limitations to be active in their communities and feel welcome to participate with families and friends.
There are many ways to support the Legacy Parks Foundation and the Head of the Tennessee Initiative. To become a friend, read more about their initiatives, or talk about planned giving or providing gifts of land or trail easements, head over to How to Help—Legacy Parks Foundation.
BoardSafe Docks is honored to partner with the Legacy Parks Foundation and be a Platinum Sponsor for their upcoming Luncheon for the Parks. BoardSafe's Accessible and Adaptive Kayak Launch provides paddlers the ability to enjoy the outdoor lifestyle they're looking for—safely, easily, and responsibly. They understand the value their accessibility products bring to communities and to the people using them. BoardSafe's aluminum floating docks, fishing piers, and boat launches are easy to install and will look amazing for many years to come.
Contact BoardSafe Docks at 610-899-0286 to learn more about the most durable and accessible aluminum floating launch options for any location. Our team will help you find the ideal solution to meet your water access needs.