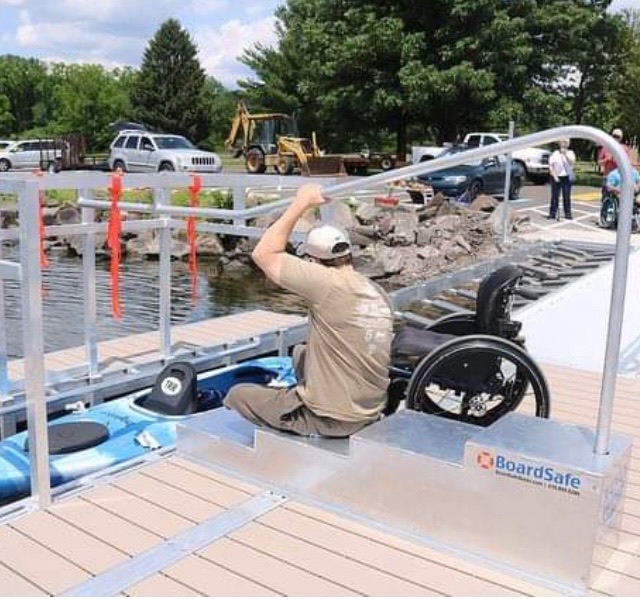 BoardSafe Docks is pleased to provide two accessible kayak launches in advance of the Legacy Parks Luncheon for the Parks on September 29th at Seven Islands State Birding Park. Legacy Parks Foundation is an East Tennessee nonprofit organization working to ensure that their community enjoys exceptional recreational opportunities, natural beauty, and open spaces. They work collaboratively with local stakeholders to promote healthy living, connect friends and families with nature, and provide access to Knox County's parks and rivers. Value is added to communities when providing close-to-home recreation that is accessible to all.
Below is a rendering of the BoardSafe Adaptive Kayak, Canoe, and Boat Launch planned for Seven Islands State Birding Park where the fundraiser will be hosted.
While accessibility projects can be eligible for grant funding and support from local government agencies, community support and financial gifts from donors also play a significant role and are necessary to bring these worthy projects to fruition. The Legacy Parks Luncheon for the Park is their biggest fundraising effort of the year.
An additional BoardSafe Kayak Launch and takeout to be recognized at the luncheon will be installed about 5 miles downriver at Cruze Landing.
The popularity of kayaking is on the rise
According to a report published by the Statista Research Department, nearly 18.6 million Americans went kayaking at least once in 2021, demonstrating an increase in the popularity of paddlesports. In the period 2010–2021, kayaking participation in the United States grew by 87.3 percent. Paddling is an activity that almost everyone can participate in—young and old, novice and experienced, and people with mobility limitations. It's easy to understand why people are getting hooked on paddle sports.
Kayaking, canoeing, and all paddlesports are truly inclusive recreational activities when launch sites include adaptive features like an ADA gangway, kayak chute, boarding bench, hand straps, and grab bars.
The most significant difficulty reported by almost all paddlers is getting in and out of their vessels. Upon entry, kayaks and canoes can tip, shift, or roll over. Adaptive features can ensure safe access in and out of the water. It's encouraging to see leaders and planners striving to create a more inclusive society. They understand the importance of inclusive outdoor recreation. As recreation stakeholders, we all share responsibility for shaping the future of our country's outdoor spaces and inclusive lifestyle and improving the quality of life for all. According to the World Health Organization (WHO) fact sheet on Disability, an estimated 1.3 billion people experience significant disabilities. This represents 16% of the world's population or 1 in 6 people.
According to the CDC Disability Impacts All of Us Infographic, 11.1 percent of U.S. adults have a mobility disability with serious difficulty walking or climbing stairs.
The value of an accessible and adaptive kayak launch
An accessible kayak launch with adaptive features can benefit everyone and offer accessibility to all, including older adults, people with mobility impairments, and people with temporary injuries or permanent conditions.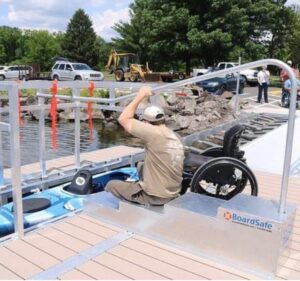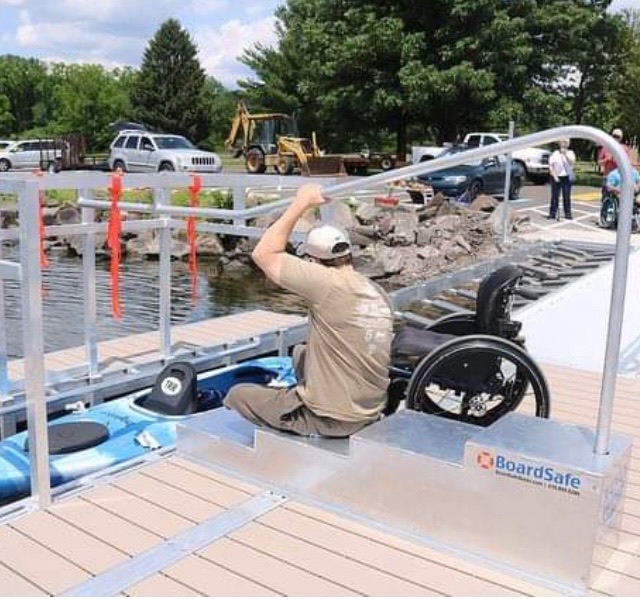 Ask any adaptive kayaker about their enjoyment, liberation, and empowerment after completing a paddle. Many will tell you they cannot wait to return to the water!
There are many ways to support the
Legacy Parks Foundation
through the
Head of the Tennessee Initiative
. Readers are encouraged to become
a friend, learn more about their initiatives, or talk about planned giving by providing gifts of land or trail easements, or donations to support their cause. For more information, visit here:
How to Help – Legacy Parks Foundation
.
BoardSafe is a leading national manufacturer of high-quality aluminum-welded water access products: adaptive kayak launches, fishing piers, marinas, rowing centers, gangways, and pedestrian bridges. Whatever type of access your project needs, BoardSafe Docks will provide turn-key service, from product design and inception through delivery.
BoardSafe's sales team is available for questions and consultation and will assist you with improving your water access site. You can learn more about BoardSafe Docks' projects at our website, BoardSafeDocks.com, or by calling 610-899-0286.