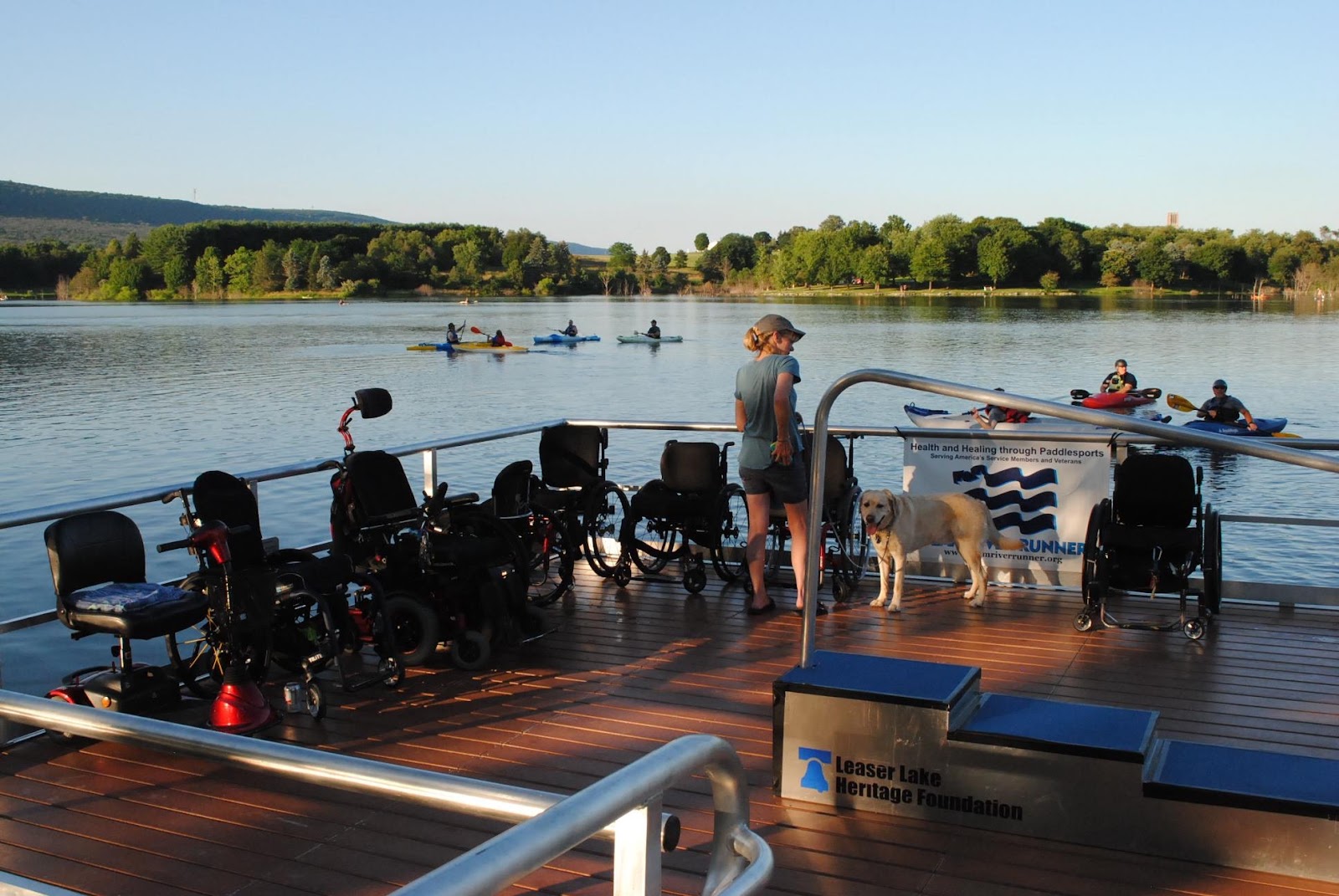 As Veterans Day approaches, BoardSafe Docks would like to recognize our veterans for their sacrifice and service to our country. It's crucial to support the military and our veterans wherever and whenever they need us. Veterans Day ensures they know their service is important to us, recognized, and valued.
On Veterans Day and every day, BoardSafe Docks ensures that disabled veterans have proper access to kayaking, canoeing, and fishing, and have the ability to access and enter the water as safely and easily as they deserve.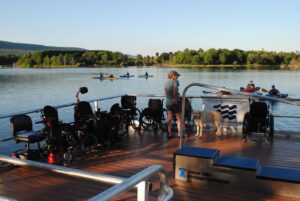 History of BoardSafe's Adaptive Kayak Launch and its features
BoardSafeDocks developed its Adaptive Kayak Launch after being approached by the Leaser Lake Heritage Foundation, the Kempton Area Lions Club, and a group of adaptive paddlers who were using their lake for adaptive paddling events. They were looking to make the lake more accessible for paddlers in wheelchairs who presented themselves with varied needs and paddling abilities. The adaptive paddlers and the volunteer group that supported them reported that more often than not, they struggled to get their paddlers in and out of their kayaks and safely out onto the water.
Working in collaboration with the adaptive paddling group, BoardSafe Docks identified the barriers they were facing and created solutions to help them gain access to the water using adaptive features that would support their safety and independence.
With their help and input, BoardSafe Docks was able to design and manufacture an adaptive kayak launch that offers paddlers and veterans with disabilities the ability to get out on the water with everyone else.
The paddlers who offered feedback were affiliated with many adaptive paddling groups, and paddle along with Team River Runner, Wounded Warriors, Veteran Non-Profit | Paddle for Heroes, and Disabled Kayaking Enthusiasts groups. All too often they would arrive at paddle sites that were deemed to be accessible but were unable to enter their vessels or launch their kayaks. Barriers were not removed and features were not developed to the extent necessary for them to paddle along with family and friends.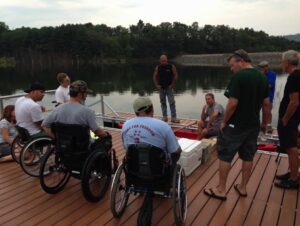 During collaborative sessions, BoardSafe Docks learned that true accessibility starts at the parking lot with
parking spaces identified for individuals with disabilities.

paved egress to the paddle launch.

an ADA gangway and chute.

a floating dock large enough for wheelchairs to maneuver.

a step-down boarding bench.

a roll cage that includes overhead grab bars, grab straps, and pull bars.

a secure launching cradle that provides stability for the kayak during both entry and exit.
Adaptive paddlers and disabled veterans often find new freedom in being able to propel around the water in a way they can't on land. Working together with them, BoardSafe was able to identify and remove barriers while adding additional features to their launch system that offer these paddlers the freedom that many thought they lost.
Adaptive paddling is not a one-size-fits-all sport
Not all kayak launches are the same, and not all kayak launches work for all paddlers. BoardSafe has learned that other launches are often designed incorrectly, contain barriers that have not been removed, or lack features adaptive paddlers need to access their kayaks and the water. Most importantly, accessible and adaptive launches must be tested by adaptive paddlers to ensure they will work for paddlers in wheelchairs.
A kayak launch is a big investment; therefore, customers must educate themselves and be aware of the specific support needed by the paddlers who will be using their launch. Customers should also be aware of the features and options offered by the launch system they are investigating, as well as the limitations of the launch they are considering.
BoardSafe Docks takes pride in ensuring our system provides accessibility for the widest range of paddlers, making theirs the most accessible kayak launch on today's market. Those investing in a kayak launch should know BoardSafe's launch may not be the right fit if the paddlers using the launch require a Hoyer lift or lack at least some upper body strength. BoardSafe's Adaptive Kayak Launch is a good fit for amputees, paddlers with lower-body paralysis, joint replacement, arthritis, and a wide range of lower-body physical impairments or mobility limitations. Almost everyone can use it!
The benefits of a BoardSafe Adaptive Kayak Launch
Accessibility Docks equipped with ramps, handrails, and slip-resistant surfaces ensure that veterans with mobility challenges can easily access and launch kayaks. This accessibility feature can make the experience more inclusive and enjoyable.
Safety Sturdy docks with proper railings and non-slip surfaces enhance safety, allowing veterans to embark and disembark from kayaks with confidence. Safety is paramount, especially for individuals with varying physical abilities.
Convenience Well-designed docks can streamline the process of getting in and out of kayaks. Veterans may have specific needs due to injuries or disabilities, and having a dock that caters to these needs can significantly improve their overall experience.
Supportive community Docks that are designed with inclusivity in mind can foster a sense of community among kayakers, including veterans. This supportive environment can encourage veterans to engage in kayaking as a social activity, promoting mental and emotional well-being.
Training and assistance Docks that cater to veterans may offer specialized training sessions or assistance programs. This support can be crucial for those who are new to kayaking or need extra help due to physical limitations.
When kayaking equipment requires modifications
When the kayak itself requires adaptations or modifications, BoardSafe Docks works with the design experts from Creating Ability. Their focus is on seating systems, outfitted kayaks, outriggers, transfer benches, seating systems, and hand, wrist, and paddle adaptations.
Beginning in 2004, Creating Ability's mission has been to make paddling accessible for all. This project produced the Universal Paddling Seat. Since then, Creating Ability has developed and provided fully-outfitted kayaks and adaptations to enable people of all abilities to participate in the sport of adaptive kayaking.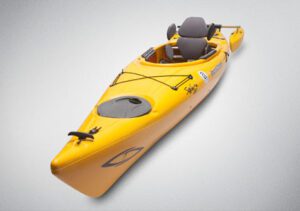 Creating Ability travels thousands of miles annually and volunteers at various events to support persons with disabilities and their families. They provide on-site support, education, and outfitting to enhance the lives of adaptive paddlers and disabled veterans. Their goal continues to be to enhance the experience and provide the freedom and independence the world of paddlesports can bring.
Video: Getting boat from vehicle to water: Adaptive kayak launch makes it easy
The value of paddling for veterans
Kayaking can be fulfilling and life-changing for veterans with disabilities, especially those who may have been paralyzed, have lost limbs, or have experienced mobility challenges as a result of serving their country. The benefits of kayaking are listed below.
Empowerment Kayaking provides veterans with disabilities a sense of empowerment and independence. Being able to navigate the water and control the kayak on their own can boost their confidence and self-esteem.
Physical exercise Kayaking offers a low-impact cardiovascular workout that can improve overall fitness, strength, and flexibility. Engaging in regular physical activity is crucial for everyone, especially veterans with disabilities, because it promotes better health and well-being.
Mental and emotional well-being Spending time in nature and engaging in recreational activities like kayaking can have positive effects on mental and emotional well-being. It reduces stress, anxiety, and depression, while promoting relaxation and a sense of peace.
Community and social connection Participating in adaptive kayaking programs allows veterans with disabilities to connect with others who share similar challenges. This sense of community and social connection can combat feelings of isolation and provide a supportive network.
Challenging limits Kayaking challenges individuals to push their limits and overcome obstacles. For someone with a disability, mastering the skills needed for kayaking can be a powerful reminder of their abilities, helping them focus on what they can do rather than what they can't.
Therapeutic benefits The rhythmic motion of paddling can have therapeutic effects, promoting relaxation and reducing muscle spasms. Additionally, the water's buoyancy can alleviate pressure on joints and provide a soothing experience.
Sense of adventure Kayaking offers a sense of adventure and exploration. Disabled paddlers can venture into natural environments that might otherwise be inaccessible, providing them with unique experiences and a deeper connection to nature.
Adaptive equipment Specially-designed adaptive kayak launches, adaptive kayaks, and equipment, make it possible for veterans with disabilities to participate in kayaking. These adaptations, such as adaptive kayak and canoe launches, modified seating, stabilizing outriggers, and hand-controlled paddles, ensure a safe and enjoyable experience tailored to their needs.
 Overall, kayaking provides a holistic experience that addresses physical, mental, and social aspects of well-being, making it a fulfilling and life-changing activity for paralyzed paddlers, amputees, and veteran paddlers with mobility limitations.
Ways to show appreciation to our veterans
With Veterans Day around the corner, there are many ways to show appreciation to our veterans. To let them know they are valued and appreciated:
Ask questions about their service. Let them tell their own story. If the veteran is open to talking about military experiences, don't just say thank you and walk away.

Have a conversation about what's going on in the military today—many different websites provide good information.

Donate to veteran-focused charities.

Fly the United States flag.

Send a card or letter to a veteran, an organization, or a VA hospital.

Visit a VA hospital and get involved.

Visit where veterans frequent: the VFW, local Vet Center, American Legion, or local not-for-profit. Veterans organizations are always looking for volunteers. Ask them what they need the most and help meet that demand.

Make it so veterans can thank

you

for

your

service. That would help all of us be more worthy of their sacrifice.

Get outdoors with a veteran and join them on a paddle. You'll be happy you did!

War is filled with unimaginable atrocities and casualties. It's equally important to acknowledge the incredible strength and

resilience

it takes to carry on in the midst of crisis and chaos, and the courage it takes to talk about deep pain and emotional turmoil—even 20, 40, or 60+ years later.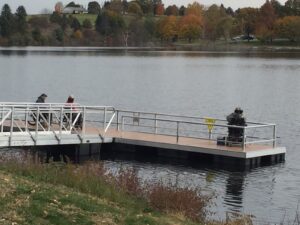 BoardSafe Docks understands the life-changing impact getting out on the water has made for the adaptive paddling community. It offers rehabilitation, exercise, and socialization, and provides healthy benefits to one's mind, body, and spirit. Most importantly, kayaking gives adaptive paddlers an opportunity to be out on the water like everyone else. They describe the freedom of leaving their wheelchairs and transitioning into a kayak as "liberating."
Contact BoardSafe Docks at 610-899-0286 for more information on the impact you can make on your water access points with a BoardSafe Adaptive Kayak Launch or BoardSafe Adaptive Fishing Pier and make a difference in your community and the life of a veteran!