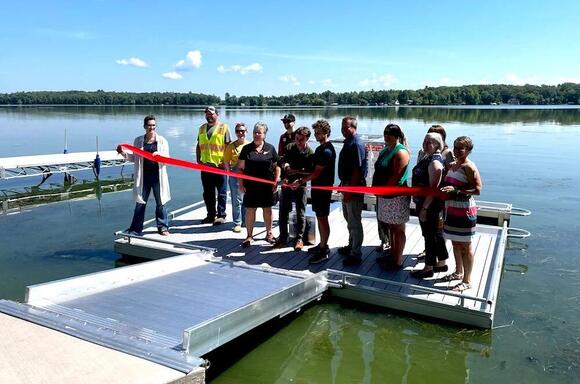 Equitable access to the outdoors is essential for everyone and offers recreational, economic, and ecological benefits to communities. The small town and lakefront community of Rice Lake, Wisconsin, has made great strides by offering everyone who lives near the lake the opportunity for inclusive recreation on the water.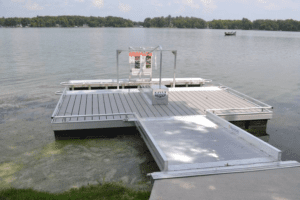 The lack of access to places of recreation has large repercussions and can leave communities disenfranchised. Access to the outdoors is a basic human right and essential to good health. When communities like Rice Lake work together, they create a sense of belonging for their members, bring communities together, and connect them with nature.
Rice Lake's Main Street Association initiated a "Rock the Dock" Fundraiser to help raise funds for the accessible kayak launch. The association was overjoyed to learn they were the recipient of a $40,000 Hometown Grant from T-Mobile. "The grant funded the ADA-compliant kayak launch in its entirety," said a very appreciative Rice Lake Main Street Association Board Member, Chris Olsen. "It's a huge domino for the development of the lakeshore and makes the lake accessible to everybody. The newly installed BoardSafe Adaptive Kayak Launch and 5-ft. X 8-ft. gangway provide accessibility for everyone on Rice Lake.
Sami Mohr, the store manager at the new T-Mobile location, said the Hometown Grants are a commitment to bring 5G to communities such as Rice Lake. "Over the next five years, T-Mobile is going to be giving away $25 million in grants like this," she said. T-Mobile is proud to support local communities like the Rice Lake Main Street Association and mentioned, "We wanted to show we are more than just a retail storefront and we want to be a part of the community."
Rice Lake is an 859-acre lake located in Barron County, Wisconsin. Its visitors have access to the 19-foot-deep lake from several public access boat landings. Fish that are common to the lake include Musky, Panfish, Largemouth Bass, Northern Pike, and Walleye. In addition to fishing, the lake now offers a variety of accessible activities, including an accessible launch site for adaptive paddling. The town will also be supplying four kayaks to go along with their new launch, and an additional two kayaks will be uniquely-fitted adaptive kayaks so paddlers with disabilities can paddle the lake with family and friends.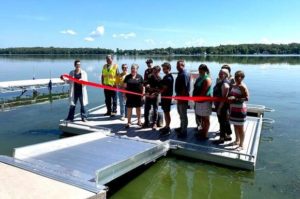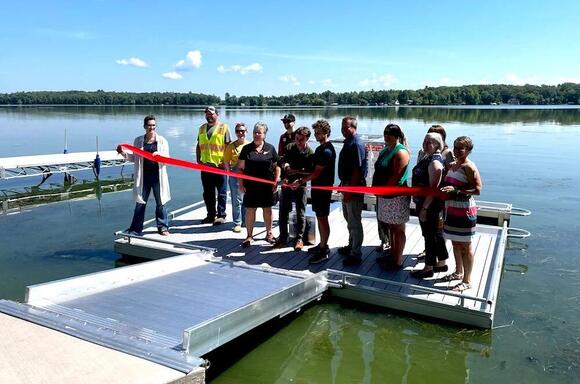 The kayak launch on Lakeshore Drive across from City Hall is officially open after a recent ribbon-cutting ceremony. The Sheriff's Department has provided life jackets for paddlers to borrow, use, and return.
At the ribbon-cutting, Chris Olsen of the Main Street Association said private and public entities and a foundation all worked together on the project. He thanked the city for providing the heavy machinery, and recognized private businesses who helped with construction and landscaping, and all others who volunteered time and manpower. "Anybody and everybody can use the lake now—there's full access to our lake," Chris Olsen said.
Library director Rachel Thomas thanked Mayo Clinic Health System and Rice Lake Celebrity Charity Classic for their financial donations that were used to help purchase the kayaks. The kayaks are available to be checked out at the library, just like checking out a library book. A user's agreement must be signed and borrowers must be over 18 years of age. The library director did not know of any other libraries that had kayaks available for check-out but said there probably are some, somewhere.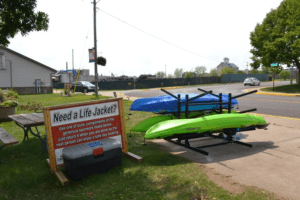 Thanks to the sponsors and volunteers, and all the involved stakeholders, Rice Lake now has an ADA-accessible BoardSafe Adaptive Kayak Launch and a rack of kayaks available for the community to borrow and use to enjoy the paddling on Rice Lake.
The accessible kayak launch offers adaptive features, which means that ANYONE, including folks with physical disabilities, and those who struggle with mobility limitations, can enjoy kayaking with family and friends. The launch features include a ramp, stabilizing kayak chute, overhead grab bar, hand straps, pull bars, and a step-down bench that enhance the paddling experience for all.
The volunteers and sponsors who worked together on this project for the good of the Rice Lake Community are:
T-Mobile

—provided the $40,000 grant towards the purchase of the

BoardSafe Adaptive Kayak Launch

, the inclusive launch system designed and manufactured by BoardSafe.

Mayo Clinic Health System

—donated $3000 towards the purchase of kayaks.

Rice Lake Celebrity Charity Classic—donated $2000 towards the purchase of kayaks.

Barron County Sheriff's Department—provided life jackets for kayak users to borrow while paddling.

City of Rice Lake Community Services Department—provided heavy equipment for installation of the launch.

Scott Kucko of Hooch's Hardwood & Masonry—donated excavating, framing, and prep work.

Jeremy Scheu of

Summer All Year

—donated time for excavation and prep work.

Jon Klump and Ryan Ebner of @K&E Construction—Poured and finished the concrete walkway.

@

Northwoods Promotions

/

Ventures Apparel

—purchased all sand and concrete for the project.

Chris Olsen of Northwoods Promotions & Apparel—volunteered for the installation.

Chad Peterson of Business & Estate Advisers—volunteered for the installation.

TJ Olsen—volunteered for installation.

Creating Ability

—outfitted the kayaks for adaptive paddlers.

I

n 2004, Creating Ability designed the Universal Paddling Seat. Since then, Creating Ability has developed and provided fully-outfitted kayaks with adaptations that enable people of all abilities to participate in the sport of adaptive kayaking. They travel tens of thousands of miles annually, volunteering at various events and venues in support of persons with disabilities and their families. Creating Ability provides on-site support, education, and outfitting to enhance the paddling experience and create freedom and independence for the adaptive paddling community.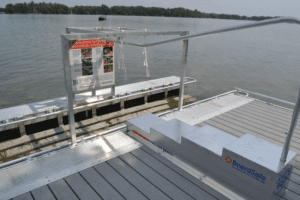 On Rice Lake Public Library's website, they share a belief statement that says, "We believe in Community, Access, Service, and the Public Good." This belief resonates with the whole community and their inclusive efforts to make their community accessible to all. Kudos to the small town and the stakeholders involved in this inclusive project. Everyone is welcome to paddle the lake!
BoardSafe Docks was honored to contribute to this project and understands how projects like these enhance communities and empower adaptive paddlers.