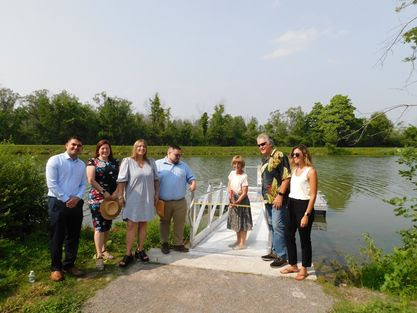 The recreation department in the Town of Manlius, New York, recently celebrated the addition of a BoardSafe Adaptive Kayak Launch with a ribbon-cutting ceremony.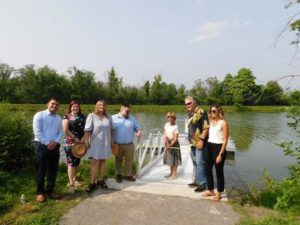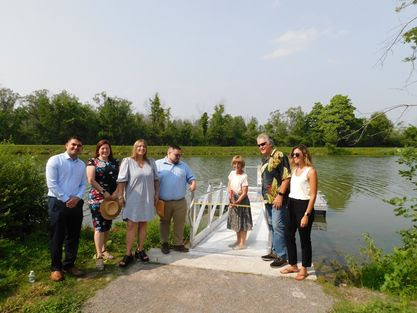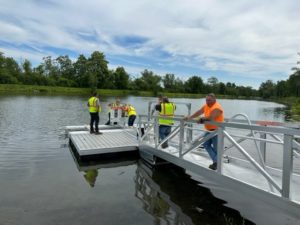 The Town of Manlius is located in Onondaga County, a southeast suburb of Syracuse, New York. The town was settled in 1794 and includes the villages of Manlius, Fayetteville, and Minoa. During its early years, its economy mainly focused on trade generated by the Erie Canal, which contributed to the early development of the town. Today, the Town of Manlius is the third largest suburb surrounding Syracuse. The town's recreation department was looking to provide expanded accessibility to canoes and kayaks and provide safer and easier access to its waterway.
The accessible launch system manufactured by BoardSafe Docks includes an adaptive kit equipped with features for paddlers in wheelchairs, and a 24-ft.-long accessible gangway providing accessibility for all while offering differently-abled paddlers the opportunity to paddle the canal with family and friends.
BoardSafe Docks worked with Madison County, the Town of Manlius, and the NYS Parks on the original design and layout to ensure the optimal site was selected to access the lake and ensure accessibility from the parking area. The Town of Manlius highway department installed the foundation and dock system with construction oversight provided by BoardSafe Docks.
The kayak launch was installed in the Old Erie Canal State Historic Park at the Poolsbrook Picnic Area in Kirkville. This park offers pedestrian and biking access along the Canalway Trail and is an excellent location for launching a kayak or canoe.
Inclusive waterways create economic renewal
The economic benefits of inclusive water trails provide communities with opportunities for economic renewal and growth while providing close-to-home recreation. Increased property values, tourism, and recreation-related spending on items such as paddling equipment, kayaks, boats, and bicycles, are just a few ways that inclusive water trails positively affect communities and the local economy. Paddling encourages good stewardship of parks, natural resources, and riverside land. Enjoyment and protection of the great outdoors are valuable investments in communities and their future.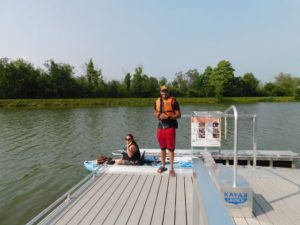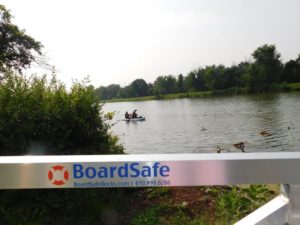 Since no two waterfront projects are exactly alike, BoardSafe Docks works with its customers to design optimum solutions for each launch site and ensure they have the best design for their location. This unique service typically isn't offered by other dock-building companies who often mass produce the same dock. BoardSafe's site evaluation services and consultation ensure a structurally-sound and long-lasting design for many years to come.
To view over 20 different possible launch configurations, click here:
BoardSafe Kayak Launch Layout Options.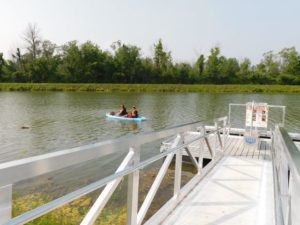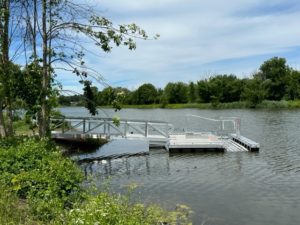 An accessible and inclusive kayak launch helps paddlers enjoy the lifestyle they're looking for—safely, easily, and responsibly. Plus, an aluminum dock is easy to install and will look fantastic for many years to come, with minimal maintenance and upkeep.
Read more about the benefits of planning for an inclusive launch system here: 
 6 Reasons for Designing a Universal Access Kayak Launch.
BoardSafe Docks understands the benefits and impact their floating dock systems offer to communities and park systems. Their inclusive launch is fitted for kayaks, canoes, and SUPS, and gets everyone in the water safely. We know paddlers want close-to-home recreation; safe, easy, and inclusive access to the water; and the ability to connect their families to nature and their local community. BoardSafe's fishing piers allow their users to enjoy the outdoors safely away from active boat launches and access points.
To discuss your project and create a water entry site that offers safe and easy access with inclusive and adaptive features, contact us at 610-899-0286 or through our website at BoardSafeDocks.com.