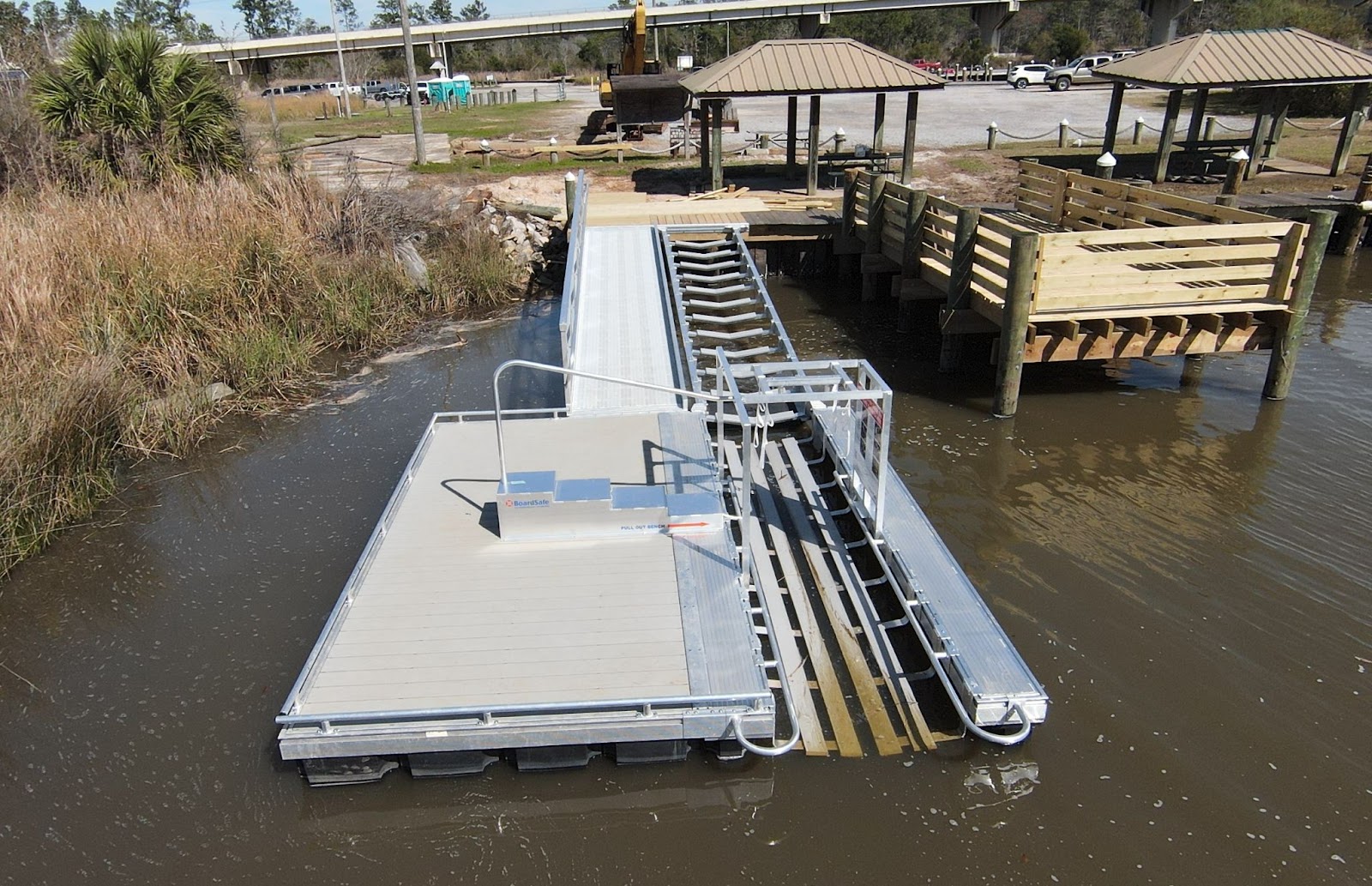 The Weeks Bay Foundation in Fairhope, Alabama, recently introduced its inclusive, ADA-compliant kayak launch to its kayakers and canoers so they can enjoy paddling Weeks Bay. What's most important about the new kayak launch is its unique features that offer inclusivity and the ability for adaptive paddlers and paddlers with disabilities and mobility limitations to enter and exit their vessel safely, and to participate in paddling activities with their non-disabled family and friends.
Until recently, Weeks Bay did not have a kayak or canoe launch. Yael Girard, executive director of the Weeks Bay Foundation, said, "Paddlers had to compete with much larger vessels to launch their boats. Their only option was to launch from the motorboat ramp or walk them into the water across jagged rocks and riprap."
The new kayak and canoe launch provides accessibility to non-motorized vessels, and the specialized launch offers adaptive features to include paddlers with disabilities or mobility limitations, making it safe and easy for paddlers of all abilities looking to paddle on Weeks Bay. It's a happy day on the bay!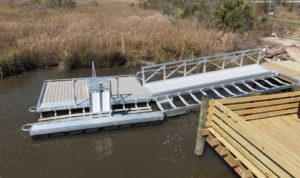 The Week Bay Foundation is pleased to share its accessibility for all.
Prior to the installation of the BoardSafe Adaptive Kayak Launch, the bay lacked accessibility for its paddlers. Weeks Bay Foundation hosts two major annual events that attract hundreds of paddlers to the water. These events allow visitors to connect with nature and socialize with family and friends. The foundation is happy that these events are now inclusive and accessible for all. One event is a kayak and canoe-based cleanup to remove trash along the Weeks Bay and Fish River shorelines; the shorelines are not accessible by land and must be reached by kayaks, canoes, and other watercraft. The second large event occurs when the foundation hosts a paddle race and eco-tour around the bay. The foundation is hoping the new launch will attract new paddlers looking to try out the accessible launch.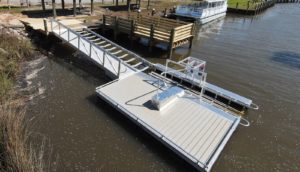 Weeks Bay is well-known for its protected coastline and calm waters. The bay draws thousands of people who enjoy exploring the water by powerboat, sailboat, and paddleboat. Paddling on the bay is a calm, quiet experience that often includes seeing amazing wildlife like manatees and bald eagles. Whether paddling in a kayak, canoe, or stand-up paddleboard, seeing the rare and endangered species adds to the attraction of paddling the bay. The foundation is proud of its new launch and happy to welcome all interested paddlers to enjoy the beauty of Weeks Bay.
The launch's unique features are a draw for the adaptive paddling community.
The new ADA adaptive kayak launch allows local paddling groups like Team River Runner, a disabled-veteran and adaptive-paddling group, the inclusive opportunity to get out on the waterway. The Team River Runner group provides paddlers in need of physical exercise the opportunity to get out on the waterway for therapeutic paddling sessions. Team River Runner plans and hosts a number of recreational opportunities for disabled paddlers that improve their quality of life by offering therapeutic, social, inclusive, and community connections to its users. The foundation is sure the new launch and its features will assist the adaptive paddlers and add to their enjoyment when paddling the bay.
The Weeks Bay Foundation is glad to support its community's equity plan and offer greater opportunities and improved paddling experiences to its disabled veteran community. Paddlers seen using the launch are enjoying the freedom of being on the water. Without safe entry and exit points for people with disabilities and physical limitations, opportunities to experience the beauty of kayaking Weeks Bay would have remained limited. The foundation appreciates those who supported their fundraiser to make their vision a reality.
Where to find the BoardSafe Adaptive Kayak Launch site at Weeks Bay
Paddlers are able to launch their vessels at The Weeks Bay Reserve (just west of the US 98 bridge) that hugs the shoreline going north and south. One may paddle north on Fish River, under the US 98 bridge, and turn left into a little inlet that loops through the back of the Weeks Bay Reserve Foundation property and back out to the river a couple of hundred yards above the kayak launch.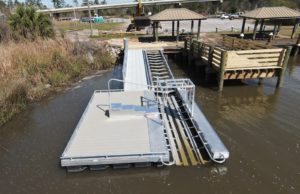 Kayaking and paddle sports popularity continues to grow.
The latest data from the Research News – Outdoor Industry Association, specific to kayaking, canoeing, and stand-up paddle boarding, found a record number of 37.9 million Americans engaged in paddlesports during 2020, adding 2.5 million new paddlers to America's waterways. COVID may have contributed to the increase, but a few years later, it appears these numbers are here to stay and continue to grow. The growth in kayaking, kayak fishing, and other paddlesports, has increased the number of paddlers seeking launch sites to access the water. Unfortunately, many access points exclude paddlers with disabilities and those with limited mobility because the infrastructure is outdated or the sites lack the necessary adaptive features to make them truly inclusive launch sites.
BoardSafe Docks is a nationally-recognized manufacturer of floating dock systems and a trusted expert who provides education and guidance when planning and designing inclusive water access products, specifically their highly-requested adaptive kayak launch and adaptive fishing pier.
To discuss your inclusive project, or for help designing your non-motorized water access site, contact BoardSafe Docks at 610-899-0286 or through our website at BoardSafeDocks.com.