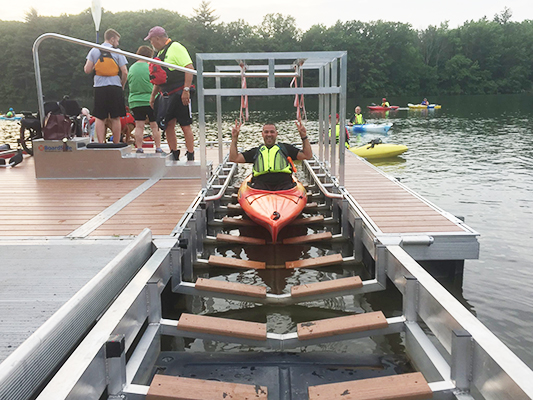 When you step into a kayak, push off into a canal or a river, and take those first few paddle strokes, nature surrounds you at every level. It's easy to understand why people are getting hooked on paddle sports.
Paddling and exploring the water bring people and nature together for a mixed blend of relaxation and good physical fun. There are so many reasons propelling around the water is an attractive diversion from today's fast-paced world. It brings families and friends together, connects people to nature, and most importantly, it promotes exercise, good health, and wellness. Paddling is an activity that almost everyone can participate in—young and old, novice and experienced, and people with mobility limitations.
Kayaking has also become increasingly popular for paddlers with more serious physical disabilities, like amputees and those with paralysis. It offers rehabilitation, exercise, and socialization, and is proven to improve one's mind, body, and spirit. Most importantly, kayaking gives adaptive paddlers an opportunity to be out on the water like everyone else. They describe the freedom of leaving their wheelchairs and transitioning into a kayak as "liberating." This can only occur when kayak launches and water access points are designed and engineered from inception for universal access. Adaptive kayak launches include specific features that are often overlooked or not designed to the necessary extent.
The popularity of paddlesports like kayaking is on the rise
According to a report published by the Statista Research Department, nearly 18.6 million U.S. Americans went kayaking at least once in 2021, demonstrating an increase in the popularity of paddlesports. In the period of 2010–2021, kayaking participation in the United States grew by 87.3 percent. Kayaking, canoeing, and all paddlesports, are truly inclusive recreational activities when kayak launches and their accommodations (gangway, chute, boarding bench, hand straps, and grab bars) are included in the design plans.
Water access points need accessibility and additional adaptive features 
When civil engineers design neighborhoods and street crossings, curb ramps are now automatically included. However, before January 1992 when the Americans with Disabilities Act was passed, they were not. Curb ramps are now required anywhere a sidewalk or other pedestrian walkway crosses over a curb. Prior to 1992, it was difficult or impossible for a person using a wheelchair, walker, or other mobility device, to cross a street safely or with ease due to raised sidewalks. It was also dangerous. Before curb ramps, individuals were forced to make the difficult decision to stay home or risk personal safety by using their wheelchairs or walkers to travel alongside cars and other vehicles on the street; an unfortunate choice for people with disabilities to make. The same holds true for water access at recreational sites today. Those planning water access points should ensure truly accessible launches are designed from the start. While there has been a steady increase in ADA accessibility at public parks and ​​recreational facilities, water access points need additional attention to ensure they are planned beyond minimum ADA standards. This is the only way to make certain they will be inclusive to all.
More important than the number of access points is the quality of the accommodations at these sites. All too often, when a location is deemed accessible, it still cannot be used by paddlers with moderate to more severe disabilities because most waterfront products are designed by able-bodied people. Many accessible launches may look good, but end up being exclusive, rather than inclusive, due to a lack of adaptive features. Despite good intentions, if gaps in diversity, equity, and inclusion are to be bridged, then the best solutions should come from those who experience the challenges or at the least, designs should include their input on the necessary adaptations.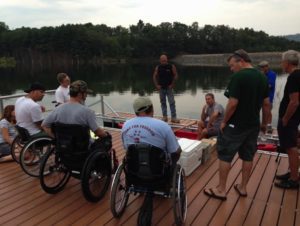 How do we continue to make kayaking appealing and accessible for older adults, and ensure those with mobility limitations or physical disabilities are included?
To attract paddlers to return to the water and build legacies for people to use and enjoy for many years to come, designers, architects, and engineers must include features that get paddlers in and out of the water safely and with minimal discomfort.
Reportedly, the greatest difficulty for almost all paddlers is getting in and out of their vessels (Just ask!). Upon entry, kayaks and canoes can tip, shift, or roll over. Adaptive features can ensure safe access in and out of the water. It's very encouraging to see leaders and planners striving to create a more inclusive society. They understand the importance of inclusive outdoor recreation. As recreation stakeholders, we all share responsibility for shaping the future of our country's outdoor spaces and inclusive lifestyle, and improving the quality of life for all.
Here are six reasons why designing docks for universal access is important.
Inclusion

Making docks accessible with inclusive features allows individuals with disabilities to participate in water-based activities and access the recreational opportunities that the water provides.
Safety

An accessible dock with inclusive features is designed to provide a safe and stable environment, allowing people with disabilities to board and disembark from boats. This can include features such as ramps, handrails, and non-slip surfaces.
Compliance with laws

In the United States, the Americans with Disabilities Act (ADA) requires that new construction and alterations of public accommodations, commercial facilities, and state and local government facilities, be accessible to people with disabilities.
Cost-effectiveness

An accessible dock with adaptive features can be designed to be cost-effective. It can include features that are relatively easy and inexpensive to install. Features include a minimally-sloped gangway and stabilizing kayak chute, an adaptive kit with overhead grab bars and hand straps, handrails, pull bars, and a step-down boarding bench. All can be incorporated into a floating dock design that ensures universal access.
Community benefits

An accessible dock with adaptive features can benefit the entire community. It not only improves recreational opportunities for people with disabilities; it also promotes a more inclusive community and encourages people of all abilities to enjoy the water. It can also support the economic growth of the community.
Increase in visitors

An accessible kayak launch with adaptive features can also increase the number of visitors to the area because people with disabilities, their families, and friends may be more likely to visit if the floating dock system and launch are inclusive.
According to the World Health Organization (WHO) fact sheet on Disability, an estimated 1.3 billion people experience significant disabilities. This represents 16% of the world's population, or 1 in 6 people.
According to the CDC Disability Impacts All of Us Infographic, 11.1 percent of U.S. adults have a mobility disability with serious difficulty walking or climbing stairs.
Therefore, an accessible kayak launch with additional adaptive features would benefit a significant portion of the population, including people with mobility impairments, older adults, and people with temporary injuries or permanent conditions.
Ask any adaptive kayaker about their feelings of enjoyment, liberation, and empowerment after they complete a paddle. Many will tell you they cannot wait to get back out in the water!
Kayaking promotes healthy living, connects friends and families with each other and with nature, and ensures that we are being good stewards caring for our natural resources.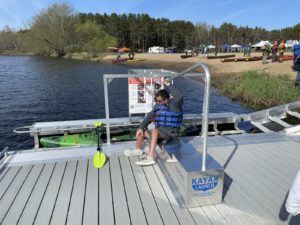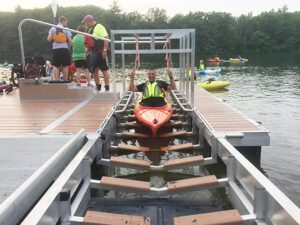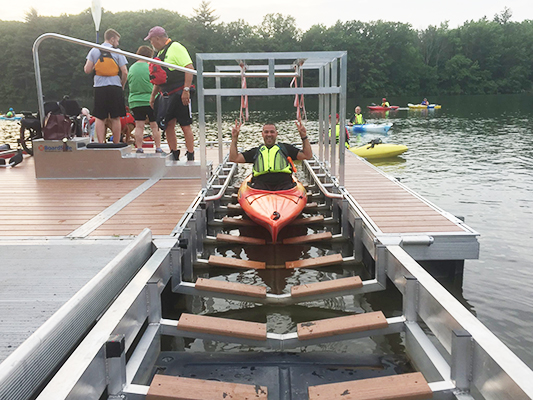 Adaptive paddlers using the inclusive features of a BoardSafe Adaptive Kayak Launch
What adaptive features offer accessibility to paddlers in wheelchairs?
One of the easiest ways to ensure accessibility and safety is by investing in a BoardSafe Adaptive Kayak Launch.
Following is a list of special features found only in a BoardSafe Launch.
A

paved

egress

from the parking lot to the kayak launch site.

A

gangway

that

offers adaptive paddlers a way of moving from land to the launch area and vice versa. The gangway should have a maximum of 1:12 pitch.

A parallel

kayak chute

large enough to accommodate kayaks with outriggers. If the chute is too wide, it will create too great a distance between the boarding bench and the cockpit of the vessel and decrease the stability needed for a disabled paddler to get into their vessel.

An

aluminum-welded floating dock

should offer

sufficient space to maneuver a wheelchair and allow room for additional wheelchairs to be left on the deck. The floating dock should also have a protective

toe kick

around the perimeter as an added safety feature. This prohibits a wheelchair from accidentally rolling off the dock.

Both the gangway and floating launch should include a

36″ continuous handrail

around the perimeter, consistent with ADA requirements.

A

tiered boarding bench

allows the user to board from their wheelchair. The top step of the bench should be equal to the seat of a wheelchair. The step-down bench should offer a gentle 3.5" drop per step. The bottom step should offer a pull-out bleacher-style seat that slides out over the kayak and directly above the vessel's cockpit, allowing adaptive paddlers to

slide across the seat and lower themselves into the vessel

with a minimal drop.

An

adaptive roll cage

surrounds the boarding bench. This kit includes a frame of handrails, an overhead grab bar, and hand straps that provide numerous gripping options to lower paddlers into vessels. The overhead handrail runs the length of the bench and

offers adaptive paddlers the choice to slide down the bench from either side, depending on their preference.

Adding to the launch's stability is a

secure chute and saddle.

The

cradle-like chute holds the kayak securely in place. The chute supports

the vessel with a partially-submerged bracket system.

The snug fit of the cradle removes any worry about tipping or moving unexpectedly, which is a risk with roller-type launch systems. Adaptive paddlers report roller-type launches don't hold kayaks in place and can cause the vessel to shift upon entry, making a cradle launch the safest option.

Once the paddler is securely fitted into the vessel, there should be appropriately-spaced

handrails

on each side of the cradle

to pull the kayak into the water.
Working with adaptive paddling groups has been a continuous educational experience for the team at BoardSafe Docks. Understanding the difference between an accessible launch and an adaptive kayak launch with additional adaptive features has helped us become the trusted expert when building a launch for the widest range of users. Understanding the difference and knowing what additional features must be included is imperative for anyone wanting a truly inclusive launch for their community. Just remember, "accessible" is not synonymous with "adaptive"! Most accessible launches alone will not work for paddlers in wheelchairs without a lot of lifting, tugging, and pulling, and the chance of someone getting hurt along the way is greater.
To discuss your project's vision and learn more about BoardSafe Docks, our Adaptive Kayak Launch and Fishing Pier, its durable construction, and the long-term value it will bring to your community, please call us at 610-899-0286 or contact us through our website at BoardSafeDocks.com.