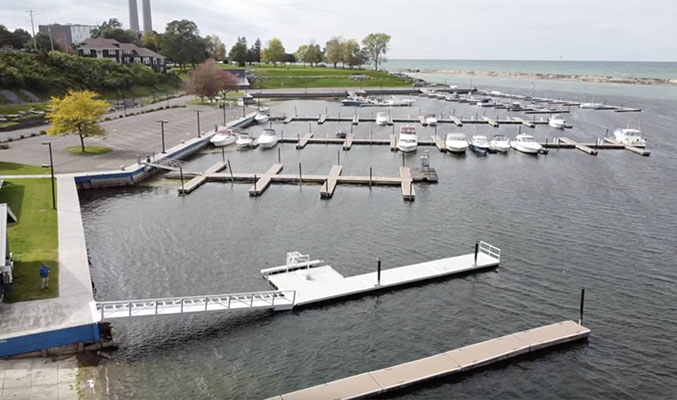 In September 2022, the City of Oswego, NY, installed a new adaptive kayak launch, floating dock, and gangway at Wright's Landing Marina. Wright's Landing is a popular boating destination that provides access to Lake Ontario's prime salmon fishing waters. The launch offers universal accessibility similar to those required by the ADA to ensure that everyone in the community can enjoy paddling outdoors.
The project was competitively bid and BoardSafe was chosen based on their products' structural durability and best-in-class adaptive features. This was important because the eastern shores of the Great Lakes are subject to strong winds and pounding waves. BoardSafe was hired to design, fabricate, and install the project. The BoardSafe engineers incorporated two existing pilings that were in place from a previous dock, and the gangway was attached to the existing seawall using the BoardSafe bulkhead mounting kit. The floating dock was also designed so power boats can approach it from the side of the concrete boat ramp, while kayakers safely use the opposite side for launching.
The components of the project include:
– 40-foot aluminum gangway and a 40-foot kayak chute
– 60-foot floating dock secured with 2 existing piles
– standard BoardSafe Adaptive Kayak launch
– aluminum gangway attached to the existing seawall using our standard bulkhead mounting kit
Please watch a brief video below, highlighting the installation.
For more information and project profiles, visit BoardSafeDocks.com.