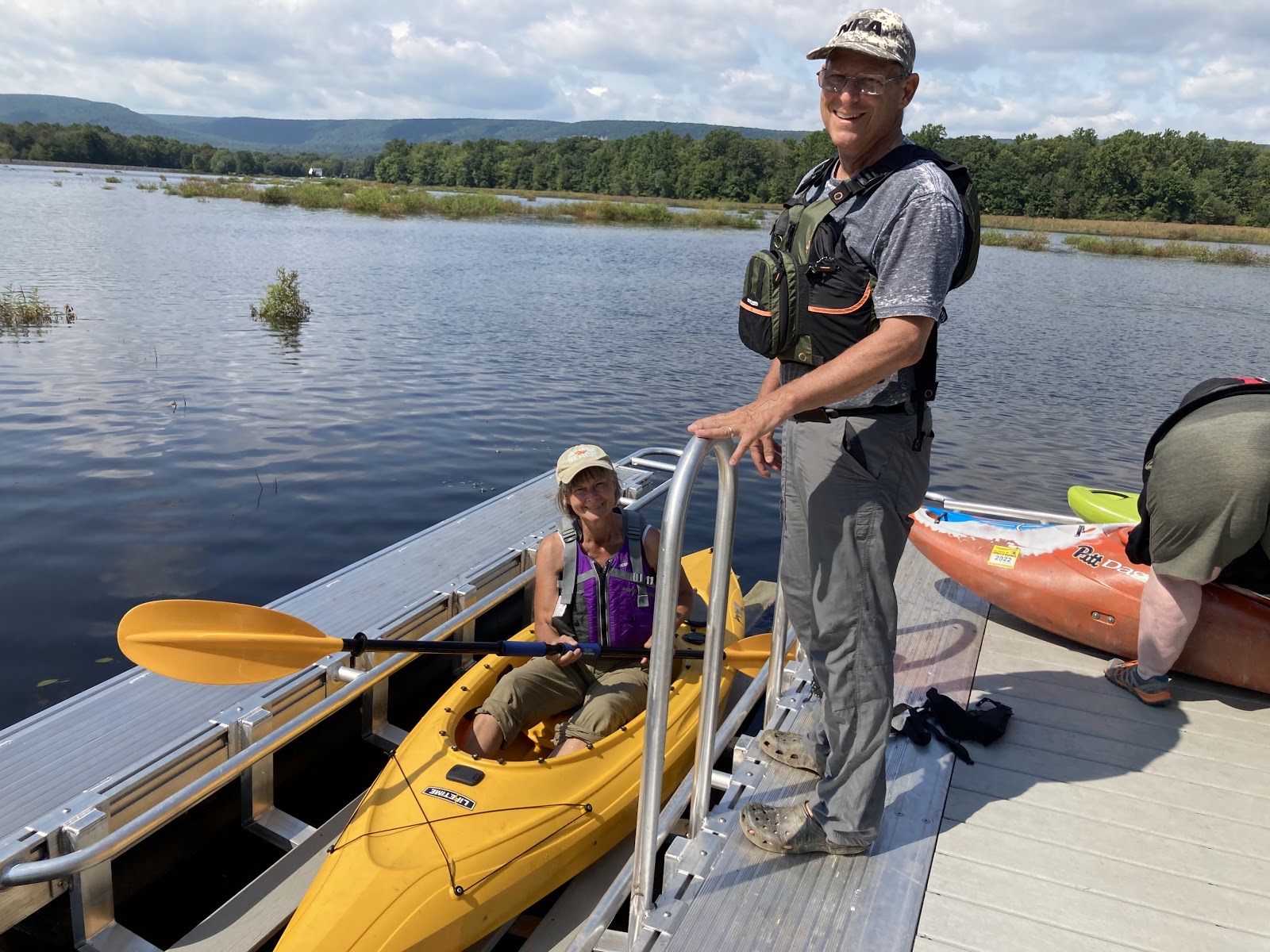 Minsi Lake is a 117-acre reservoir owned by the Commonwealth of PA and leased to Northampton County Parks and Recreation. It's been part of the county park system since 1975 and is one of only three public lakes in the Lehigh Valley area. The lake was drained in 2017, allowing the PA Fish and Boat Commission to make repairs to the dam and spillway. The park reopened in September 2021 as an accessible and inclusive destination for both kayaking and fishing.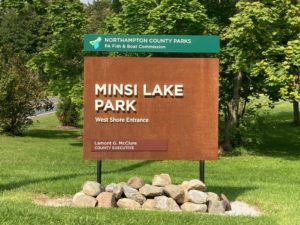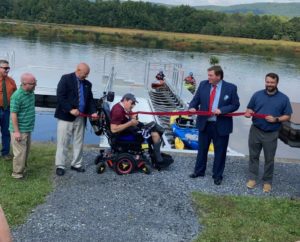 One year ago, a ribbon-cutting ceremony unveiled Minsi Lake's BoardSafe Adaptive Kayak Launch and Accessible Fishing Piers. Officials recognized and promoted the efforts of many stakeholders supporting the project over the last few years. Promoting the adaptive launch and fishing piers at the ribbon-cutting ceremony were
Lamont McClure, Northampton County Executive

Bryan Cope, Superintendent of Parks and Recreation

Mario Scavello, PA State Senator

Joe Emrick, PA State Representative

John Mauser, Friends of Minsi Lake

George White, Team River Runner

Scott Tihansky, BoardSafe Docks

Ken Ryno, Adaptive Paddler and Advocate for Adaptive Kayak Launches
Upon Minsi's reopening of the lake, the county's goal was "to make sure everyone had the opportunity to participate in the wonderful outdoor bounties that Northampton County has to offer," said County Executive Lamont McClure.
Northampton County Parks and Recreation wanted to bring Lake Minsi back to its original glory and make it accessible for everyone. The adaptive features of the kayak launch work for a wider range of users by offering safer and easier access to the water. Features include a paved pathway from the parking lot to the launch, an ADA-compliant gangway (less than a 1/12 pitch), a protective toe-kick around the perimeter of the floating dock, an adaptive roll cage that includes a 3.5-inch step-down bench, a pullout seat, an overhead grab bar that allows the user to slide down either side of the bench of their preference, optional overhead grab straps to lower oneself into the vessel, a cradle the keeps the kayak level and stable upon entry, and pull bars to enter the water through a controlled entry.
"The aluminum floating dock system installed at Minsi Lake has unique adaptive features that allow for disabled paddlers to safely get from their wheelchair and into a kayak and back out again," said Scott Tihansky with BoardSafe Docks.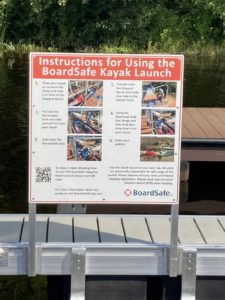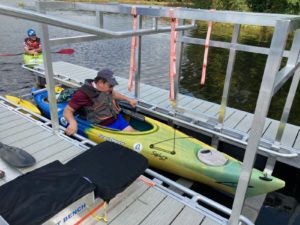 Ken Ryno, an adaptive paddler with Team River Runner and advocate and spokesperson for BoardSafe Docks, promoted the launch's features. Their relationship began when Ken and a group of adaptive paddlers offered input to BoardSafe's manufacturing team to identify launch features that are needed and will work specifically for paddlers in wheelchairs. 
The continuous advancements in BoardSafe Dock's adaptive kayak launch have given those with disabilities a sense of normalcy. "When we're out on the water, we're like everyone else," said Ken Ryno, who has enjoyed many years of kayaking on the local lakes. Ken acknowledged that before BoardSafe's adaptive kayak launch, access to the water was not always easy. It was a struggle and involved a lot of heavy lifting from volunteers to get paddlers in and out of their kayaks and the water. Water access in the past often put the paddlers and volunteers at risk for injury. Adaptive paddlers in the Lehigh and Northampton County regions now have four adaptive launches to choose from: Leaser Lake in Kempton, Beltzville Lake at Preacher's Camp, Lake Nockamixon at the Tohickon Boat Launch, and Minsi Lake's West Shore Entrance. The adaptive features found in BoardSafe's Adaptive Kayak Launch make access to the water safer and easier for all users.
BoardSafe Docks works regularly with adaptive paddling groups, veterans groups, parks and recreation departments, governmental leaders, landscape architects, and design engineers looking to make their waterfronts accessible to all. While the launch system is designed with adaptive paddlers in mind, it creates safer and easier access for novice paddlers, children, and paddlers with joint and mobility issues looking for an easier way in and out of their vessels. The features and stability offered by BoardSafe's Adaptive Kayak Launch are truly a model for universal access to the water.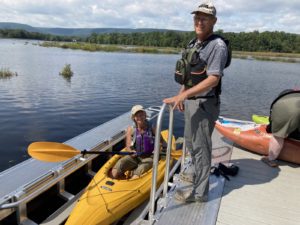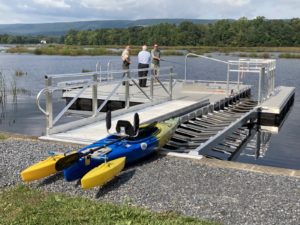 Kayaking isn't the only attraction at Minsi Lake's accessible park. Kayak fishing and fishing from the two accessible fishing piers are other popular attractions at the park.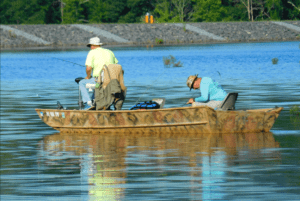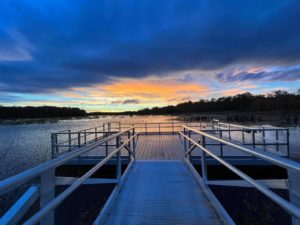 The Friends of Minsi Lake's Facebook page displays a never-ending trail of artistic photography that parkgoers see when visiting the park. The Facebook link boasts pictures of birds, wildlife, breathtaking scenery, and people enjoying nature and using the lake's fishing and paddling opportunities. The photos demonstrate just how much the county's investment in the park is appreciated and valued by its visitors. Its impact is astounding and a model for other park systems to follow. To view more pictures of the lake, click on the link below:
facebook.com/groups/1907344179400749/?ref=share
Below are just a few of the photographs showing the year-round beauty of the lake. The lake and its amenities are an asset to the PA Fish and Boat Commission and Northampton County. One year later, the stakeholders involved in Minsi's renewal recognize that it was well worth the efforts to bring the lake and park back to life. Lake Minsi has become a local treasure that is used year-round and will be for generations to come.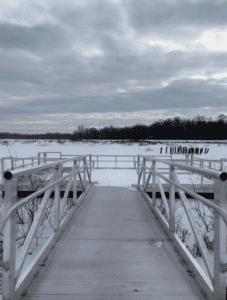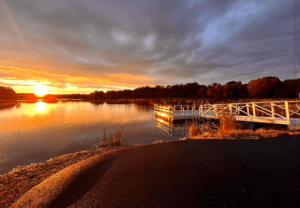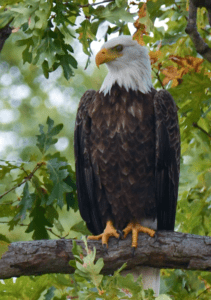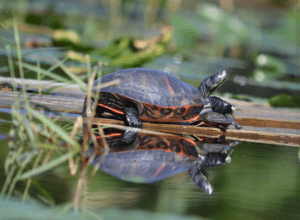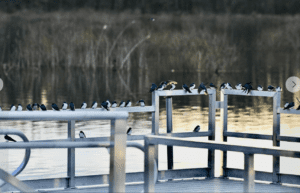 Jim Wilson, the Recreation Specialist for Northampton County, explains in this link how BoardSafe's adaptive kayak launch and accessible floating aluminum fishing piers came to fruition at Minsi Lake and offer access to all community members, regardless of their physical abilities.
 Minsi Lake ADA Floating Docks and Accessible Kayak Launch
BoardSafe Docks understands the benefits and impact their adaptive launch system offers communities and park systems. Their inclusive launch is fitted for kayaks, canoes, and SUPS, and gets everyone in the water safely and easily. It is evident that paddlers want close-to-home recreation; safe, easy, and inclusive access to the water; and the ability to connect their families to nature and their local community.
Universal access is key to any program's success. All too often, accessible docks are built to minimum standards and do not take into consideration the needs and abilities of the disabled paddlers using the launch system. BoardSafe Docks seeks continuous input and feedback from paddling groups and end users, making BoardSafe an industry leader in the design and manufacture of an all-inclusive launch system with specific adaptive features that will work for the widest range of users.
To discuss your project and create a water entry site that offers safe and easy access with inclusive and adaptive features, contact us at 610-899-0286 or through our website at BoardSafeDocks.com.