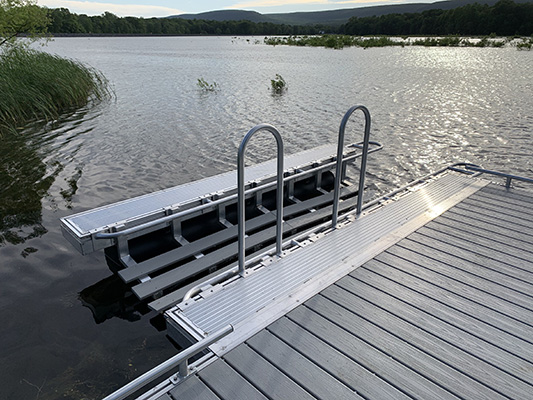 After years of designing, manufacturing, and installing floating aluminum docks and other marina products, BoardSafe developed a unique product to meet the needs of unique clients: the add-on kayak launch we call Clip-A-Launch. "Many of our clients have tight spaces that they need to operate within or limitations with their dock sizes. Others have seen an increased use of kayakers whom they want to accommodate," says Scott Tihansky, president of BoardSafe Docks. Regardless of the reason for the problem, BoardSafe has created a solution: a clip-on kayak launch.
The clip-on, or add-on, kayak launch can be added to any existing floating dock system. The kayak launch clip-on has a modified attachment system that allows it to be used on other dock systems, including wooden docks. Recently, the clip-on kayak launch was installed at REI Rowing Center in Chicago, Illinois.
To see the Clip-A-Launch in action, watch these brief on-site videos:
To learn more about the clip-on kayak launch, call 610.899.0286, or visit boardsafedocks.com.
See some of our products and projects below.
[Let us help you launch your project]
REQUEST AN ESTIMATE