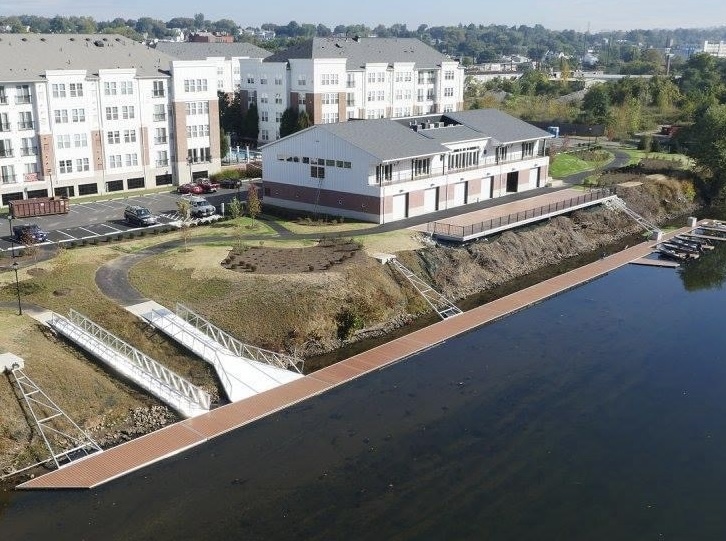 Gangways are raised walkways or connected platforms that allow pedestrians to walk safely from one point to another. Gangways help pedestrians walk from land to water, function as a bridge between sites, provide a stable walkway for pedestrians when boarding and disembarking boats, and connect to floating docks and marinas to create passageways from land to a structure in the water.
Gangways are necessary around high pedestrian-traffic areas around waterfronts, rowing centers, parks, lakes, marinas, rails to trails, and access points, allowing safe entry to waterfronts. BoardSafe Docks offers multiple solutions to their customers with their accessible aluminum-welded gangways, ramps, fixed piers, and pedestrian bridges.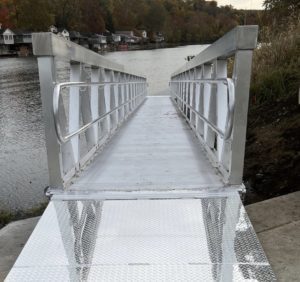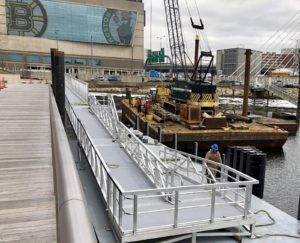 Allentown Waterfront, Allentown, PA        Boston Garden, Boston Harbor, MA
BoardSafe aluminum gangways are manufactured to Americans with Disabilities Act (ADA) standards by including a ramp with a 1/12 pitch or less, two full-length handrails, aluminum toe-kick plates preventing sliding off the edge, and special accessibility grab-bars for wheelchair users. BoardSafe's products are constructed for strength, durability, safety, and accessibility with additional adaptive features.
Although standard-size gangways are stocked for immediate delivery and available for convenience, BoardSafe designs and manufactures gangways to meet custom specifications in sizes from 8′ to 100′ in length. Width varies depending on the project's needs and applications.
Based on architectural and engineering specifications, gangways can be fixed or floating piers that offer seamless transitions to land that ensure full accessibility. ADA-designed gangways increase accessibility for anyone who is disabled, and will allow people using wheelchairs to access locations safely and easily. BoardSafe is a recognized expert and specializes in ADA-compliant designs, as seen in product pictures and videos available at BoardSafeDocks.com.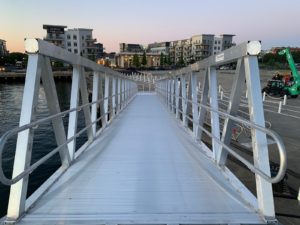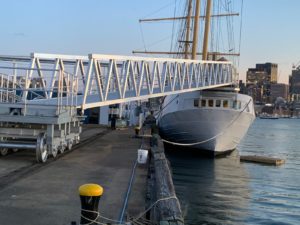 Tall Ship Gangway, Boston, MA
Benefits of a BoardSafe aluminum gangway or fixed pier
Aluminum gangways are much lighter than steel and other materials, making them easier to handle and install.
Aluminum is durable, rust-resistant, and can withstand harsh weather conditions, making aluminum a long-lasting option. It is virtually maintenance-free. Unlike other materials, aluminum requires no painting or other forms of maintenance, saving time and money. Aluminum is corrosion-resistant, making it ideal for use in marine environments, and is recyclable—therefore, an environmentally-friendly option.
Aluminum is a cost-effective option being less expensive than other materials; therefore it's financially desirable to customers.
Click here to view a video of an 80' gangway project along the Allentown Waterfront: Allentown Waterfront Floating Dock and Kayak Boat Launch on the Lehigh River
The Allentown Waterfront redevelopment project is an effort to revitalize an undeveloped area along the Lehigh River. Water access along the river is a key feature and will support the success of the mix of retail, commercial, and residential development planned for the location. A custom landing and hub for the top of the gangway was built into the bank with two large support arms providing additional structural integrity to the gangway's and dock's connection to the riverbank. The custom floating dock was designed in four sections that allow for movement as the river's elevation changes throughout the seasons or die to river flooding.
BoardSafe gangways are fabricated with their own proprietary extruded components. Boardsafe's custom commercial gangways reduce the number of mechanical joins, making the frame components stronger and less likely to loosen over time. All of BoardSafe's gangways, including the handrails, are manufactured using an aluminum welded design.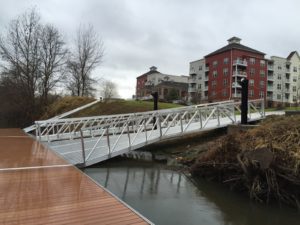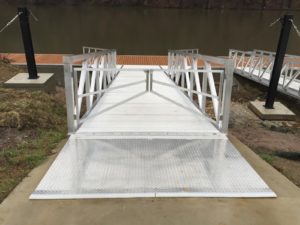 Conshohocken Rowing Center Gangway
Many competitors use bolt-together assemblies that reduce structural integrity and durability. BoardSafe's railings are constructed with a free-span truss design, with exposed surfaces and welded joints that are smooth and free of sharp or jagged edges. BoardSafe gangways use stainless steel hardware to ensure long-lasting performance. The gangways stay cool to the touch and are built for harsh and high-use environments. Aluminum welds are able to withstand high winds and environmental flooding. The decking materials we offer are slip-resistant, using self-mating extruded aluminum or composite. These choices have proven the optimal choice for year-round access to frequently flooded areas and seasonal streams.
A video example of a 54' custom gangway can be viewed here: Aluminum Floating Docks and Gangway at Riverside Dock
BoardSafe Docks was contracted to come up with a design for a new floating dock system on the Schuylkill River, across from Pottstown, PA, in North Coventry Township. The site included an existing boat ramp with signs of a previous dock system that had washed away in a flood years ago. The customer asked if BoardSafe could design a new dock system that would stand up to flood conditions. It also had to be ADA-compliant and not project too far out into the river.
BoardSafe's solution was to evaluate the site conditions and design and manufacture and install a foundation that included a cantilevered deck that projected out over the river. A concrete foundation supports the cantilevered aluminum deck bolted into the foundation. The gangway is connected to the side of the deck and runs parallel to the river bank. Supplemental flotation was placed at the bottom of the gangway to provide adequate buoyancy for its weight and to maintain a freeboard of 16 inches, the same as the floating dock. The gangway is connected to the floating dock via a piano hinge. The hinge allows the dock system to move up and down as the water level fluctuates. The floating dock was made up of two 8' x 20' dock sections connected together with a piano hinge. Rubber dock bumpers and adjustable cleats were installed into the dock's custom aluminum extrusions. The components of the dock system include:
8' x 10' x 4' concrete foundation supported by a rebar cage and driven steel pilings

8' x 20' cantilevered deck with aluminum frame and galvanized steel structural support members, composite deck boards

5' x 54' gangway with an expanded section at the top with non-skid aluminum decking

8' x 40' floating dock with 16-inch freeboard, manufactured in two sections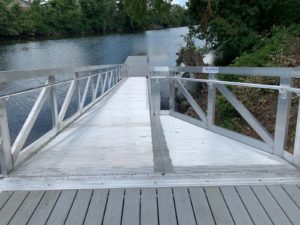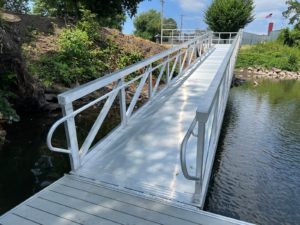 North Coventry Township, PA
Gangway design considerations
Understanding the type of gangway needed for a location can help determine the length and width of the gangway. Design concerns to keep in mind are the environmental conditions of the location and the durability and design life of the project. There is an inherent correlation between cost and the lifespan of an aluminum welded gangway. A gangway constructed of wood may be the least expensive option; however, it may only last a few years due to UV, water, and bug damage. 
The following video is a site visit of a BSD aluminum gangway and adaptive kayak launch in Cleveland, OH, approximately one year after its installation. BoardSafe Docks engineered, built, and installed the unique ADA-inspired gangway and accessible launch system to make the waterfront accessible to adaptive paddlers. 
East 55th Street Adaptive and Accessible ADA Kayak Launch by BoardSafe Docks
Why docks should be designed for accessibility
Designing docks for accessibility is important for several reasons.
Inclusion Making docks accessible allows individuals with disabilities to participate in water-based activities and access the recreational opportunities the water provides.
Safety An accessible dock is designed to provide a safe and stable environment for people with disabilities to board and disembark from boats. This can include features such as ramps, handrails, and non-slip surfaces.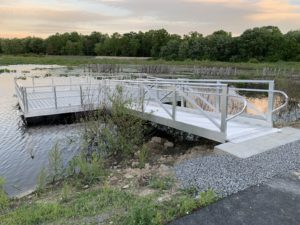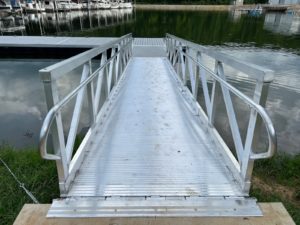 Minsi Lake, Mt. Bethel, PA                        Pickwick Lake, TN
Compliance with laws In the United States, the Americans with Disabilities Act (ADA) requires new construction and alterations of public accommodations, commercial facilities, and state and local government facilities, to be accessible to people with disabilities.
Cost-effective An accessible dock can be designed to be cost-effective. It can include features that are relatively easy and inexpensive to install, such as a ramp or handrails, and can be incorporated into the design of the dock.
Community benefit An accessible dock can benefit the entire community. It not only improves the recreational opportunities for people with disabilities, it also promotes a more inclusive community and encourages people of all abilities to enjoy the water.
Increase in visitors Making a dock accessible can increase the number of visitors to the area, because people with disabilities and their families and friends may be more likely to visit if the dock is accessible.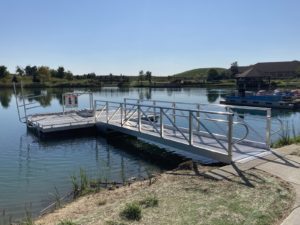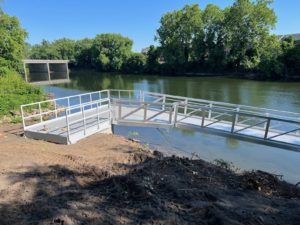 Voice of America Metroparks, OH         North Coventry Twp, PA
Statistics from the World Health Organization (WHO), reveal that about 15% of the world's population, or more than 1 billion people, live with some form of disability. Of those, approximately 2–4% have a mobility impairment, which could make it difficult for them to access traditional trails, kayak launches, and other water access points.
Accessible designs benefit a significant portion of the population, including people with mobility impairments, and physical disabilities, older adults, and people with temporary injuries or similar conditions.
Gangways are important access areas for waterfront design and construction because they comply with ADA laws, allow people with disabilities to participate in water-based activities, promote a more inclusive community, increase the number of visitors to the area, offer safe access, and provide cost-effective options for community benefit.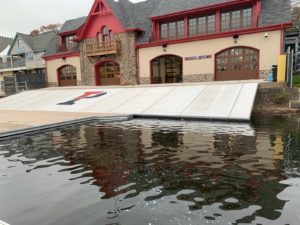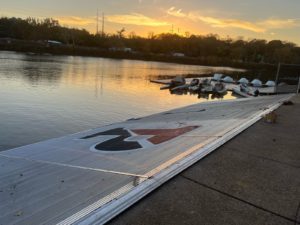 The University of PA Rowing Center      The University of PA Rowing Center
BoardSafe Docks is also the expert for many Division I rowing centers and boathouses where specialty gangways are used to get racing sculls into the water safely and efficiently.
What length gangway do I need?
To help determine the gangway needed for your project, here are two articles that will guide you in determining the length of your gangway.
https://boardsafedocks.com/adaptive-launch/what-length-gangway-provides-handicap-access/
https://boardsafedocks.com/adaptive-launch/how-to-calculate-ada-gangway-length/
When your project requires structural integrity, non-polluting materials, corrosion resistance, strength, and safety, a BoardSafe gangway will meet your standards.
Explore your options with a BoardSafe aluminum-welded gangway, ramp, floating dock, kayak launch, fishing pier, or other water access products.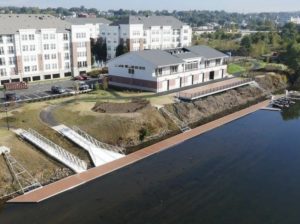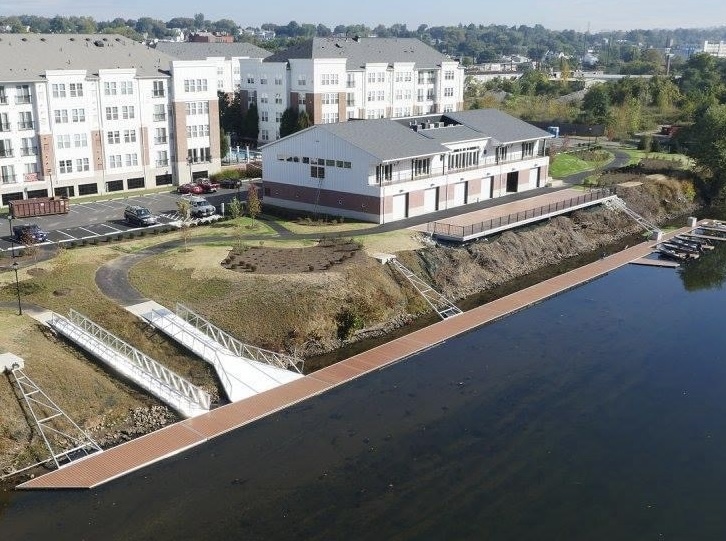 Conshohocken, PA, Rowing Center
BoardSafe Docks is a leading national manufacturer of high-quality aluminum-welded floating docks, gangways, fishing piers, kayak launches, rowing centers, pedestrian bridges, and other accessible water access products. Whatever type of access your project may need, BoardSafe Docks provides a turn-key service, from product design and inception through delivery.
BoardSafe's sales team is available for questions and consultation and will assist you with finding your optimal waterfront solution. You may learn more about BoardSafe Dock's projects through their website at BoardSafeDocks.com or by calling 610-899-0286.