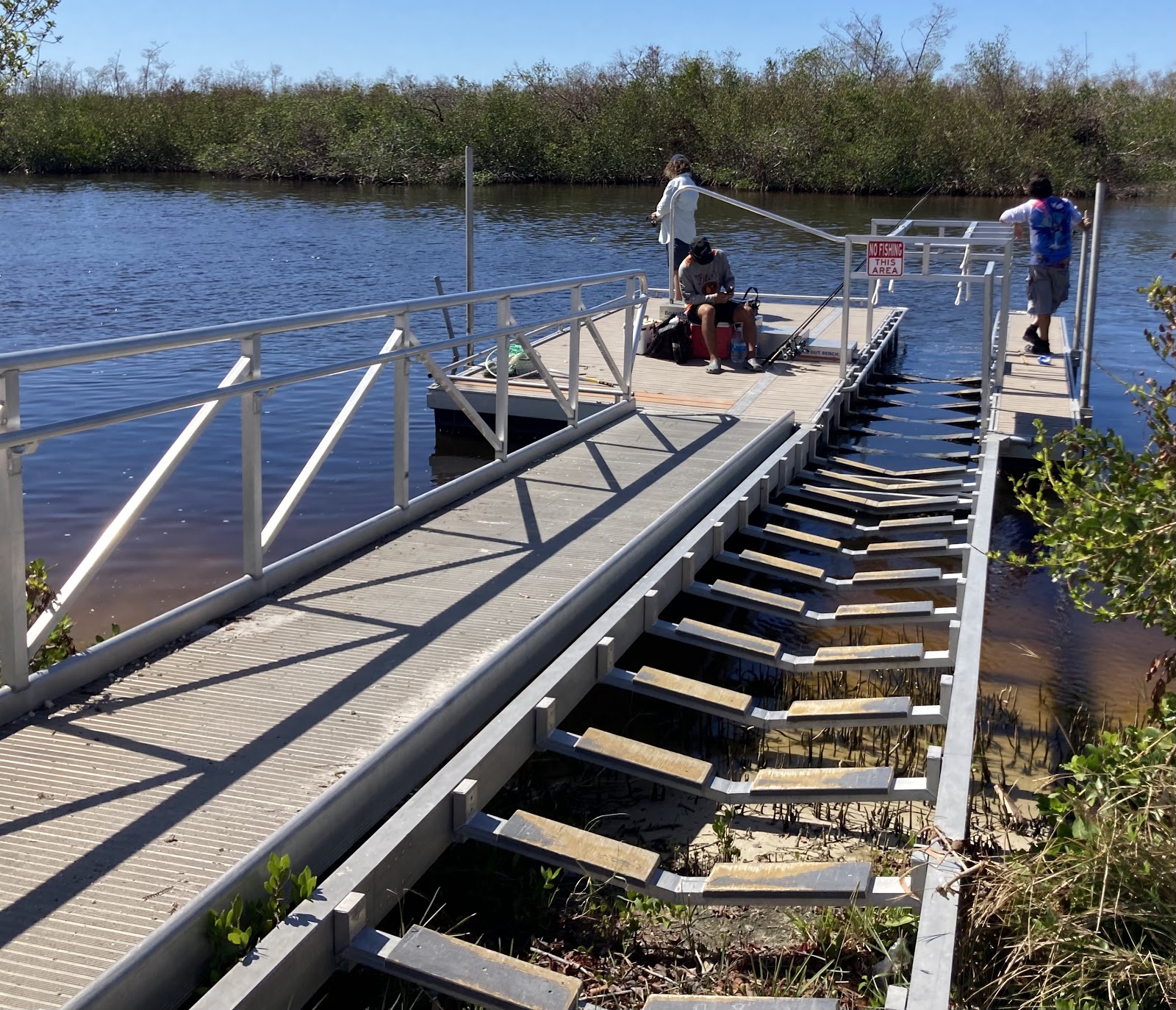 /

Accessible Kayak Launch, Adaptive Launch, Adaptive Products, Combination Launch/Fishing Pier, Floating Docks, Kayak Launch, Rowing Docks

/

Tags:

accessibility

,

ADA

,

ADA compliant

,

ADA kayak launch

,

adaptive

,

adaptive boat launch

,

adaptive kayak launch

,

adaptive kayakers

,

adaptive paddling

,

Adaptive Rowing

,

adaptive sports

,

aluminum floating dock

,

aluminum rowing docks

,

BoardSafe Dock

,

combination dock systems

,

floating aluminum docks

,

floating Docks

,

rowing docks
BoardSafe Docks' customers often ask about the advantages of using an aluminum floating dock system. BoardSafe Docks are used for municipal, commercial, and private projects. While traditional piling structures support stationary, fixed docks, floating docks are supported by flotation and rest on the water's surface. Though fixed docks are a popular choice, floating docks offer advantages and benefits that cannot be offered with a stationary pier. These benefits may be ideal for your docking system project. Here are the unique advantages of a BoardSafe floating dock.
BoardSafe Aluminum Floating Docks Adjust to Tidal Conditions
Floating docks provide an ideal solution for projects that experience vast changes in water levels. During the change in seasons, tides may rise and fall, allowing floating docks to remain level with your boating vessel. When water levels drop too far below a stationary dock, boaters may experience difficulty boarding. When water levels rise too high, fixed docks become submerged. Floating docks will self-adjust with water levels and provide safe, constant access to your vessel. So whether you experience drought or flooding conditions, a BoardSafe aluminum floating dock maintains the same freeboard.
Click the following link to read and learn more about freeboard:
Five Most-Commonly-Asked Questions About Floating Dock and Rowing Dock Freeboard
BoardSafe Aluminum Floating Docks Offer Structural Integrity
According to the Federal Emergency Management Agency (FEMA), floating docks acclimate to weather conditions and provide greater protection for boats. During a storm or hurricane, stationary docks may succumb to submersion, damage, and collapse. Floating docks move with the water, and their elasticity reduces damage due to inclement weather.
| | |
| --- | --- |
| Sirenia Vista Kayak Launch and Park BoardSafe Dock | Sirenia Vista Kayak Launch and Park Damaged Dock |
Sirenia Vista Kayak Launch and Park, three weeks after Hurricane Ian, 10/22/22. BoardSafe's Kayak Launch system floated with the rising waters and maintained its structural integrity, withstanding sustained winds reaching 100–140 mph with significant tidal flooding.
BoardSafe Docks Are Built for Versatility
Floating docks offer increased versatility compared to stationary docks. With more options for customization, BoardSafe Docks can design floating dock configurations to meet their customer's needs. They can reposition, remove, and add additional floating docks with ease. BoardSafe Docks are designed with proprietary extrusions and connecting hinge pins that allow them to be easily dismantled and stored for the winter.
User groups in the northern United States and Canada will be happy to know that BoardSafe's docks and launches can remain in the water for the winter as long as there is no fluctuation in the body of water where the launch is located and there are no ice pack movements that could damage the floating dock system. That said, a floating dock, fishing pier, or adaptive launch that has a steady level and flow of water around it will endure the winter and can be left in the water. However, this decision should not be made in isolation without having conversations about winter weather conditions with both the park operations manager and BoardSafe Docks. The adaptability of floating docks makes modifying your space and dock easier and less expensive than a stationary dock.
BoardSafe Docks Offers Quick, Affordable Installation
Municipalities and park systems can install floating docks quickly and more affordably than stationary docks. Floating docks do not require pilings or substructures for support, making them simpler to install and potentially cheaper. For projects in deep waters, buyers can avoid the cost of expensive, lengthy pilings. Floating docks usually take less time to install than stationary docks, and some floating docks can even be installed and be ready to use in a day. BoardSafe Docks provides installation guidance and manuals to its customers and will even send an installation specialist to assist your crew with the floating dock system's installation.
BoardSafe Aluminum Floating Docks Are Easy To Expand
For projects tight on space, floating docks grant a convenient opportunity for expansion. Marinas often choose to incorporate floating docks among stationary docks to increase boat docking capacity, or to separate their boat launch and docking areas from fishing piers and kayak launches. Should you desire more dock space, you can simply add another section of floating docks with a floating finger pier. BoardSafe Docks designs multiple configurations for its adaptive kayak launch.

BoardSafe Docks Offers Accessibility and Inclusivity to Adaptive Paddlers
BoardSafe Docks works regularly with adaptive paddling groups, veterans groups, parks and recreation departments, government leaders, landscape architects, and design engineers looking to make their waterfront accessible to all. While the launch system is designed with adaptive paddlers in mind, it creates safer and easier access for novice paddlers, children, and paddlers with joint and mobility issues looking for an easier way in and out of their vessels. The features and stability offered by BoardSafe's Adaptive Kayak Launch are truly a model for universal access to the water.
BoardSafe Docks understands the benefits and impact their adaptive launch system offers communities and park systems. Their inclusive launch is fitted for kayaks, canoes, and SUPS, and gets everyone in the water safely and easily. It is evident that paddlers want close-to-home recreation, safe, easy, and inclusive access to the water, and the ability to connect their families to nature and their local community.
Universal access is key to any program's success. All too often, accessible docks are built to minimum standards and do not take into consideration the needs and abilities of the disabled paddlers using the launch system. BoardSafe Docks seeks continuous input and feedback from paddling groups and end users, making BoardSafe an industry leader in the design and manufacture of an all-inclusive launch system with specific adaptive features that will work for the widest range of users.
BoardSafe Docks Are a Floating Dock System Designed and Built To Last
In addition to structural integrity, versatility, safety, expandability, and inclusivity, BoardSafe's aluminum-welded floating docks are manufactured with non-polluting materials, are corrosion-resistant, and require minimal maintenance.
BoardSafe is a leading national manufacturer of high-quality aluminum-welded adaptive kayak launches, fishing piers, marinas, rowing centers, gangways, pedestrian bridges, and other water access products. Whatever type of access your project needs, BoardSafe Docks provides turn-key service, from product design and inception through delivery.
BoardSafe's sales team is available for questions and consultation and will assist you with finding your optimal waterfront solution. You can learn more about BoardSafe Docks' projects at our website, BoardSafeDocks.com, or by calling 610-899-0286.