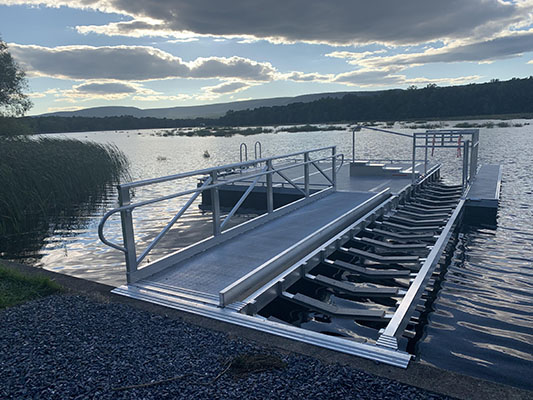 One of the first questions our customers ask is, "How much does a BoardSafe Adaptive Kayak Launch cost?"
Let me explain some of our general pricing guidelines and the different components of our launch that directly affect pricing. The purchase of an adaptive kayak launch is much like the purchase of a vehicle or even a home — With so many options available, price ranges can vary depending on the options you select. Like a car, you'll want to select the options that will make your excursions safe, comfortable, and easily accessible.
BoardSafe Docks manufactures a number of standard-size kayak launches, gangways, chutes, and floating docks. These components can be arranged in countless configurations to meet the site conditions and needs of our customers.
Click here to view the different kayak launch layouts that will affect your pricing.
There are 20 different configurations that BoardSafe Docks has put together to meet customers' unique needs and to ensure usability for adaptive paddlers. Our goal is to make sure our launch system provides the necessary features that accommodate the widest range of user abilities. We've evaluated hundreds of launch sites and have learned what's needed to enable our customers to safely and easily access their vessels and get out onto the water.
BoardSafe's sales team members are available to evaluate your waterfront and make recommendations about the launch system that will work best for your application and your intended users. After your site has been evaluated, our sales professionals will guide you on the layout that will be the best option for your users and your access point. They will also assist you with budgetary numbers for your site's design.
Can I save money by purchasing a BoardSafe Kayak Launch system now and adding the adaptive kit when additional funds become available?
The BoardSafe Adaptive Kayak Launch has features that can be purchased separately or together. These features include the gangway and accompanying kayak chute, floating dock, adaptive kit (step-down bench, overhead roll cage with grab bars and straps, and signage), saddle launch or Clip-a-Launch. Each of these components can be personalized to your launch site with the features you find most important for the safety and accessibility of your identified users. The launch can be designed for the components in the adaptive kit to be added at a later time.
To keep the initial cost down, the kayak launch can be purchased with or without the Adaptive Boarding Kit (bench with pullout seat, overhead grab bar with hand straps, and instructional signage).
The length of the gangway and accompanying kayak chute is another feature that will affect pricing. Depending on the location and placement of the floating dock, the gangway and chute will be designed in varying lengths. The floating dock structure of an adaptive kayak launch needs a minimum water level of 18 inches in order for the encapsulated floats to remain floating in the water so the gangway, chute, and floating docks are not sitting in the mud.
This is one of the reasons that BoardSafe Docks offers multiple solutions and layouts. Their design capabilities will assist you with choosing the best configuration.
How quality and longevity affect the cost of a BoardSafe Kayak Launch system
BoardSafe launches are manufactured using aluminum welded frames, composite deck lumber, encapsulated flotation, and proprietary extrusions that make their system durable and able to withstand the test of time. Our launches are also designed to be used with canoes and stand-up paddleboards, making their versatility very desirable for many user groups.
The approximate price range of these configurations is between $30,000 and $55,000, depending on the size and options you select.
BoardSafe understands that you want your kayak launch to be around for a long time — longer than you might keep your car, and possibly as long as you plan to live in your home. Picking the right kayak launch with the right options and configuration the first time is critical to ensure maximum enjoyment with minimum maintenance. Because of this, most of our customers end up selecting the launch that will make them happiest in the long run.
Unfortunately, when customers only focus on the price of the kayak launch and are solely focused on finding the cheapest launch, they also sacrifice quality, warranty, low maintenance, and aesthetics. This can inevitably lead to regret — especially considering that, unlike a vehicle, a kayak launch cannot be traded in when someone is dissatisfied and disenchanted with their product or performance.
BoardSafe Docks is a trusted expert in the location, selection, site work, design, engineering, manufacturing, and installation of floating docks, fishing piers, gangways, pedestrian bridges, rowing centers, marinas, and the BoardSafe Adaptive Kayak Launch.
Our adaptive launch provides a truly accessible experience for the adaptive paddler as well as all able-bodied paddlers. To discuss your project, and for assistance with finding your optimal waterfront solution, please call 610-899-0286 or visit us at BoardSafeDocks.com.