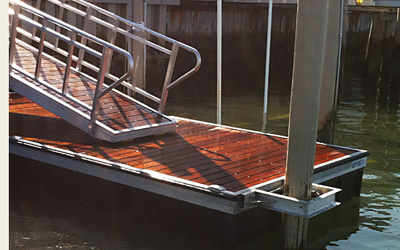 Composite decking is superior to pressure-treated lumber for floating docks and piers regarding performance and total cost of ownership.
BoardSafe has manufactured millions of square feet of aluminum floating docks, piers, and gangways. The goal of BoardSafe is to provide the highest-quality product for owners of rowing centers, marinas, and other commercial and resident docks. In the construction of these products, composite decking is superior.
Many purchase pressure-treated lumber because of the perceived cost savings. If the application is in a warm climate, the sun will destroy the wood in less than 8 years. If the application is in the northern part of the United States, the wood is subjected to freezing temperatures and ice, making its lifespan approximately 8 – 9 years. Manufacturers of composite lumber confidently state that this synthetic wood product will last over 20 years. This being the case, the total cost of ownership for a composite wood dock is less than a dock made of pressure-treated lumber.
Treated lumber today
Recently, the process and chemicals used in creating pressure-treated lumber have changed to become more environmentally-friendly. The new chemicals have created an inferior treated-lumber product that is not as durable as the pressure-treated lumber of yesteryear. Additionally, the pressure-treated lumber is more corrosive to fasteners. Experts recommend using stainless steel screws and bolts in lieu of the traditional galvanized steel. To jack up costs even more, the environmentally-friendly pressure-treated lumber is now more expensive to produce than ever before.
Consider composite decking
Composite lumber is stronger and longer-lasting. Within the family of composite wood, one product leaves the others in the dust: NyloDeck. NyloDeck is the only composite deck board that BoardSafe uses to manufacture its floating docks and piers. NyloDeck contains no wood particles; it is made of recycled carpet fibers — essentially, fiberglass. For these reasons, NyloDeck is rated for ground contact because it resists moisture, mold, and mildew. It is also the only 1-inch composite deck board rated to span joists at 24 inches on center and 16 inches on diagonals. It is twice as strong as other leading decking materials, and lighter, too. On BoardSafe docks, the NyloDeck boards are fastened with a unique hidden fastener system developed by TimberStrong. This means no nail pops or face nailing.
The last feature that makes composite wood superior is the frame. BoardSafe manufactures floating docks, gangways, and piers from 6160 marine-grade aluminum, with their proprietary extruded-aluminum frame. When looking at the quality of the overall investment, aluminum-frame docks with synthetic-wood deck boards are the way to go.
When it comes to building floating docks and piers, composite lumber is best. When it comes to manufacturing aluminum floating docks, BoardSafe is the best.
BoardSafe manufactures aluminum floating docks, piers, and gangways. They have designed and manufactured numerous specialty projects, including rowing centers and ADA-featured docks and boat launches. For more information on your rowing center project, marina, or commercial or residential dock, call 610-899-0286 or visit BoardSafe.com.