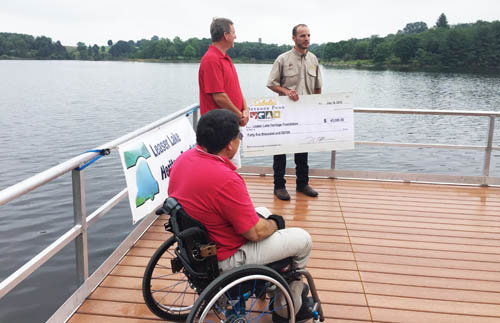 Leaser Lake in Pennsylvania created an accessibility park for those who are disabled or have limited mobility. The accessibility area includes paved walkways and a wheelchair-accessible boat launch and fishing pier. BoardSafe was contracted to build and install the floating docks, gangways, and ADA boat launch, for handicapped access to the 117-acre lake. BoardSafe was selected because of its reputation as a high-end dock builder and its proximity to the lake. They also specialize in Americans-with-Disabilities-Act-featured accessible commercial aluminum floating docks, boat launches, and fishing piers. The project included an ADA-accessible kayak launching ramp.
Providing equal access to all is important. If you are in need of ADA-featured commercial aluminum products for your marina or home dock, contact BoardSafe below to see our selection of ADA-featured applications.
BoardSafe specializes in manufacturing aluminum docks, gangways, and rowing centers. They offer both standard and ADA-featured products. If you have a rowing center or marina project and would like to learn more, visit BoardSafeDocks.com or call 610-899-0286.